Posted Friday, October 3rd, 2014 by rob-ART morgan, mad scientist
When products 'grow,' Apple customers must adapt. I chose the iPhone 6 Plus but it's too big for some of pockets in my clothing.

So a day after receiving my large iPhone 6 Plus, I went shopping for some pants with larger pockets -- preferably with zippers. I settled upon two pairs of Guide Pants from Eddie Bauer. They feature two unobtrusive 'thigh' pockets with zippers big enough to swallow an iPhone 6 Plus with room to spare. I scored 30% off plus an additional $10 off coupon.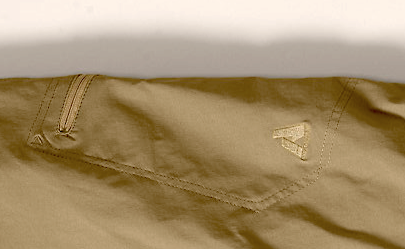 Regardless of which iPhone model you own, it's a good idea to have zipper pockets for when you are doing cartwheels, hand stands, or racing around a go-kart track. Eddie Bauer also makes Guide Shorts with the same 'non-bulging' zipper pocket outside of each thigh.
Another safe place to carry an iPhone 6 Plus is a large zipper pocket of a raincoat or wind breaker. My favorite rain jacket is the Patagonia Torrentshell with "H2No" waterproof/breathable protection and two zippered hand-warmer pockets. For cooler weather, my Land's End Classic Squall Jacket features two outer zip pockets and one inner pocket, each of which swallow the iPhone 6 Plus. (They changed the design since I bought mine so I can't guarantee the inner pocket is still big enough but the outer 'hand warmer' pockets will fully envelope the Plus.)
You don't even have to unzip your pocket to answer your iPhone 6 Plus. I use Sennheiser MM 100 Bluetooth Headphones for listening to tunes or chatting on the phone whether walking down the street or working out in the gym. BTW, my Nike Dri-Fit Workout pants have a 'Plus compatible' zipper pocket, too.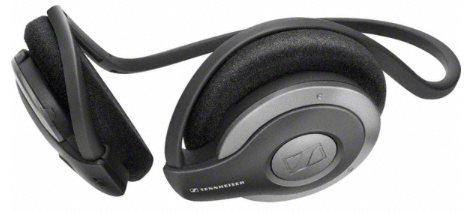 In order to have a 'quick draw' when removing the iPhone 6 Plus from its safe hiding place, I chose a case that is thin and that won't resist being removed from the zipper pocket. The Apple Leather Cases achieve that goal.
LINKS TO INTERESTING iPhone 6 TOPICS
Crazy Drop test for the iPhone 6 and 6 Plus
Multi-tasking shootout between the iPhone 6, HTC One, and Samsung Galaxy S5

Comments? Suggestions? Email , mad scientist.
Follow me on Twitter @barefeats

WHERE TO BUY APPLE PRODUCTS
USA readers can help us earn a commission by using this Apple Store USA link or by clicking on any Apple display ad.
Live outside the USA? No problem. We are also an affiliate of these Apple Stores:
PowerMax not only sells new and used Apple products, but will give you a generous trade-in offer on your old Mac, old iPad, and/or old iPhone.