Posted Wednesday, November 11th, 2015 by rob-ART morgan, mad scientist
November 12th, 2015, added a MacBook Air and MacBook Pro to Geekbench graph

Geekbench 3 runs under both iOS and OS X. So we used it to compare the combined processor and memory performance. (HIGHER number means FASTER.)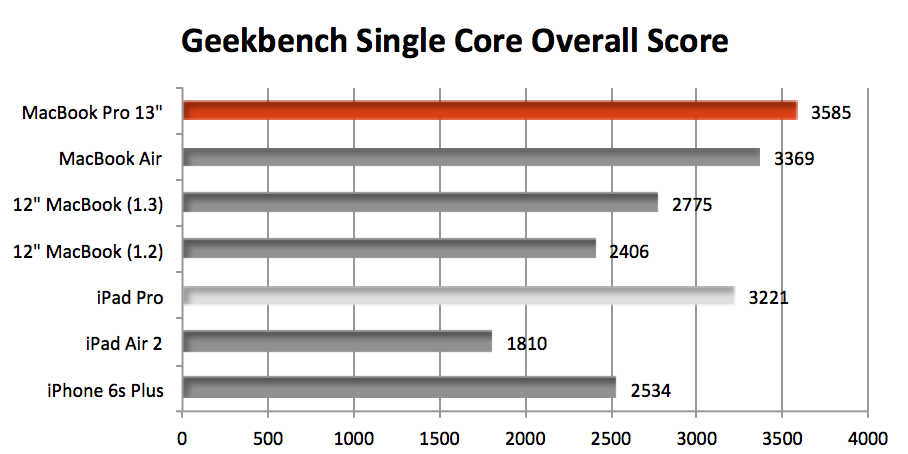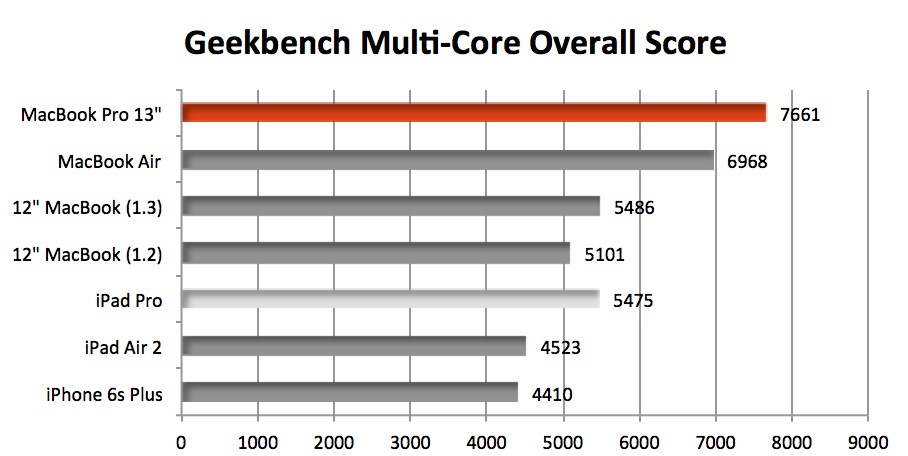 GFXBench 3 measures the OpenGL performance of both iOS and OS X devices. We ran the Manhattan and T-Rex animations off screen at 1080p in all cases. (HIGHER number means FASTER.)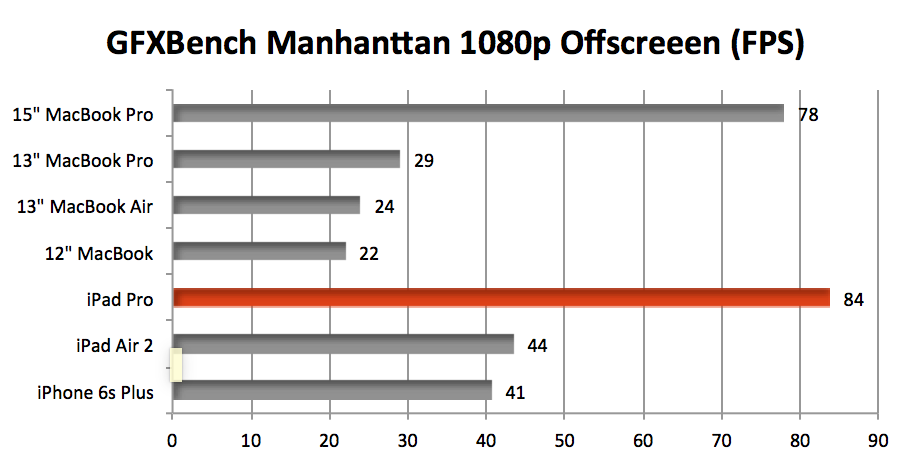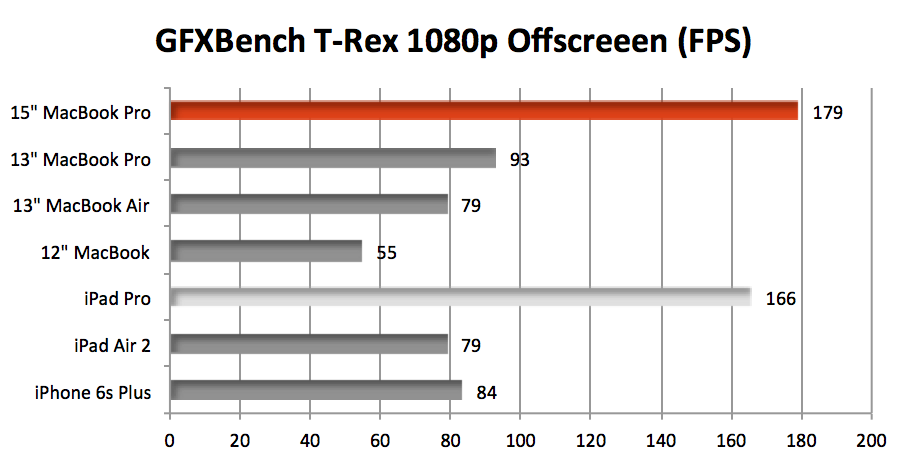 GRAPH LEGEND
15" MacBook Pro = Mid 2015 Macbook Pro 15" with 2.8GHz Core i7 and AMD Radeon R9 M370X
13" MacBook Pro = Early 2015 Macbook Pro 13" with 3.1GHz Core i7 and Intel HD Graphics 6100
13" MacBook Air = Early 2015 Macbook Pro 13" with 2.2 GHz Core i7 and Intel HD Graphics 6000
12" MacBook = Early 2015 MacBook Retina 12" with 1.2GHz or 1.3GHz Core M and Intel HD Graphics 5300
iPad Pro = iPad Pro with A9X chip
iPad Air 2 = iPad Air 2 with A8X chip
iPhone 6s Plus = iPhone 6s Plus with A9 chip

CAN THE IPAD PRO COMPETE WITH LAPTOPS?
CPU SPEED
The Geekbench 3 Single-Core Score for the iPad Pro beats the fastest 12" MacBook Retina but scores behind the two MacBook Pros -- which is as it should be.
The Multi-Core Score is essentially the same as the top 12" MacBook with 1.3GHz Core M but slower than the MacBook Air and 13" MacBook Pro. (The top 2.8GHz MacBook Pro 15" Quad-Core i7 2.8GHz was not included but, in case you are curious, it's Geekbench Multi-Core score was 15165.)
GPU SPEED
Shockingly, the iPad Pro's framerate for the Manhattan OpenGL animation is faster than the fastest 15" MacBook Pro with M370X GPU! And the framerate for the T-Rex OpenGL animation is almost as fast.
BOTTOM LINE
If graphic speed is your passion, at least if our limited testing with and OpenGL benchmark, it could be argued that the iPad Pro matches or exceeds the performance of any Apple laptop. However, if CPU crunching is your need, it could be a substitute for the 12" MacBook. It won't however, impress you running next to a Core i7 MacBook Pro.
Apples to Oranges? We are comparing an iOS mobile device with 4G of RAM running iOS apps to an OS X device with 8G to 16G of RAM running OS X apps.
Comments? Suggestions? Feel free to email me,
Follow me on Twitter @barefeats
WHERE TO APPLE products:
USA readers can help us earn a commission by using this Apple Store USA link or by clicking on any Apple display ad. Live outside the USA? No problem. We are affiliated with these Apple Stores: