Posted Thursday, September 17th, 2015 by rob-ART morgan, mad scientist
Updated Reason 3 on September 18th.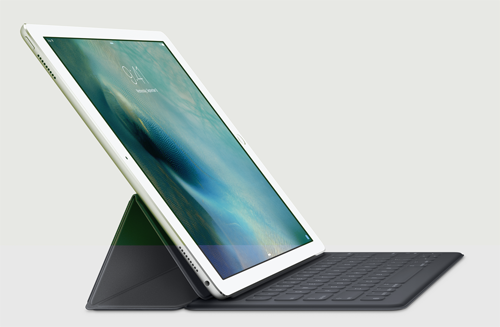 REASON 1: Laptop Size Screen
If, like me, you are using your iPad as a laptop surrogate, then having a laptop size screen is a big advantage. The iPad Pro screen is bigger than the 12" MacBook Retina and as big as the 13" MacBook Air and 13" MacBook Pro Retina.
REASON 2: Laptop Size Keyboard
The same goes for the keyboard. Not only is the iPad Pro's virtual keyboard larger than the iPad Air 2's, but the 'real' Smart Keyboard accessory has a full size key layout. Up to now I've been using the Logitech Bluetooth Easy-Switch Keyboard (K811) with my iPad Air 2. It is a full size keyboard with backlit keys -- far superior to some other third party BT keyboards with shrunken keys and layout. It appears Logitech will release a full size BACKLIT keyboard with the Smart Connector called CREATE.
REASON 3: Bigger 5.6MP screen + Apple Pencil = Better Sketching
For years I've longed for a pressure sensitive iPad that can mimic the nuances of a paint brush or flexible ink pen point -- like the Wacom drawing tablets. Thanks to the revamped Multi-Touch subsystem scanning the Apple Pencil's pressure and tilt sensors at 240 times per second, the iPad Pro becomes in essence a wireless Wacom Cintiq with 'brains.'
REASON 4: iOS 9's Multi-Tasking
With the larger screen, the new multi-tasking Slide Over, Split View, and Picture in Picture features of iOS 9 become much more useful.
REASON 5: Room For Four Good Speakers
The larger form factor made it feasible to fit four speakers in the iPad Pro with wider frequency range and more back volume than the other models of iPad.
Comments? Suggestions? Feel free to email me,
Follow me on Twitter @barefeats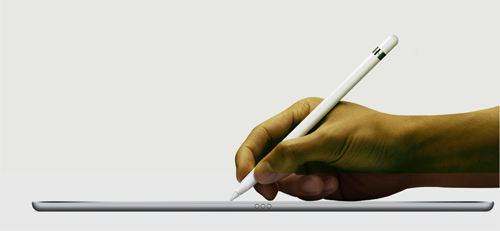 WHERE TO APPLE products:
USA readers can help us earn a commission by using this Apple Store USA link or by clicking on any Apple display ad. Live outside the USA? No problem. We are affiliated with these Apple Stores: