Originally posted May 21st, 2010, by rob-ART morgan, mad scientist
I've spent two weeks with the Apple iPad WiFi + 3G comparing it to the iPad "WiFi only." I have a few thoughts to share.
GOOD: I was satisfied with the iPad 3G's download speed. I've seen as high as 5484Kbps. Of course, I've seen as low as 30Kbps. The average of 74 test runs made in various locations of the city was 1418Kbps.
BAD: I'm NOT satisfied with the upload speed of the iPad 3G when connected to AT&T's 3G data network. Check out this graph showing the maximum recorded upload speeds:

LEGEND of GRAPH
iPad WiFi (S4G) = iPad "WiFi only" connected to Sprint Overdrive in 4G mode
iPad WiFi (S3G) = iPad "WiFi only" connected to Sprint Overdrive in 3G mode
iPad 3G (A3G) = iPad "WiFi + 3G" connected to AT&T's 3G data network
Droid Eris (V3G) = Droid Eris smart phone connected to Verizon Wireless' 3G data network.

I understand that the 3G module in the iPad 3G (and iPhone 3GS) can download at speeds up to 7.2Mbps but is limited to 384Kbps when doing uploads. I think that's a definite weak spot in the iPad and iPhone specs. Hopefully the next generation of iPads and iPhones will do better.
UGLY: The iPad 3G's "assisted GPS" was not always quick or accurate in locating me. One day I was in the lab. It had me 9 blocks East of my actual location. Today, I was at the local organic grocery. It showed me 3 blocks West of my actual location. The iPad WiFi (or the iPad 3G in WiFi mode) located me faster and more accurately in each case.
CONCLUSION
Your decision to buy an iPad "WiFi + 3G" depends a lot on your situation. If you are happy with the AT&T 3G service in your town or at the places where you travel, then it's nice to have as an alternative to WiFi. But don't expect the upload speeds (or download speeds) to match a good WiFi connection (mobile or otherwise).
Don't get to excited about the "assisted GPS." Be it known that "assisted WiFi" does just fine -- and often better.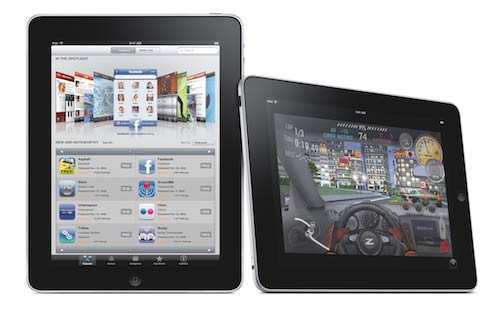 (click for larger view)
MORE GOOD STUFF FOR YOUR iPAD
1. Other World Computing has a quality leather iPad iFolio that is made in the USA.
2. If you want to do text messaging on your iPad instead of your iPhone, there are various apps on the Apple App Store that do that. We like textPlus+ the best.
WHERE TO BUY NEW APPLE PRODUCTS
USA readers can help us earn a commission by using this Apple Store USA link or by clicking on any Apple display ad.