Originally posted April 30th, 2010, by rob-ART morgan, mad scientist
Today the Apple iPad WiFi + 3G hits the stores. Many of you exercised great self discipline to resist the "WiFi only" iPad and hold out for the iPad "+3G." Brace yourselves for a "hue and cry" even louder than the complaints by those who had WiFi issues with the "WiFi only" iPad.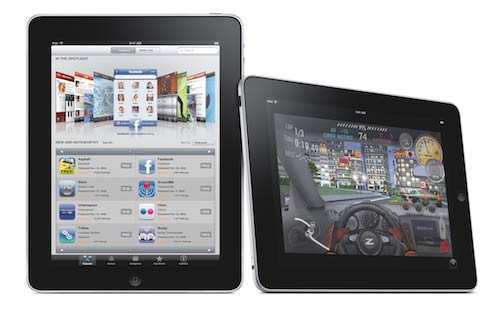 (click for larger view)
YOUR iPAD "+3G" MAY NEED A GOOD WIFI SPOT TO BE HOT.
FACT: AT&T's 3G data coverage varies from city to city and from neighborhood to neighborhood. If you have an iPhone 3G or 3GS, you already have a sense of the coverage in your favorite venues. The iPad will be no worse but no better. If your coverage is good, the iPad "+3G" will do fine. If it is spotty or slow, your iPad "+3G" will struggle, too.
In our town, the AT&T voice coverage is fine but the 3G data coverage is poor. I was in a sushi bar last night. I had four bars on my iPhone 3GS. The download speed was 20Kbps. I could make phone calls or do text but internet was unusable.
If you have held out for the iPad "+3G," you've been warned. I wish you well.
ON A MORE POSITIVE NOTE....
"MUST HAVE" UTILTIES FOR YOUR IPAD
1. If you are frustrated with a lack of a camera or the hoops you must jump through to get photos onto the iPad, consider getting the "Camera for iPad" app. It turns your iPhone into a slave camera for the iPad. The snapped photo is transferred directly to the iPad's Photo Library via Bluetooth or WiFi.
2. If you wish you could make phone calls on the iPad, don't forget the "TruPhone" app.
3. If you like traveling light with the iPad, but want to access information or apps on your Mac at home or in the office, there is always Desktop Connect.
4. If you find yourself hating Safari for iPad because it can't do Tabs or In-Page Search, there are some good alternatives that can do those things. I chose Atomic Web Browser. It's "the bomb."
DON'T BE AN ANIMAL. ACCESSORIZE!
I know iPad accessories can be very personal choice. Your needs and preferences may differ but here's some I found useful:
1. Marware Eco-Vue for iPad is a stylish, quality, eco-leather folio case with a hand strap that allows you to fold back the cover and securely grip the iPad in one hand while pecking on the screen with the other.
2. Tumi Alpha Flap Zip Cross Body is a small, slim messenger-style bag with cross-body design that feels like it was made with the iPad in mind. Featuring Tumi's signature FXT ballistic nylon, it offers interior and exterior organizer pockets as well as an adjustable shoulder strap.
3. Apple Wireless Wireless BT Keyboard is light enough to take on the road with the iPad. I'm sorry, but as a touch typist, the virtual keyboard on the iPad frustrates me.
4. Remember the issues I mentioned with AT&T's 3G data network? For that (and other reasons), I bought the "WiFi only" iPad. We have terrific 4G coverage under Sprint in our city. I purchased the 3G/4G Overdrive mobile hotspot. It blows the doors off of any 3G device connected to AT&T's (or Verizon Wireless') 3G data network. I've measured download speeds as high as 6500Kbps on the MacBook Pro and 4500Kbps on the iPad.
In the same sushi bar mentioned above, I was getting a full 4G signal on the Overdrive. And since it supports up to 5 devices, I was able to surf the net at high speeds with both my "WiFi only" iPad and iPhone 3GS while sipping green tea and grinding on some good eats.
BTW, if you are lamenting the lack of a GPS on your "WiFi only" iPad, the Overdrive includes a GPS chip. I enter the Overdrive IP address in Safari or Atomic browser. The Overdrive control panel appears. After confirming that the GPS is active and has a fix, I click on "Map me." It takes me to Google Maps to display my exact location (including latitude and longitude). There's an option to use MaQuest, Bing Maps, and Yahoo Maps as well.
WHERE TO BUY NEW APPLE PRODUCTS
USA readers can help us earn a commission by using this Apple Store USA link or by clicking on any Apple display ad.
WHERE TO BUY REFURBISHED iPADs
Apple Store USA has refurbished iPads with 12 month warranty.