Posted Tuesday, October 28th, 2014 by rob-ART morgan, mad scientist
October 29th updated with more test settings info.
The iMac with Retina 5K Display defaults to a scaled 2560x1440. What happens to the frame rates when a game is run at the full 5120x2880 resolution (and resolutions in between)?
NOTE: The test unit was an iMac with Retina 5K Display running OS X Yosemite. CPU was the 4.0GHz Quad-Core i7. GPU was the R9 M295X. RAM was 32GB. All games were set at best quality except Tomb Raider which was set at High preset. Only L4D2 had anti-aliasing enabled (4x).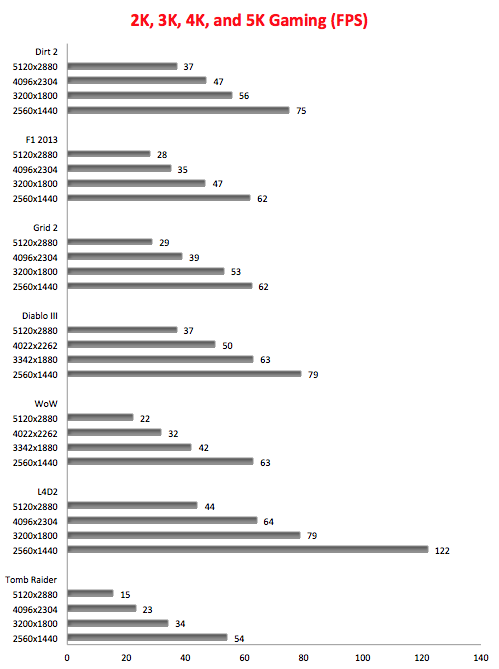 WHY ISN'T 5K SETTING 4X SLOWER IN ALL CASES?
Once a game is fill-rate limited, every increase in pixels drawn will produce a proportional drop in performance. Going from 2560x1440 to 5120x2880 is 4x the pixels, you'd expect a 4x drop in the frame rate. Yet only Tomb Raider came close at 3.5x. The other six games ranged from a 2x to 2.8x drop in frames per second.
The inescapable conclusion is that some portion of the game's rendering is not scaling all the way up to 5120x2880. For example, games often render to depth FBOs (Frame Buffer Objects) for depth of field effects at less than the native resolution. Similarly, screen space effects like motion blur or blooms may be rendered at a fixed resolution. In other words, each game may handle things differently.
The other thing that may have an impact here is the size of texture maps. Most games have not been reauthorized with 5K texture maps. When the game is running at 5120x2880 but fetching from the same small textures, more of the texture fetches will be serviced from the texture cache. Therefore you'll see less than a 4x increase in trips all the way out to VRAM.
TESTING ANOMALIES
Left 4 Dead 2 displayed severe smearing at 5120x2880, but we published the frame rate anyway. Tom Raider would not run at 5120x2880 unless we set the display to that resolution in Finder. (The 5120x2880 option does not appear as a choice in System Preferences > Displays unless you hold the Option key down and click "Scaled.") X-Plane 10 would run our timedemo at 5120x2880 but crash at the end and leave no results.
INSIGHTS
You can run most games at 5120x2880 on the iMac with Retina 5K Display but it does not mean you should. Though the average frame rates (in some cases) are acceptable, the periodic drops on frame rate could make game play painful.
MORE BARE FEATS iMAC 5K PAGES
Go to our INDEX page for a list of several pages featuring the iMac with Retina 5K Display compared to other Macs.
Comments? Suggestions? Feel free to email me,
Follow me on Twitter @barefeats

WHERE TO BUY iMACS and OTHER APPLE products:
USA readers can help us earn a commission by using this Apple Store USA link or by clicking on any Apple display ad. Live outside the USA? No problem. We are affiliated with these Apple Stores: