Posted October 14th, 2015 by rob-ART morgan, mad scientist
The new 21" iMac 4K Apple is nice, but the iMac with the most 'muscle' is the 27" iMac 5K which has some important performance and feature upgrades. Let's summarize.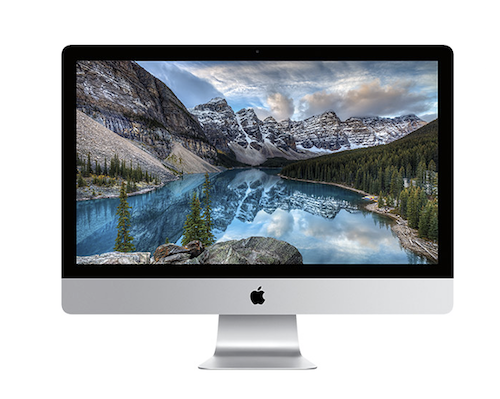 The Retina Display
The typical sRGB display has been replaced with one using an all new P3 gamut. This is achieved by shifting the Retina display away from standard white LEDs to advanced red-green phosphor LEDs, providing 25% more colors.
The CPU
The fourth generation "Haswell" processor has been replaced with the sixth generation "Skylake" Intel Core processor running at up to 4.0GHz core clock speed.
The RAM
Now 1867MHz (up from 1600MHz).
The GPU
The top option is the AMD R9 M395X (4GB of GDDR5 video memory) which replaces the AMD R9 M295X (4GB).
The Flash Storage
The large sequential transfer speed has jumped from 700MB/s to 1800MB/s.
The Keyboard
The new Magic Keyboard sports a lower profile, improved keys, easier Bluetooth pairing, and a built-in rechargeable Lithium battery.
The Mouse
The Magic Mouse 2 has a smother glide and built-in lithium rechargeable battery.
WE ARE STILL WISHING FOR...
Thunderbolt 3 (40Gbps)
USB 3.1 (10Gbps)
Keyboard with backlighting
CONCLUSION
In a recent article comparing various 4-core Macs, we voted the iMac 5K the best overall in performance. Now it is even better. How does it compare with 6-core and 8-core Mac Pros with GPU and storage mods? Stay tuned for an upcoming shootout.
Comments? Suggestions? Feel free to email me,
Follow me on Twitter @barefeats

WHERE TO BUY MACS and OTHER APPLE products:
USA readers can help us earn a commission by using this Apple Store USA link or by clicking on any Apple display ad. Live outside the USA? No problem. We are affiliated with these Apple Stores: