June 16th, 2017, by rob-ART morgan, mad scientist
June 21st, 2017, corrected Motion graph and converted to FPS
and corrected iMac 5K Resolve Playback FPS
Here are some initial stress tests of the AMD Radeon Pro 580 GPU in the 2017 iMac 5K. This is an appetizer. More test results are coming soon.
GRAPH LEGEND
cMP 1070 - GeForce GTX 1070 (6GB) GPU installed in 'mid 2010' Mac Pro tower with 3.33GHz 12-core X5680 Xeon, 96G of 1333MHz ECC memory, 512G SM951 PCIe flash boot volume.
iMac5K Pro 580 - '2017' iMac 5K with 3.8GHz Quad-Core i5, 8G of 2400MHz DDR4 memory, Radeon Pro 580 GPU (8GB VRAM), 2TB Fusion Drive
iMac5K M395X - 'late 2015' iMac 5K with 4GHz Quad-Core i7, 64G of 1867MHz DDR3 memory, Radeon R9 M395X GPU (4GB VRAM), 1TB PCIe SSD.
NOTE: At the time of this posting, there was no NVIDIA Web Driver release for the 2017 iMac 5K's Sierra 10.12.5 build (16F2073). When released, we will try connecting the GTX 1070 and other NVIDIA Pascal GPUs to the 2017 iMac 5K using a Thunderbolt 3 eGPU box.
DaVinci Resolve - Candle 1080p project playback renders Noise Reduction Node (1NR) on-the-fly. GPU Processing mode was set to OpenCL for AMD GPUs and CUDA for the NVIDIA GPU.
(HIGHER frames per second = FASTER)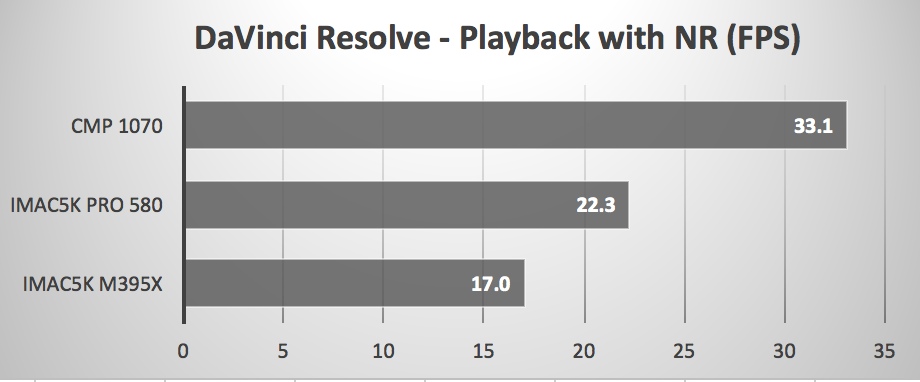 LuxMark 3 OpenCL - The default option is to render the LuxBall scene using all available GPUs. You can override the default by pausing once the rendering starts. Change settings. Then restart rendering.
(HIGHER KSamples per Second = FASTER)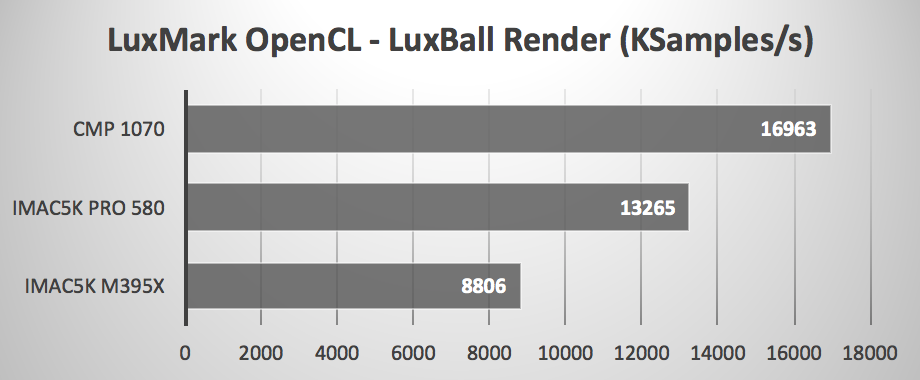 Heaven OpenGL Benchmark - Heaven Benchmark is a GPU-intensive benchmark that hammers graphics cards to the limits. You fly through a magical steampunk world of shiny brass, wood and gears. It leverages the most advanced capabilities of OpenGL 4.0.
(HIGHER frames per second = FASTER)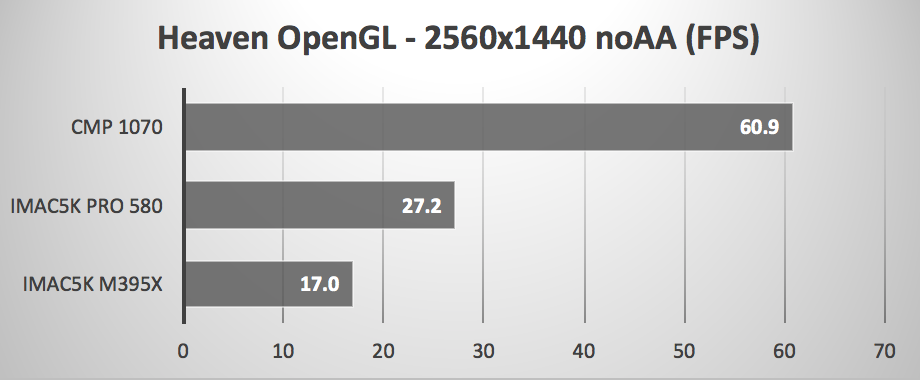 Tomb Raider OpenGL game - We ran the built-in Benchmark using High Quality preset at 2560x1440 fullscreen.
(HIGHER frames per second = FASTER)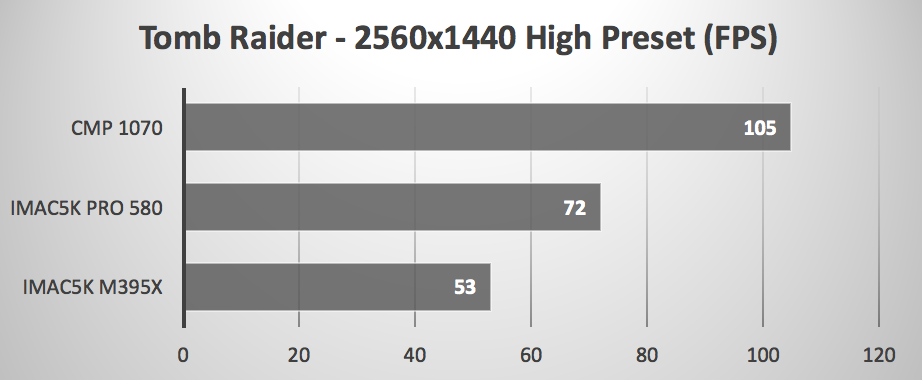 Motion - Using the 600 frame Atmospheric - OPEN template, we timed how long it took to render the RAM Preview. (Because the iMac 5K test unit only had 8GB of RAM, it only rendered 294 of the 600 frames, thereby skewing the results to make it look faster. We converted the result to frames per second to give a more accurate picture of its performance.)
(HIGHER frames per second = FASTER)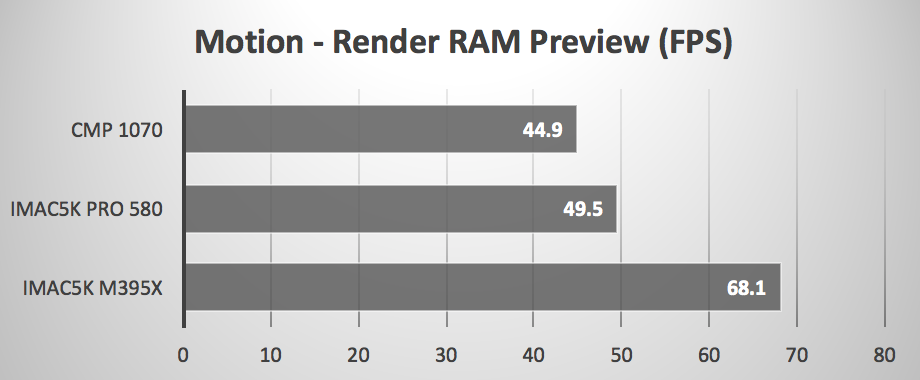 WHAT DID WE LEARN?
The Radeon Pro 580 in the 2017 iMac 5K is clearly faster than the previous iMac 5K's optional R9 M395X GPU.
With the exception of the Motion RAM Preview, the Pro 580 was slower than the GeForce GTX 1070 we were running in the Mac Pro tower. That's not surprising since the 1070 is rated at 6.5 teraflops and the Pro 580 is rated at 5.5 teraflops.
Once we add more memory to the iMac 5K, we will run some serious pro app benchmarks. We will include the 2017 iMac 5K quad-core i7 with 1TB PCIe based flash storage which should arrive in a few more days.