Posted 11/11/03 by Rob-ART Morgan, mad scientist
Updated 11/14/03
I'm in the process of re-testing all the iBooks and PowerBooks with either more memory or running Panther or both. I'm giving you what I got so far, so please bear with me. More results will be added as I'm given access to various laptops running Panther (and with adequate memory).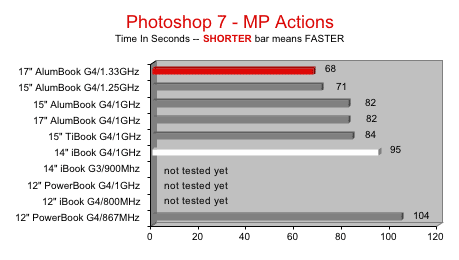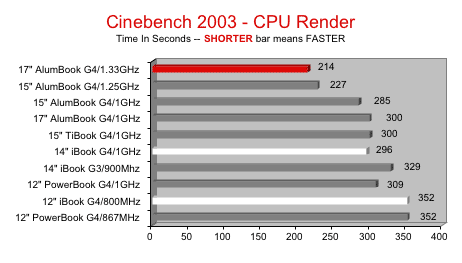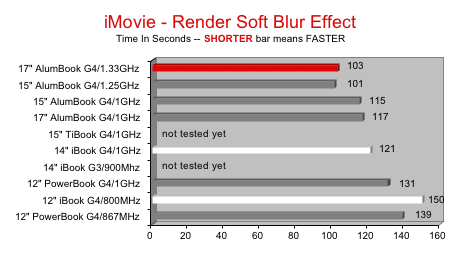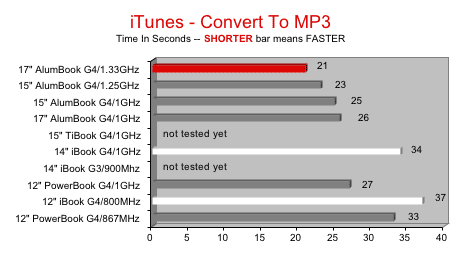 SEE PAGE TWO FOR 3D GRAPHICS TESTS
If cost is no object and best performance is your goal, it's hard to beat the 15" or 17" Aluminum PowerBooks.
But the point of this article is to see how the new lower cost iBook G4s compare to the PowerBook G4s of similar clock speed. Bottomline: You get what you pay for.
In CPU intensive tests (above), the iBook G4/1Ghz matched the speed of PowerBooks in 2 out of 4 tests. In the Graphics intensive tests (PAGE TWO), the PowerBooks with better graphics chips blew it away.
READER COUNTERPOINT
"Regarding your ibookG4 speed tests, you state that 'you get what you pay for' with the new iBooks. But look at it this way: the new iBooks rival the speed of the first AlBook 17", 10 months later and at only 40% of the price. I think that is true value for money. Add to that the robustness of the iBook, (my Titanium is _terrible_) and I think the iBook is unbeatable." (Patrick M.)
MORE ANALYSIS
My biggest concern with iBooks (both G3 and G4) has always been the 640MB memory limit. If you are running serious apps like Photoshop, that's an intolerable limitation. The good news for G4 iBook owners: you're no longer limited to that. Thanks to memory specialists like Trans International, you can increase it to 1.1GB. (But then, the new Aluminum 15" and 17" PowerBooks can be expanded to 2GB.)
On the bright side, the hard drives used in the new G4 iBooks are just as fast as those used in the PowerBooks. On the not-so-bright side, they still lack FireWire 800 support.
What about the refurbished or closeout Titanium PowerBooks? Are they a better choice than the iBook G4? I say "Yes." Why? The TiBooks come with L3 cache, they have a PC card slot, they can be expanded to 1GB memory more cheaply than the iBook, the hard drive is easier to replace, they perform better overall. The only downsides are the limited Airport signal range and "easy-to-chip" paint on the edges.
FEATURES COMPARED
Here's a table showing the features of the new G4 iBooks compared to G4 PowerBooks with similar form factor:
iBook 12"

PowerBook 12"

iBook 14"

PowerBook 15"

CPU clock speed

800MHz

1GHz

1GHz

1GHz or
1.25GHz

L2 Cache

256K

512K

256K

512K

System Bus

133MHz

133MHz

133MHz

167MHz

Max Memory

640MB*

1.25GB

640MB*

2GB

Graphics Processor

Radeon 9200 (32MB)

GeForce FX 5200 (32MB)

Radeon 9200 (32MB)

Radeon 9600 (64MB)

Dual Display Support

No

Yes

No

Yes

Slot Load Optical Drive

Combo

Combo (SuperDrive optional)

Combo

Combo (SuperDrive optional)

FireWire Ports

FW400 (1)

FW400 (1)

FW400 (1)

FW800 (1), FW400 (1)

USB Ports

USB2 (2)

USB2 (2)

USB2 (2)

USB2 (2)

Ethernet

10/100

10/100

10/100

10/100/1000 (Gigabit)

BlueTooth

Optional

Standard

Optional

Standard

PC Card Slot

No

No

No

Yes

Video Out

VGA

DVI

VGA

DVI

Weight

4.9lb

4.6lb

5.9lb

5.6lb

Battery Life (est. max.)

6 hours

5 hours

6 hours

4.5 hours

Starting Price

$1099

$1599

$1499

$1999

Price with extra memory, 60GB drive, AirPort Extreme Card

$1423 (640MB)

$2048 (768MB)

$1748 (640MB)

$2598 (1GB)

Other Key Options

Backlit Keyboard
*
Trans International
has a 1GB module that expands the iBook memory to 1.13GB total.