GRAPH LEGEND
L2013 nMP 3.7GHz - 'late 2013' Mac Pro Quad-Core 3.7GHz Xeon E5-1620 v2, 16G of 1867MHz DDR3 memory, dual FirePro D300 GPUs, 512G PCIe flash storage (Samsung XP941/Apple)
L2015 iMac 5K 4.0GHz - "late 2015" iMac 5K Quad-Core 4.0GHz Core i7-6700K, 16G of 1867MHz DDR3 memory, Radeon R9 M395X (4G) GPU, 1TB PCIe flash storage
L2016 rMBP 2.9GHz - 'late 2016' Retina MacBook Pro 15-inch, 2.9GHz Core i7-6920HQ, 16G of 2133MHz LPDDR3 memory, AMD Radeon Pro 460 (4G), 1TB flash storage (Samsung?)
M2015 rMBP 2.8GHz - 'mid 2015' Retina MacBook Pro, 15-inch, 2.8GHz Core-i7-4980HQ, 16G of DDR3 1600MHz memory, AMD Radeon R9 M370X (2G), 1TB flash storage (SM951/Apple)
CPU TESTS
CINEBENCH R15 - Using all available CPU cores, it renders a 3D scene containing 2000 objects which contain more than 300,000 polygons total.
(HIGHER SCORE = FASTER)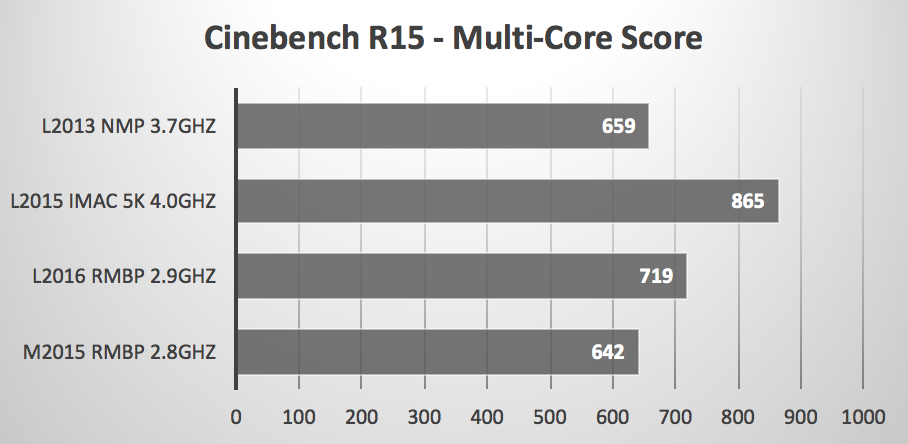 GEEKBENCH 4 - Combined Multi-Core Score for 22 CPU tests and 3 memory tests.
(HIGHER SCORE = FASTER)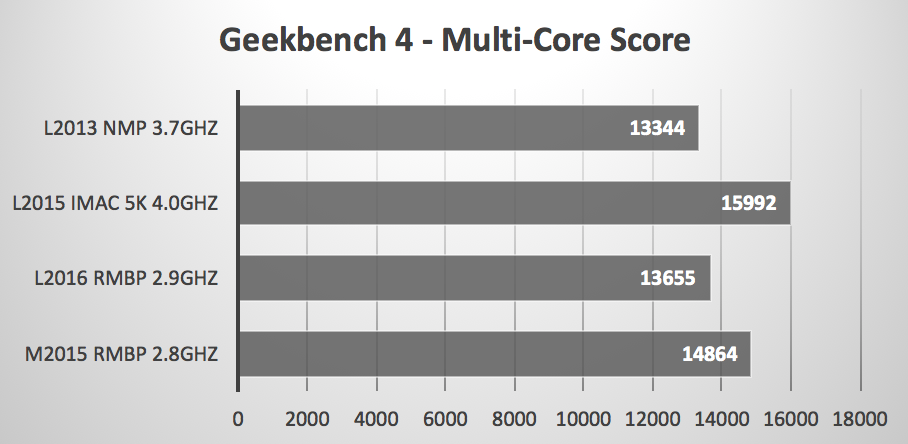 HANDBRAKE - Use all CPU cores to transcode a two minute Apple ProRes 422 movie into iPad format.
(LOWER TIME IN SECONDS = FASTER)
GPU TESTS
GEEKBENCH 4 GPU COMPUTE - This new addition to Geekbench uses eight GPU intensive tests to compute either OpenCL or CUDA Performance.
(HIGHER SCORE = FASTER)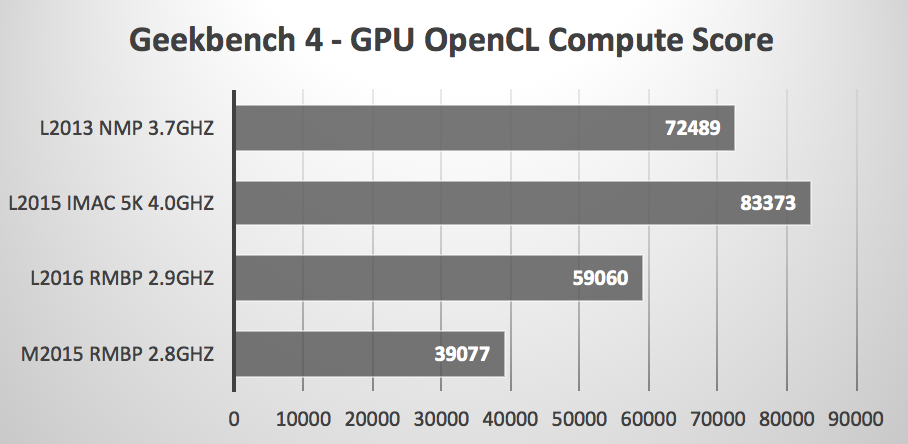 LUXMARK 3 - This OpenCL benchmark uses either the GPU or CPU or both to render a complex scene. The Mac Pro has two discrete GPUs, so we used both -- which explains why it smoked the two laptops with single discrete GPUs.
(HIGHER K/SAMPLES PER SECOND = FASTER)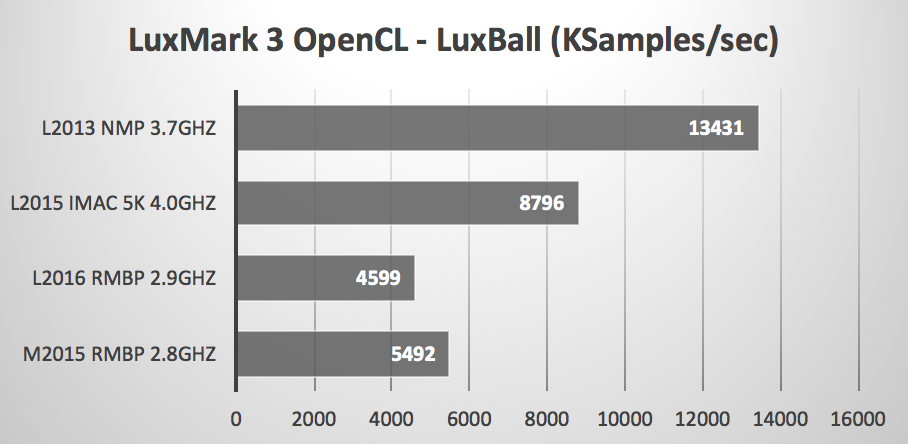 GFXBENCH 3 - This OpenGL benchmark plays back an animation of a T-Rex chasing a Motocross rider. We chose 1080p Off-Screen mode to make it a fair fight.
(HIGHER AVERAGE FRAMES PER SECOND = FASTER)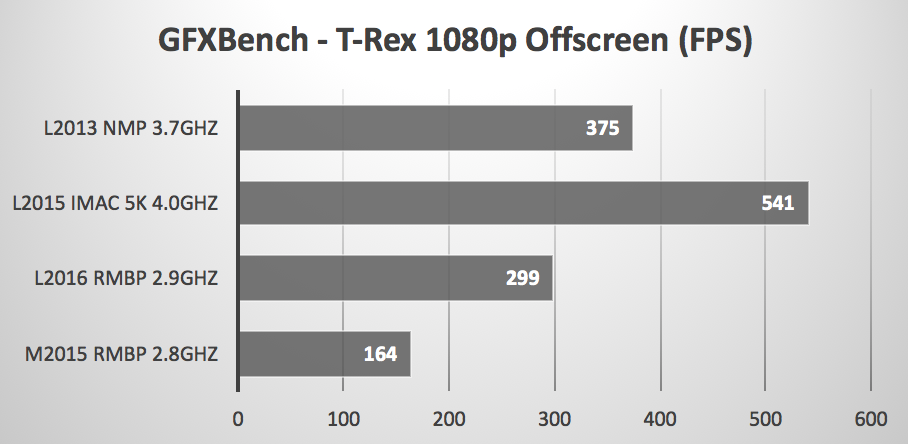 HEAVEN - Using the Basic 1280x720 Preset, we ran this fly-through containing many advanced OpenGL extensions.
(HIGHER AVERAGE FRAMES PER SECOND = FASTER)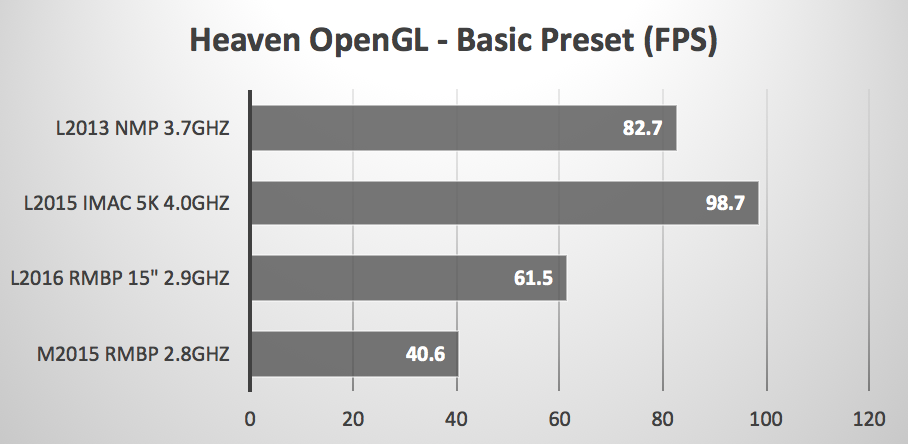 WHAT DID WE LEARN?
In the featured three CPU tests, the 'late 2016' Quad-Core MacBook Pro competed very well compared to the Quad-Core Mac Pro cylinder. However, the iMac 5K beat both of them.
The 'late 2013' Mac Pro with Dual FirePro D300s shined in the LuxMark OpenCL benchmark which utilizes both GPUs. The iMac 5K's M395X GPU beats all others in the three benchmarks that stress a single GPU.
INTERPRETATION?
The 'late 2016' MacBook Pro is not a DTR (DeskTop Replacement). Don't forget to see PART ONE of this comparison.
Comments? Suggestions? Feel free to email me,
Follow me on Twitter @barefeats