ENCODING AND BURNING BLU-RAY MOVIE DISC
As indicated above, if you are going to burn a Blu-ray movie disc, you'll need Toast 9 Titanium (or Adobe Encore) for authoring and burning the Blu-ray movie disc, regardless of what editing tool you use. We launched Toast, selected Blu-ray Movie tab, and dragged our two edited ProRes 422 sequences into the window, selected our user interface template, tweaked the preferences, and began the encoding/burning function.
We had previously installed the
MCE 6X Blu-ray Recordable Drive
in the top optical bay of our Mac Pro. (The original SuperDrive was moved to the bottom optical bay.) Toast 9 Titanium lets you select the drive optical drive you plan to use for the burn.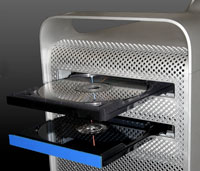 The process of encoding and burning our two sequences (24.5 min total) onto a Blu-ray movie disc took 2.5 hours. Thankfully Toast uses up to 6 cores for encoding on our Mac Pro or it would have taken even longer.
Our only bone to pick with Toast 9 Titanium was that when we loaded the results Blu-ray movie disc in our Blu-ray player (PS3), the user interface was of very low visual quality even though the movies themselves were HD quality. If and when Apple commits to supporting Blu-ray in iDVD and DVD Studio Pro, I'm confident the user interface quality will go up dramatically.
BUT ARE WE READY FOR CONSUMER BLU-RAY?
I only know three people with Blu-ray burners and players: Me, Myself, and I. Before I can get excited about distributing my homemade HD movies to friends and family, I'll have to wait until they all buy Blu-ray players. That's not going to happen until the prices on players drop to $99 or they all get Sony Playstation 3s.
It would be nice if Apple made Blu-ray players and/or burners a Configure-To-Order option on Macs. After all, the MCE Blu-ray burner also supports 16X DVD burning and 40X CD-R burning. Sony includes a slot load Blu-ray player for the Playstation 3 that would go well with the new MacBook Pro as a CTO option.
It would also be nice if Apple put the code in iDVD and DVD Studio Pro that allows you to burn Blu-ray movie discs.
WHERE TO BUY HD VIDEO PRODUCTS
You can buy the Sony HDR-CX12 and similar HD HandyCams from your local Sony Dealer or from their Sony Style website ($100 off promotion currently in effect). Or order from Amazon ($100 off). Sony also sells the memory sticks and the USB 2.0 memory stick reader. (Ask the dealer about the discount on an additional memory stick when you purchase the HandyCam.)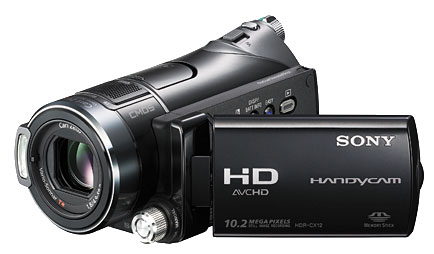 VIDEO EDITORS
iMovie 7 comes with iLife 08 on every Mac currently shipping. Officially, Apple says you must have a Intel based Mac to capture AVCHD, but if you own a G5 Mac, you can use VoltaicHD from Shedworx to import AVCHD footage. If you prefer Final Cut Express or Final Cut Pro, those can be purchased from your local Apple Retail Store or from the Apple Online Store. Ditto for Amazon.
BLU-RAY AUTHORING SOFTWARE
You can order Toast 9 Titanium direct from Roxio or from Amazon. It not only authors and burns Blu-ray movies but it has a few editing features. Adobe Encore CS3 is bundled with Adobe Premiere CS3 and is available direct from Adobe or from Amazon.
BLU-RAY BURNERS
The 6X Blu-ray Recordable Drive that installs in the spare optical bay of the Mac Pro or G5 Power Mac can be purchased direct from MCE. Other World Computing has an external 4X Blu-ray burner that runs off eSATA, FireWire 800, FireWire 400 or USB 2.0 ports. LaCie has an external 4X Blu-ray burner that runs off the FireWire 400 or USB 2.0 ports.
CRUNCHING HARDWARE
If you need an 8-core Mac Pro to convert AVCHD files to iMovie or Final Cut Express compatible format, I know where you can find one.