Posted Friday, September 27th, 2013 by rob-ART morgan, mad scientist
As expected, the 2013 iMac has been updated with the Intel 'Haswell' processor. However there is more to this update than just CPU. Let's talk.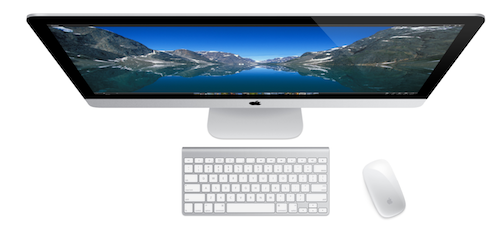 The top GPU is faster with more video memory than ever.
If you order the top 27" model of the 2013 iMac, you can get the optional NVIDIA GeForce GTX 780M with 4GB of GDDR5. We recently tested a 'custom' GTX 780 with 3GB of GDDR5 in the 2010 Mac Pro. It will be interesting to see how the two compare running GPU intensive apps like OctaneRender, DaVinci Resolve, Diablo III, etc.
The flash storage is at least 50% faster.
The same flash storage is used in the 2013 MacBook Air. When we benchmarked it the large transfer speed was 794MB/s. Compare that to the 2012 MacBook Air's flash storage we clocked at 484MB/s. The same or similar jump in speed will be available in the 2013 iMac versus the 2012 iMac.
This speed increase also affects the Fusion Drive which uses a flash module fused with an HDD -- as long as you don't overflow the flash module.
Wi-Fi is faster with 802.11ac support
The rated throughput of "high-end" 802.11ac products should be around 910Mbps compared to 320Mbps for "max" 802.11n products. Anandtech tested some 802.11ac devices back in July achieving real-world throughput as high as 541Mbps. Of course, if you are connecting to the internet via a cable TV hookup, you won't get those speeds. We pay extra for 150Mbps "Extreme" internet from our local cable company.
The WiFi fun has just begun. A white paper by Cisco shows the potential of 4900MBps (4.9Gbps) throughput in Ultra-high-end 802.11 wave 2 products.
At the very least you can now take advantage of the 802.11ac capability of the newest AirPort Extreme Base Station and Time Capsule. We are anxious to see how fast two 802.11ac Macs can 'talk' to each other.
And, as mentioned at the start, the new iMac sports a 'Haswell' CPU.
The top 27" model can be ordered with a 3.5GHz quad-core (8 thread) Intel Core i7 with Turbo Boost up to 3.9GHz. Other 27" CPU options include a 3.2GHz or 3.4GHz quad-core (4 thread) Intel Core i5. I emphasize "4 thread" because only the Core i7 can do 8 threads via hyperthreading.
Low-end 21.5" 2013 iMac models have performance enhancements, too.
Even the lowest priced 21.5" model has been upgraded with a 2.7GHz quad-core Intel Core i5 processor and the Intel Iris Pro integrated graphics. The top 21.5" model can be ordered with a 3.1GHz quad-core i7 with Turbo Boost up to 3.9GHz, a GeForce GT 750M GPU with 1G of GDDR5 memory, and a 512GB flash storage.
One downside of the 21.5" model is the inability for the memory to be user upgradeable. If you want to max the memory to 16GB, it must be done at the time of purchase.
So many models, so little time.
I wish I could test all six CPU and all five GPU permutations of the 2013 iMac, but our budget won't allow that. I can promise to test the fastest 2013 iMac against the fastest 2012 iMac to give a reference point to speed loving iMac deciders. If you purchase one of the other models of 2013 iMac and want to run some benchmarks for me, email me,

For notices on new articles, follow me on Twitter @barefeats