REVIEW:
HighPoint RocketRAID 2314
PCIe SATA 3G host adapter
with RAID 5 and PM Support
Originally posted March 23rd, 2007, by rob-ART morgan, mad scientist.
Updated with ten drive RAID set results using Port Multiplication on April 5th, 2007
Updated on September 4th, 2007, with info on new driver
HighPoint Technologies Inc. is one of only two companies with a Mac compatible SATA host adapter that supports RAID 5. In the past, we've tested HighPoint's RocketRAID SATA host adapters with internal ports, Infiniband external ports, or SAS external ports, but this new RocketRAID 2314 PCIe SATA 3G host adapter comes with four standard external eSATA connectors. As of April 2nd, the latest driver supports Port Multiplication enclosures.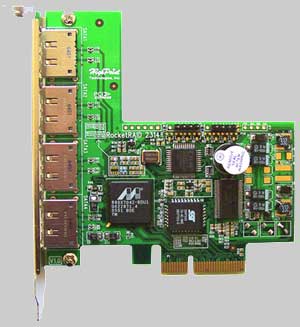 Key features include:
- S.M.A.R.T. monitoring of individual drives
- support for RAID 0, 1, 5, 1/0, and JBOD
- automatic rebuilding of a degraded RAID set
- web based RAID manager
- hard disk health monitoring (SHI)
- staggered drive spinup
- email notification of errors or failures
- Port Multiplication.
BAD SECTOR REPAIR
A unique feature to the RocketRAID 2314 is the ability to recover data stored in a bad sector and relocating it in a good sector. This saves you from the time consuming task of rebuilding the RAID set when such an error occurs.

TEN DRIVE PM RAID SET TESTED
Using ten Hitachi 7K500s inside two Port Multiplier enclosures (Wiebetech SilverSATA V and Sonnet Fusion 500), we ran our DiskTester benchmark with the RocketRAID 2314 configured as RAID 1/0, RAID 5, and RAID 0. Here's the results we recorded:




NOTE: Since we ran the tests above, HighPoint has released the version 2.11 driver that achieves much higher write speed. See our review of the RocketRAID 2314MS for the latest numbers. If you bought the 2314, highly recommend downloading and installing the 2.11 driver.
The HighPoint RocketRAID host adapters use a web based RAID utility to set up and maintain the RAID sets. Here's what that interface looks like when we ran it in Safari: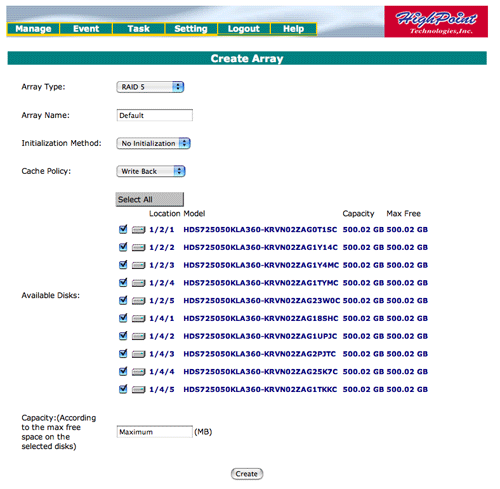 OTHER INFO
If you already have a RocketRAID host adapter installed (such as the RocketRAID 2322), you can't run a second one. Furthermore, the driver for the RocketRAID 2322 is not compatible with the RocketRAID 2314 (and vice versa).
HighPoint makes a similar adapter to the RocketRAID 2314 which they designate the RocketRAID 2304. The main difference is that the 2314 has a 4 lane PCIe rating while the 2304 has a 1 lane rating.
WHERE TO BUY HIGHPOINT ROCKETRAID HOST ADAPTERS
(You may not see the RR 2314 listed but the following are HighPoint resellers we trust.)

WHERE TO BUY SATA Hard Drives and Enclosures for your MAC
Has Bare Feats helped you? How about helping Bare Feats?
© 2007 Rob Art Morgan
"BARE facts on Macintosh speed FEATS"
Email , the webmaster and mad scientist