Posted August 4th, 2006, by rob-ART morgan, mad scientist
We were excited to hear that SanDisk released not only a faster CompactFlash card (Extreme IV), but a FireWire 800 CF reader (Extreme FireWire Reader). Sounds like a dream come true? Is 40MB/s hype or reality? Keep reading.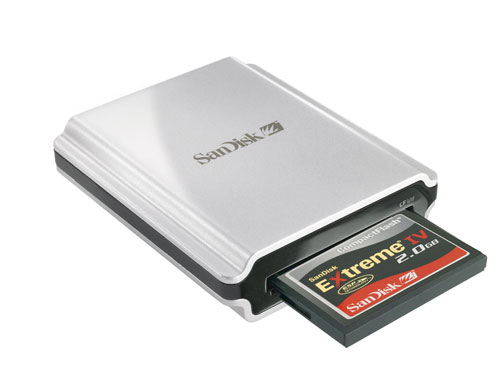 For comparison, we retested the Extreme III CF card and a 100X PQI CF card with the new reader. Plus, using a 9 pin to 6 pin FireWire cable, we tested all three cards using the FireWire 400 port on both test Macs. We included two "older" FireWire 400 CompactFlash readers.
SanDisk has a new Extreme USB 2.0 reader which we also tested, comparing it to their older ImageMate 6-in-1 USB 2.0 reader.
To simulate transferring 2MB (5 megapixel) and larger photos from the cards, we used QuickBench 3.0's Extended Test (2MB - 10MB blocks). We could have timed how long to copy photos from the card to the internal hard drive but that speed is affected by how fast and how fragmented your internal drive might be. And if you use Adobe's Bridge or Apple's Aperture or Apple's iPhoto import features, the speed is affected by the efficiency of that function. We felt that QuickBench was a better way to measure the maximum speed potential of each setup.
We tested on both the Quad-Core G5/2.5GHz Power Mac and the 17" MacBook Pro 2.16GHz Core Duo. The results were virtually identical for FireWire readers but the USB numbers differed signficantly between the two Macs, as you will see in the graphs below.
GRAPH LEGEND
Ex4 = SanDisk Extreme IV 2GB CompactFlash card (SDCFX4-2048)
Ex3 = SanDisk Extreme III 1GB CompactFlash card (SDCFX3-1024)
PQI = PQI 100X 1GB CompactFlash card
San800 = SanDisk Extreme FireWire 800 CF Reader (SDDRX4-CF)
San400* = SanDisk Extreme FireWire 800 CF Reader (SDDRX4-CF) connected to the FireWire 400 port (using a FW400 to FW800 cable)
Lex400 = Lexar FireWire 400 CF Reader (RW019 Rev B)
San400 = SanDisk Ultra ImageMate FireWire 400 CF Reader (SDDR-80 -- no longer in production)
SanUSB = SanDisk Extreme USB 2.0 CF and SD Reader (SDDRX3-3in1)
OldUSB = SanDisk ImageMate 6-in-1 Reader (SDDR-86 -- replaced by the 12-in-1 reader SDDR-89)
FIREWIRE READER TEST RESULTS
(identical for both 17" MacBook Pro and Quad-Core G5 Power Mac)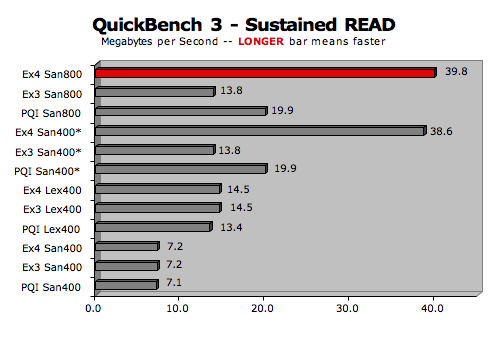 As you can see, the advertised 40MB/s for the SanDisk Extreme IV CF card is for real. Note that even using the FireWire 400 port on our test Macs, the Extreme IV CF card in conjunction with the Extreme FireWire Reader produced impressive speed. That's good news for those of you with Macs lacking a FireWire 800 port (like the MacBook Pro 15", MacBook 13" and iMac).
USB 2.0 READER TEST RESULTS
(Different, as you can see, for the two Macs tested)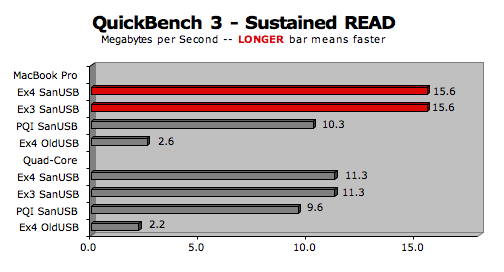 Obviously, the USB 2.0 port is more efficient on the Intel based MacBook Pro than the mighty PPC based Quad-Core. The SanDisk Extreme USB Reader is a big improvement over the older USB reader models we've tested but it's still no match for the Extreme FireWire Reader (see previous graph).
CONCLUSION
The SanDisk Extreme IV CompactFlash Card is a winner, especially when used in conjunction with the Extreme FireWire 800 CF Reader. This combo will provide the fastest transfer of your large format digital photos from a CompactFlash card to your Mac (or PC).
If you are not in a "big fat hurry," the SanDisk Extreme 2.0 USB Reader is a bargain at $25 (versus $80 for the Extreme FireWire Reader). And it's faster than any other USB CF or SD reader we've tested.
WHERE TO BUY THE SANDISK EXTREME IV COMPACTFLASH CARD AND EXTREME FIREWIRE READER
SanDisk has their own online store. You can save money with the Extreme IV CF Card and Reader Bundle.

Check also with Amazon, Buy.com, Other World Computing, Small Dog Electronics, or your favorite SanDisk reseller.

NOTE: This product is new and may not appear on the reseller websites until they have sufficient stock. You might want to call or email their sales department so they will make sure include the Extreme IV in their next SanDisk order.
Has Bare Feats helped you? How about helping Bare Feats?