Posted April 24th, 2006, by rob-ART morgan, mad scientist
This week at the NAB Conference, FirmTek is showing (Booth SL 1238) their new SATA ExpressCard/34 Host Adapter (SeriTek/2SM2-E) for the MacBook Pro. We had a chance to test it along with their re-designed two tray SATA enclosure (SeriTek/2EN2). We used a Maxtor MaXLine III (7V300F0) drive to compare the speed of its Serial ATA II interface to the same drive connected to FireWire 400 and USB 2.0 ports.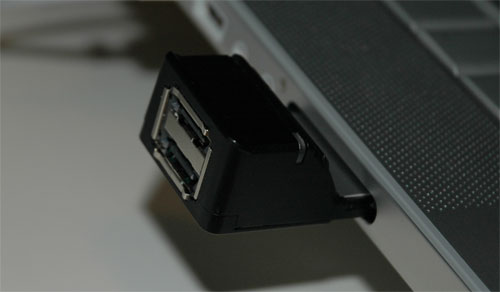 GRAPH LEGEND
Internal = Internal 2.5" MacBook Pro Factory Drive (100GB, 7200RPM, Seagate ST910021AS)
USB2 = Maxtor 7V300F0 drive on USB 2.0 port (300GB, 7200rpm, Glyph 050Q enclosure*)
FW400 = Maxtor 7V300F0 drive on FireWire 400 port (300GB, 7200rpm, Glyph 050Q enclosure*)
SATA = Maxtor 7V300F0 drive on SeriTek/2SM2-E ExpressCard/34 SATA II port (300GB, 7200RPM, SeriTek/2EN2 enclosure)
SATA*2 = Two Maxtor 7V300F0 drives in striped array (RAID 0) on SeriTek/2SM2-E ExpressCard/34 SATA II ports (600GB total, 7200RPM, SeriTek/2EN2 enclosure)
(* Glyph 050Q is a Quad Interface enclosure based on the Oxford 924 chip set. We used it to test USB 2.0 and FireWire 400 speeds using the SAME Maxtor Serial ATA drive tested with the SATA port of the FirmTek ExpressCard/34.)



CONCLUSION
We've been lamenting the lack of a FireWire 800 Port in the Apple MacBook Pro 15". This deficiency was compounded by the poor write performance of the MacBook's FireWire 400 port. Our fervent hope was that a third party would soon offer a faster storage interface using the new ExpressCard/34 slot.
FirmTek heard our "prayer" and delivered a SATA ExpressCard/34 hot-swap host adapter that gives us the speed we crave. If you need more storage capacity with transfer speeds that exceed the MacBook's internal drive and any drive(s) connected to USB 2.0 or FireWire 400 ports, the FirmTek SeriTek/2SM2-E SATA ExpressCard/34 is your "salvation."
You might want to read their whole PRESS RELEASE issued today.
NOTE: The new 17" MacBook Pro offers a FireWire 800 port, unlike the 15" model. We plan to test it in comparison to the SATA ExpressCard in the near future. Our guess from past experience is that the SATA interface will still be faster than FireWire 800.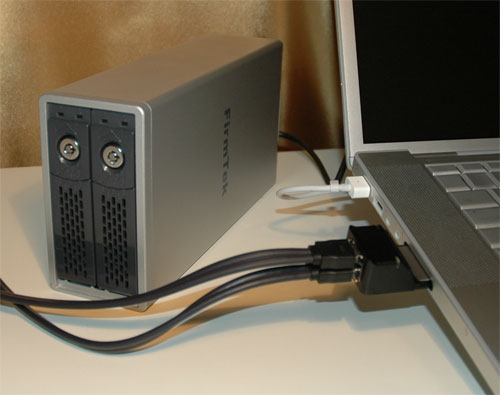 FIRMTEK'S REDESIGNED 2 BAY HOT SWAP SATA ENCLOSURE
They've refined the design of their compact 2 drive SATA enclosure. The best feature of the SeriTek/2EN2 remains the direct connect between the drive and the backplane. (Many other enclosures use cables between the drive and backplane -- bad, bad, very bad.) This new model is visually more pleasing with rounded corners and features a fan switch which lets you set the relative speed of the thermostatically controlled fan. It was quiet even at the highest setting. It features two eSATA connectors (one for each hot-swap tray) and comes with two eSATA cables and external power brick.
You can save money by buying the SeriTek/2EN2 enclosure in a bundle with the ExpressCard/34 or one of FirmTek's other host adapters.
QUICKBENCH 3 (beta 7)
We used the latest version of QuickBench to test drives. For the sustained read/write, we averaged 50MB, 60MB, 70MB, 80MB, 90MB, and 100MB block transfers. The new version 3 give the option to output in Excel format so averaging the times is a snap.
FINDER DUPLICATE TEST
We time how long it takes to duplicate a 1GB document. Then calculate the speed in MB/s by the formula MB/s = SIZE / TIME * 2.
WHERE TO ORDER THE FIRMTEK SERITEK SATA EXPRESSCARD/34 HOST ADAPTER (SeriTek/2SM2-E)
You can pre-order the SeriTek/2SM2-E from FirmTek Direct

Ditto for the new two tray hot-swap SeriTek/2EN2 enclosure.
Has Bare Feats helped you? How about helping Bare Feats?