Posted March 2nd, 2006, by rob-ART morgan, mad scientist
Updated March 9th, 2006, with Raptor 10K 150GB results
Updated March 10th, 2006, with WD5000KS 500GB results
The new "darlings" of the storage community are the "half-terabyte" Serial ATA II (300 gigabit/sec) hard drives. In this evolving article, we compare 500GB drives from four manufacturers.
In addition, due to popular request, we have included two "non-half-terabyte" drives: The speedy Maxtor MaXLine III 300GB 7200rpm (7V300F0) and the Western Digital Raptor 150GB 10,000rpm (WD1500ADFD).
As an added twist, we were using the new SATA II host adapter from Sonnet Technology, the Tempo SATA E4P, in our Quad-Core's 8 lane PCI Express slot in an attempt to squeeze out every last bit of speed from each drive.
CLARIFICATION: The Serial ATA II or SATA II or SATA-300 interface is rated at 3 gigabits per second per data channel transfer speed. At 10 bits per byte, that translates to 300 megabytes per second. If you connect one drive to that data channel, no existing drive can use all that bandwidth. But there's always Port Multiplication. More on that later. Let's get to the graphs...
GRAPH LEGEND
Raptor 150G = Western Digital Raptor 150GB SATA I (WD1500ADFD)
WD 500G = Western Digital Caviar SE16 500GB SATA II (WD5000KS)
Maxtor 300G = Maxtor MaXLine III 300GB SATA II (7V300F0)
Maxtor 500G = Maxtor DiamondMax 11 500GB SATA II (6H500F0)
-- virtually identical to the MaXLine Pro 500 (7H500F0)
Hitachi 500G = Hitachi Deskstar 7K500 500GB SATA II (HDS725050KLA360)
-- with 3Gbit/s mode enabled using a DOS utility
Seagate 500G = Seagate Barracuda 7200.9 500GB SATA II (ST3500641AS)
Finder Duplicate has proved to be an accurate real-world predictor of overall performance. It forces the drive to read from and write to itself simultaneously. We currently use a 1GB test photo created in Photoshop. We convert the time in seconds to MB/s.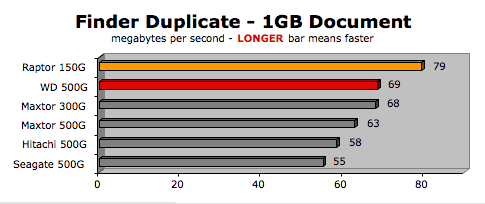 AJA KONA System Test (or DiskWhackTest) differs from standard disk I/O performance applications in that it specifically tests the system under conditions typically encountered with video capture, playback, and editing. In addition to capture/playback speed of a volume, it can predict how many video streams a hard drive or RAID set can support and reveals spikes and/or dips in speed during an extended capture sequence. Below we just show the overall speed data. (We've used Blackmagic Design's Disk Speed Test in the past but it requires their Decklink HD capture card to be installed.)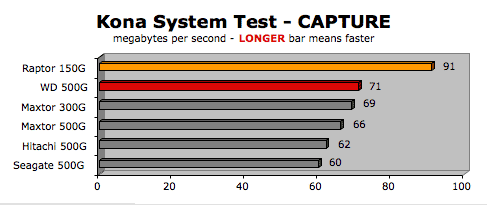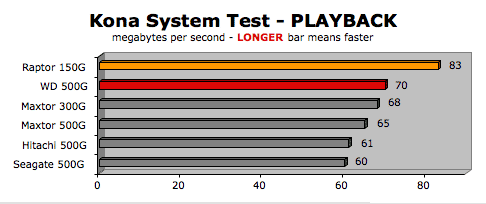 DiskTester by Lloyd Chambers is a disk benchmarking tool that runs via Terminal app. It's flexible with all kinds of test options. Our favorite option is to sample a volume in 10% increments using a 1GB test file and 3 iterations. That enables us to predict the drop in performance as the volume nears capacity. Another tool we use for similar purposes is ZoneBench by Intech Software.
In the graph below you see the performance you can expect from these drives when they are full (or the innermost tracks are approached). We limited this graph to the 500GB drives since comparing them to smaller capacity drives would not be fair. (The smaller drives would see less degradation in speed as they fill.)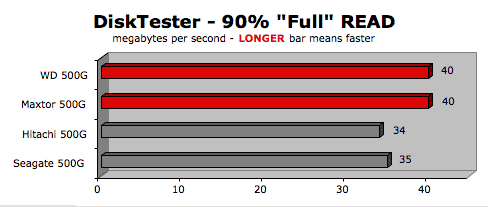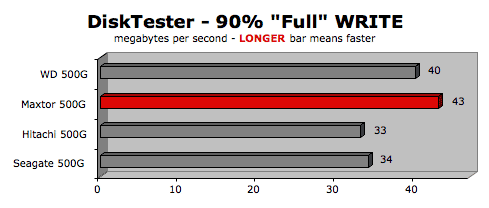 CONCLUSIONS
UPDATE: Since we added the WD5000KS, we have a new "Speed King" in the 500GB category. Though it was beaten by the 500GB Maxtor in the "full drive" write test, the WD5000KS beat or tied the other 500GB drives in all the other tests.
The Raptor was obviously faster than any of the other drives due to its 10,000rpm spindle speed and lower access time. But you'll pay as much for it as you would a 500GB drive -- and have less that one-third the storage capacity. If the cost doesn't dissuade you, it would make a great boot drive. How about a striped pair of them for a boot drive?
The Maxtor MaXLine III 300GB (7V300F0) is not only faster than any of the 500GB drives, but it costs one-third the price for three-fifths of the storage. That makes it the best bargain in terms of price/performance and price/capacity indexes.
DO DRIVES GO SLOWER USING BUILT-IN SATA CONTROLLER?
As you know, we tested all the drives using a SATA II host adapter. We tested two of the drives using the internal bus. Surprisingly, the Raptor 150G was slightly faster using the factory SATA. The Maxtor 500G was clocked the same speeds no matter which interface we used.
MORE ON PORT MULTIPLICATION (PM)
We are "bullish" on Port Multiplication. Remember when we said earlier than a single drive can't use the full bandwidth of SATA II? If, however, you connect more than one drive per channel, you can begin to utilize some of that extreme bandwidth. That's why the Tempo SATA E4P and other soon-to-be-released SATA II PCI Express adapters use Port Multiplication, which provides support for up to 5 drives per data channel or port. (If you have PCI-X slots, Sonnet has the new Tempo SATA X4P which supports PM.)
Of course you need a "PM aware" enclosure for your drives to take advantage of the feature. Some PM enclosures available include Sonnet's new Fusion 500P, LaCie's Biggest S2S, Wiebetech's SilverSATA V, and the MacGurus' Burly PM Enclosure.
If you don't have a PM enclosure, you can still use it with the Sonnet Tempo SATA E4P in conventional mode (4 ports, 4 cables, 4 drives).
RELATED ARTICLES
Storage Review tests the Western Digital Caviar RE2 400GB (WD4000YR)
Storage Review tests the Hitachi Deskstar 7K500 (HDS725050KLA360).
Storage Review tests the Seagate Barracuda 7200.9 500GB (ST3500641AS).
AMUG's review of the Seagate 300G versus the Maxtor 300G (7V300F0).
WHERE TO BUY MAXTOR SATA II DRIVES, SATA HOST ADAPTERS, AND/OR SATA ENCLOSURES
FirmTek (host adapters, enclosures)

Granite Digital (host adapters, enclosures, drives, cables)

MacGurus (host adapters, enclosures, drives, cables)

MaxUpgrades (host adapters, enclosures, drives, internal mounting kits)

Other World Computing (host adapters, enclosures, drives)

Small Dog Electronics (host adapters, enclosures, drives)

Sonnet Online Store (host adapters, enclosures)

TransIntl (host enclosures, drives, internal mounting kits)

Wiebetech (host adapters, enclosures, pre-installed drives, internal mounting kits)

FWDepot (host adapters, enclosures)
Has Bare Feats helped you? How about helping Bare Feats?