Posted September 27th, 2005, by rob-ART morgan, mad scientist
Updated October 13th, 2005, with iPod Nano Results
and 7200rpm drive in a FW400 enclosure
Networks are nice but so is "sneaker net." I have found small bus powered storage devices to be a quick and convenient way of transferring a few files across the room or across the county. During the past few months I've used Flash Memory "Jump" Drives, "Pocket" Drives, and bus powered FireWire/USB Notebook 2.5" drives but never paid too much attention to their relative speed until I tried to fill the Flash Drives up with files.
Normally, we would do a "real world" test but copying a file from the internal drive or to the internal drive of a laptop or desktop depends a lot on the speed of that internal drive. So instead, we rated them using QuickBench's test for a 10MB sustained read and write which transfers from memory to the drive and back.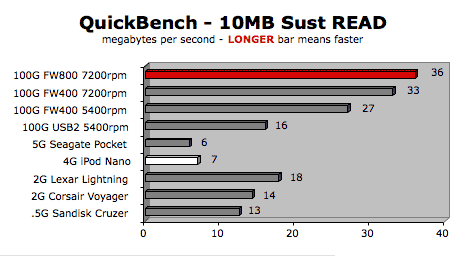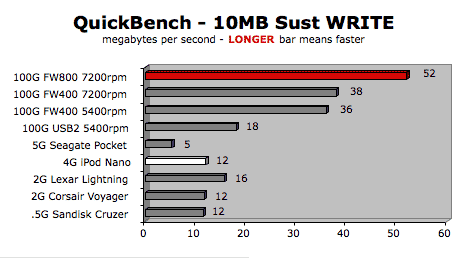 CONCLUSION
The fastest rated Flash Drive (Lexar Lightning) wasn't as fast as its rating (24MB/s read, 18MB/s write), but it was faster than any other "Jump" Drives we've ever tested.
But.... if a bus powered FireWire 400 or 800 Notebook Drive is not too big or expensive for your purposes, it is actually faster than the fastest Flash Drive. The 7200rpm FireWire 800 drive we tested had a write speed over 3 times faster than the Lexar Lightning. Even if you don't have a FireWire 800 port, the FireWire 400 port on our PowerBook produced speeds over 2 times faster than the USB 2.0 Lexar Lightning.
The convenience of the tiny "key fob" size Flash Drives has a strong appeal and they are very adequate for backing up or moving a few important files. The prices vary quite a bit. The Corsair Voyager 2GB ran slightly over $100 while the Lexar Lightning 2GB came in over $200.
Notice we added the iPod Nano 4GB to the graphs. We were thinking, for $50 more than the Lexar Lightning, we can have a 4GB Flash Drive that functions as an iPod as well. However, as you can see from the graph, it's not as fast as the Lexar Lightning. Nor is it as convenient since you have to carry around the custom cable and defeat the automatic update feature in iTunes to use it as a Flash Drive.
The biggest downside of the Flash Drives is that they are USB only. For starters, USB 2.0 is slower than FireWire 400, as you can see from items 3 and 4 in the graphs above. FireWire 400 may be rated at 400Mbits/sec (40MBytes/sec) compared to USB 2.0's 480Mbits/sec (48MBytes/sec), but the reality is that USB 2.0 devices typically transfer at HALF the rate of FireWire 400. With that in mind, don't you wish the Flash Drives were FireWire 400 instead of USB 2.0?
Another downside of USB 2.0 is when you don't have USB 2.0 ports on your Mac or PC. Our G4 Power Mac QuickSilver has only USB 1.0 ports. Though downwards compatible, the speed of the Lexar Lightning dropped from 18MB/s READ to 1MB/s READ! As a matter of fact, not all USB 2.0 ports perform the same. Our G5/2.5 Power Mac's USB 2.0 port produced slower times than the PowerBook's USB 2.0 port! (See graphs below.)


Most high-end Windows PCs and ALL models of Macintosh come with FireWire 400 (1394a) ports. So if a USB 2.0 Flash Drive isn't big enough or fast enough, you should consider a regular bus driven notebook size FireWire 400/800 enclosure with a fast 2.5 inch drive. It fits easily in a backback, briefcase, or coat pocket. It gives us maximum versatility on choice of transfer ports, transfer speed, and transfer capacity.
Though we used the new high capacity, expensive 2.5" drives, but for less than $140, you can have a 40GB FW400 notebook drive system that will be faster than the fastest $200 2GB Flash Drive.
TEST HARDWARE
Testing was primarily on our Apple G4/1.5GHz PowerBook (FW400, FW800, and USB2 ports). We also did some testing on an Apple G5/2.5GHz Power Mac (FW400, FW800, and USB2 ports) and an Apple G4/2.0GHz "QuickSilver" Power Mac (FW400 and USB1 ports).
Flash Drives (aka JumpDrives) included the Lexar Lightning 2GB, Corsair Voyager 2GB, SanDisk Cruzer Titanium 512MB, and Apple iPod Nano 4GB . We just found out about the 8GB "Credit Card" Flash Drive from LaCie. Hopefully we'll be able to test it and add it to this page. (See links below for "Where To Buy.")
For the "Pocket" Drive" we included the Seagate 5GB Pocket Drive (USB 2.0). We originally posted results for our old faithful SmartDisk 5GB FireFly (FW400) Pocket Drive but removed it since the FW400 version is no longer made. You can get the FireFly in a USB 2.0 version but we predict it will be slower than our FW400 version which clocked 12MB/s READ and WRITE -- twice the speed of the USB 2.0 Seagate Pocket Drive.
Bus driven FireWire NoteBook Drive enclosures used in testing included the Wiebetech aluminum FW800/400/USB2 MicroGB+ enclosure (no longer available) and the FWDepot Speedster2-800 FW800/400/USB2 enclosure. Notebook Drives used were the Seagate Momentus 5400.2 100GB and Momentus 7200.1 100GB 2.5" drives.
TEST SOFTWARE
IntechUSA's QuickBench 2.0 tests both random and sequential reads and writes. It tests from very small to 100MB file sizes. For testing larger than 100MB, we use their ZoneBench utility.
WHERE TO BUY BUS POWERED 2.5 INCH FIREWIRE/USB ENCLOSURES
(with or without pre-installed drives)
Other World Computing (Mercury FW400 Enclosures)

Small Dog Electronics (Wiebetech, LaCie, and EzQuest Enclosures)

TransIntl.com (FW400 Enclosures)

Wiebetech.com (Combo FW400/800/USB2 Enclosures and Docks)

LaCie (FW400 and USB Enclosures)

FWDepot (Speedster2-800 FW400/800/USB2 enclosures)
WHERE TO BUY 2.5 INCH NOTEBOOK BARE DRIVES
Other World Computing (Seagate Momentus, Hitachi TravelStar, Toshiba, and Fujitsu)

Small Dog Electronics (Seagate Momentus)

TransIntl.com (Hitachi Travelstar, Toshiba "GAX")
WHERE TO BUY USB 2.0 FLASH MEMORY JUMP DRIVES
Small Dog Electronics (Small Dog Eskie, Apple iPod Nano, Apple iPod Shuffle)

The Apple Online Store sells the iPod Nano and Shuttle "flash drives."

LaCie (credit card size 8GB Flash Drive)

Amazon (Lexar Lightning, SanDisk Titanium, Apple iPod Nano, and Many Others)

ZipZoomFly (Lexar Lightning, Corsair Voyager and SanDisk Cruzer Titanium)

NewEgg (Lexar Lightning, Corsair Voyager, SanDisk Cruzer Titanium)

Frys Electronics (Corsair, Lexar, SanDisk, and Sony Flash Drives)
Has Bare Feats helped you? How about helping Bare Feats?