Posted April 15th, 2005, by rob-ART morgan, mad scientist
EXTERNAL IS BEAUTIFUL
Based on an unscientific poll, we concluded that most of our readers using disk arrays on the G5 Power Mac prefer an EXTERNAL drive enclosure. For those capturing and playing back 10 bit HD (4:4:4) 1080/60i video, they require a disk array that can maintain the 237+MB/s target sustained transfer rate right up until the volume is full. (A disk drive can lose as much as half its transfer rate as the inner tracks are approached.) The only way to be sure you can handle 10 bit HD (4:4:4) 1080/60i is to go with 8 drives in a RAID 0 stripe.
Up until now, no matter what SATA host adapter you bought, the only way to set up an 8 drive external SATA RAID set was by some non-standard routing of internal ports to the outside enclosures. The ideal SATA host adapter for G5 owners who want to have an 8 drive external array should take only one slot and have all 8 ports external. Sonnet Technology has created just that. They squeezed 8 EXTERNAL connectors onto the back plate of the new "eSATA 8" PCI-X host adapter.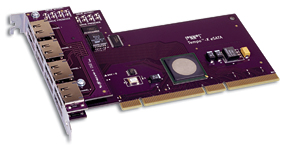 THE OTHER SHOE DROPS
On April 13th, Sonnet released version 1.1 of the firmware which now supports HOT SWAP. It works just like FireWire hot swap. You can dismount the RAID volume (or individual volume) by standard Finder EJECT. Unplug a data cable, you get the typical FireWire "Device... not properly put away..." warrning. No problem, plug it back in. Trip on the enclosure's power cord? No problem. Plug it back in.
The biggest advantage of hot swap is that you are less likely to corrupt your RAID set when there is a loose connection somewhere.
CHOOSE YOUR WEAPONS
We were able to benchmark two interesting RAID systems with the eSATA 8. The first which we'll call "Seagate RAID" was based on an array of Seagate Barracuda 7200.8 400GB SATA drives. Though we agreed not to publish results when we first received samples, we were impressed. They hold as much as the Hitachi 7K400 but are 20% faster. Though our samples couldn't match the 16MB buffer of the newest Maxtor SATA drives, the average access time was 19% faster. They feature Native Command Queing (NCQ) which will come in handy when SATA II host adapters are released that support more than one drive per port.
We installed eight of the Seagate 7200.8s in a Granite Digital Hot Swap RAID enclosure. Each tray has its own fan. The drive temperature is displayed on an LCD panel on each tray. Using SoftRAID 3.1.3, we set up a 3 Terabyte RAID 0 set.
The second storage test system was the 4 bay X-SPAND from Kano Technologies. It mates well with the eSATA 8 since it also uses eSATA connectors. We populated two X-SPAND enclosures with eight WD Raptor 10K 73GB drives which formed a "smallish" 554GB RAID set. We call it "Raptor RAID" on our graphs.
Test "mule" was the G5/2.5GHz Power Mac.
SPEED TESTS
Though DiskTester lacks GUI and must be run via Terminal, it has turned out to be an invaluable tool for simulating capture and playback of DV footage. We configured it to write and read a 5 gigabyte sample file from the beginning to the end of the RAID volume in 10% increments.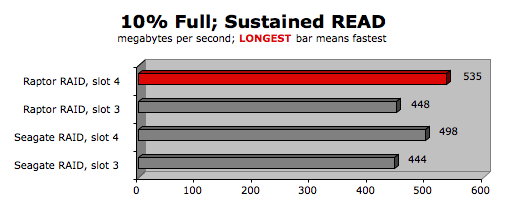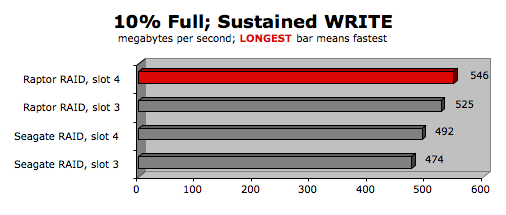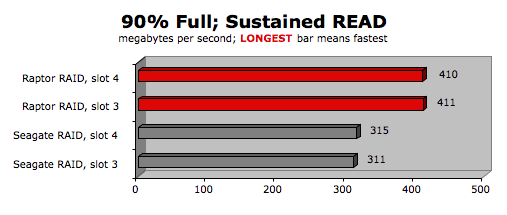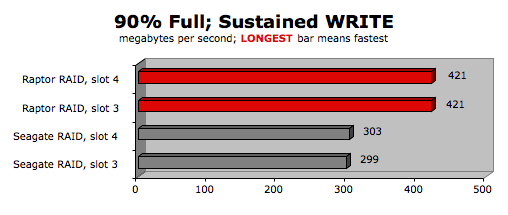 SLOT 4 CAVEAT
Though we included the results using slot 3 and 4, the Sonnet eSATA 8 can't fit in slot 4. There's a power connector on the motherboard that "conflicts" with the "fatter" 8 port assembly. You could unplug the "offending" motherboard connector to make the Sonnet eSATA 8 fit in slot 4, but the two fans behind the G5's CPUs will stop spinning. That's not a realistic solution.
It's a non-issue if you are able to bend and squeeze your DeckLink HD or Kona HD capture card into slot 4. If you can fit neither the Sonnet eSATA 8 nor the DeckLink HD card in slot 4, you have a problem. When we put those two cards next to each other in slot 2 and 3, the transfer speed dropped from 500 to 300MB/s -- at the fast end of the volume. Why? Bus contention. Those two slots share a 100MB/s PCI-X bus.
If you find yourself in the above perdicament, you might consider the Sonnet Tempo-X eSATA 4+4 (which fits easily in slot 4) or two of the FirmTek SeriTek/1VE4s (one in slot 4 and one in slot 3).
PHOTOSHOP SCRATCH ROCKET
Someone suggested that a Raptor array would make the ultimate Photoshop scratch volume. We set Photoshop CS' memory cache to 800MB, placed the 1000MB test file on the designated scratch volume, and timed how long it took to OPEN the file and how long it took to ROTATE the file.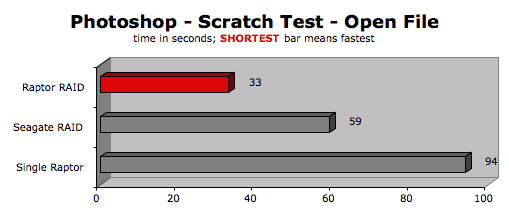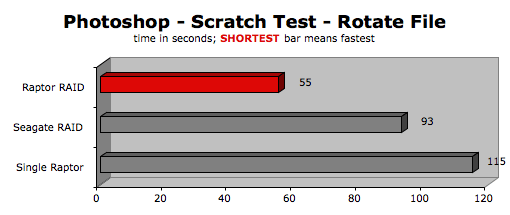 CONCLUSION
The Sonnet Technologies Tempo-X eSATA 8 PCI-X host adapter is a compelling product for power users wanting a speedy 6 or 8 drive external SATA array connected to their Power Mac -- and it only takes one slot.
CONNECTOR CHANGE
Sonnet has chosen to go with the new eSATA (SATA II compatible) connectors for both the eSATA 8 and eSATA 4+4. I'm sure they are gambling that SATA enclosure makers will shift to eSATA as well. In the meantime, Sonnet will sell you a cable with eSATA at both ends or eSATA at one end and SATA I at the other. I know, you just bought a new set of cables. Welcome to the world of constantly changing technology.
Keep in mind that the eSATA connectors won't make your data travel faster. However, the eSATA cables and connectors are rated to handle the faster 300MB/s transfer rate of SATA II --- but only when SATA II host adapters become available.
WHERE TO BUY TEMPO-X eSATA 8 and other SATA products
If you are shopping for SATA drives, host adapters, converters, mounting kits, or enclosures, be sure to check pricing and availability at the following websites:
Sonnet Technology online store (eSATA host adapters, eSATA cables)

Kano Technologies (eSATA SATA RAID enclosures; host adapters)
Use "BAREFEATS" coupon code to get 10% off the X-SPAND or 5% off everything else

FirmTek.com (host adapters, cables, converters, enclosures)

Granite Digital (enclosures, host adapters, brackets, cables)

MacGurus.com (drives, host adapters, RAID enclosures, coolers, hot-swap trays, cables, converters)

Other World Computing (drives, host adapters, enclosures)

Small Dog Electronics (drives, host adapters)

TransIntl.com (drives, host adapters, SwiftData 200 internal drive mounting kit for G5s)

Wiebetech.com (G5Jam internal drive mounting kit -- with or without drives, host adapters)
Has Bare Feats helped you? How about helping Bare Feats?