Originally posted 04/15/04 by rob-ART morgan, mad scientist.
QUESTIONS:
1. Is the 10,000 rpm Raptor drive from Western Digital significantly faster than the fastest 7200rpm SATA drives? Is it a good value?
2. Is the NEW Hitachi 7K400 faster than the other SATA drives? Or just bigger?
We compared the 10K Raptor to three 7.2K SATA drives (including the new 400GB Hitachi). Below are the results for single drives as well as dual drive, dual channel RAID 0 sets.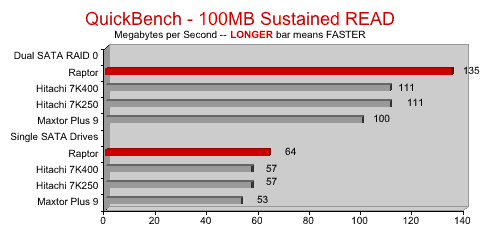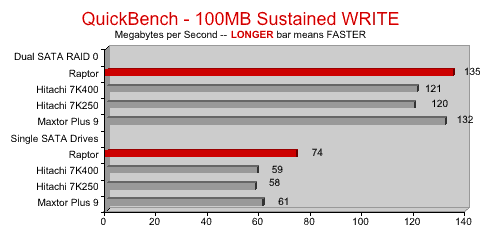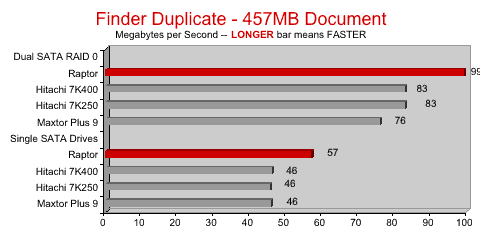 (This last graph is a new test where we copy a large document from one drive to another. Since we had two identical drives on identical interfaces, this is instructive. As you can see, it is slightly faster than duplicating the same file on a single drive.)
INSIGHTS
1. The Raptor is faster than 7200rpm SATA drives -- 20% faster on average. But it offers 1/3 the storage for about the same retail price as the 250GB versions of the Hitachi and Maxtor SATA drives.
If you are capturing 1080i 10 bit uncompressed HDTV, you'll need at least three Raptors in a RAID 0 set to achieve the magic 180MB/s target capture speed. Yet that only gives you 292GB of total storage. However, if you opt for four 250GB 7200rpm drives, you can achieve the same target speed but have 1000GB (1 terabyte) of total storage.
2. The NEW Hitachi 7K400 isn't faster than the 7K250, but definitely holds more! How about 5 of them inside your G5 (with the help of the Swift kit) for a total of 2 terabytes? Eeehaaaah!
I'd also like to upgrade my DVR box with one of these. Moohaha...
RELATED LINKS
HardMac.com compared the Hitachi 7K400 to a Western Digital and Seagate drive.
SOURCES OF TEST PRODUCTS
Since Western Digital Media Relations has repeatedly turned down our requests for test drives, so it's taken a while for us to get you some test results. We were finally able to borrow the two 10K Raptor 74GB test units from a generous benefactor. Other World Computing has them in stock. The cheapest price I've seen for the 74GB version is $210. There is a $50 rebate offer on Western Digital's site.
The NEW Hitachi 7K400 Serial ATA drives were provided courtesy of Hitachi Global Storage Technology's Media Relations. They are in stock at TransIntl.com.
The Hitachi 7K250 250GB Serial ATA drives were provided courtesy of Hitachi Media Relations and TransIntl.com. You can purchase them from TransIntl.com and Other World Computing. I've seen the 250GB version as low as $195 from some sources. You can get smaller capacities (40GB, 80GB, 120GB, 160GB, 200GB) for lower prices.
The Maxtor DiamondMax Plus 9 160GB 7200rpm Serial ATA drives were provided courtesy of Maxtor Media Relations. They are available in sizes from 60GB to 250GB from TransIntl.com and Other World Computing.
All tests were performed using the SeriTek/1S2 SATA PCI controller provided courtesy of FirmTek. This card is the best performing SATA controller we've tested to date and works on all Macs with PCI or PCI-X slots. It is available direct from FirmTek's online store for $69.95. Check also with Other World Computing and Trans International. Sonnet Technology will sell you a purple version (Tempo Serial ATA) for $99.95.
We used a G5/2.0MP Power Mac as our test "mule." Both the Wiebetech G5Jam and TransIntl.com Swift were used to mount various test drives inside the G5.
Has Bare Feats helped you? How about helping Bare Feats?