small random
Quickbench's Standard Test includes random transfer test sizes from 4 KBytes to 1024 KBytes. The graph shows an average of 5 test cycles. Not as impressive as large sequential transfers, but reveals performance you can expect from the OS as it does housekeeping and certain applications which perform small random transfers.
HIGHER number in megabytes per second = FASTEST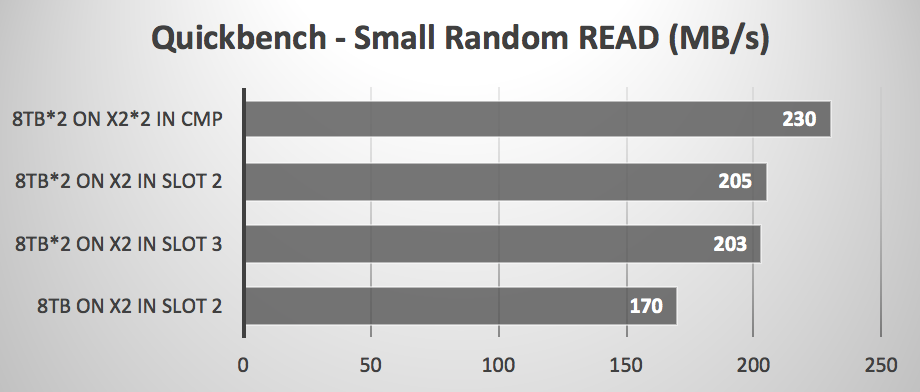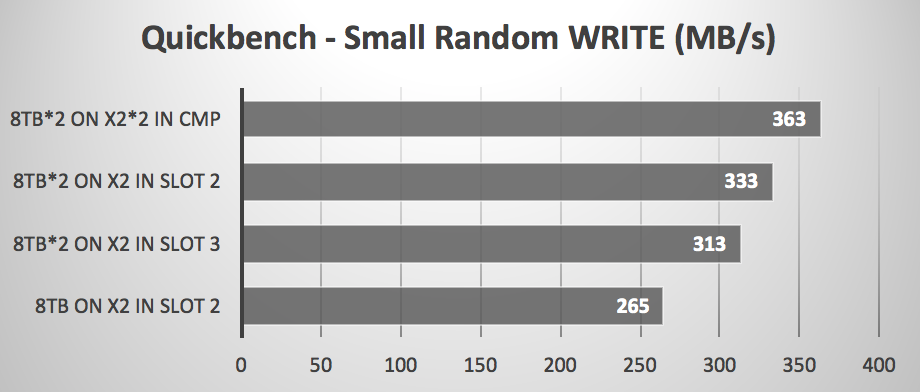 WHAT DID WE LEARN?
As with most 2.5-inch SATA SSDs, the Angelbird SSD WRK XT is limited to a top speed of around 550MB/s. Because the Wings X2 board is 2-lane, the dual striped 8TB SSD WRK XT topped out at 775MB/s. Two Wings X2 boards made 1032MB/s possible but that's a small gain to use up two PCIe slots -- unless you are going for a 32TB volume.
For Thunderbolt 2 and 3 Macs, you'll need a full-length PCIe expansion box like the Magma ExpressBox 3T (TB2 or TB3 version).
Not shown in the graphs is a quick experiment to see if a single 8TB SSD WRK XT would mount and run reliably in a USB 3.1 Gen2 bus powered enclosure. The answer is "Yes" (at 498MB/s).
CONCLUSION
By design, the 2.5-inch SSDs will not be as speedy as PCIe based flash blades, but a striped pair of Angelbird 8TB WRK XT SSDs on the Wings X2 PCIe carrier provides a nice balance between speed and capacity. And one more thing: the Angelbird SSDs natively support TRIM.

(Image above is the Angelbird Wings X2 board that accepts two 2.5 inch SSDs.)