Originally posted January 15, 2016 by rob-ART morgan, mad scientist
There are many great choices for third party 6Gbps SSDs these days. However, none of them have native Mac TRIM support -- except the Angelbird SSD wrk for Mac. We decided to benchmark it inside our 2010 Mac Pro tower.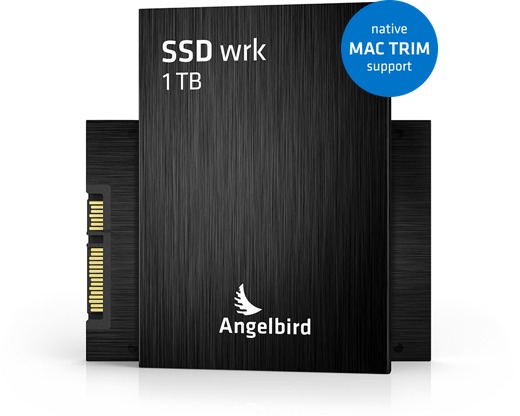 GRAPH LEGEND
Accelsior S = Angelbird SSD wrk for Mac mounted on the OWC Accelsior S PCIe card
SeriTek/i6G = Angelbird SSD wrk for Mac mounted on the FirmTek SeriTek/i6G PCIe card
Velocity Solo x2 = Angelbird SSD wrk for Mac mounted on the Apricorn Velocity Solo x2 PCIe card
3Gbps Factory Bay = Angelbird SSD wrk for Mac installed in the 3Gbps Mac Pro factory drive slot
Test mule was a 2010 Mac Pro 6-core running OS X El Capitan. PCIe adapters were installed in x4 Slot #3.
LARGE SEQUENTIAL TRANSFER TEST
We used AJA System Test to benchmark file level sequential transfer speed using a 16GB test size. LONGEST graph bar means the fastest overall in Megabytes per Second.


SMALL RANDOM TRANSFER TEST
The QuickBench small random test uses 4K to 1024K test sizes. Though large sequential benchmarks are impressive, OS X and many apps perform small random read/write actions. LONGEST graph bar means the fastest overall in Megabytes per Second.


WHAT DID WE LEARN?
The Angelbird SSD wrk for Mac performed flawlessly in our testing. System Profiler reports "YES" for TRIM Support -- just as it does for Apple proprietary flash storage. As you probably already know, TRIM commands inform the SSD's controller which blocks of data are no longer needed and can be wiped.
It is true that OS X Yosemite and El Capitan will enable TRIM on third party SSDs when you execute the 'sudo trimforce enable' in Terminal. But this is not officially supported by Apple and is accompanied with a scary warning message. That's because certain brands and certain models of SSDs don't support TRIM properly. With the Angelbird SSD wrk for Mac, there is no guess work and no action needed to enable TRIM.
The Mac Pro tower's 3Gbps factory drive bay is convenient but restricts the throughput. When upgrading your Mac Pro tower with a 6Gbps SSD like the Angelbird wrk for Mac, you will want an SSD PCIe adapter to squeeze out maximum performance.
For even greater transfer speeds, choose an SSD PCIe adapter that accepts multiple SSDs (like the FirmTek SeriTek/i6G and Sonnet Tempo SSD Pro Plus). Note that you can use SSD PCIe adapters to install the Angelbird SSD wrk for Mac in a Thunderbolt expansion chassis.
ANGELBIRD SSD WRK FEATURES INCLUDE...
Silicon Motion 2246EN controller

optimized for power consumption

overload and static protection

high-quality anodized aluminum case

5-year limited warranty
Feedback or comments? Feel free to email me,
Also, you can follow me on Twitter @barefeats

WHERE TO BUY THE ANGELBIRD SSD WRK FOR MAC
(Order the 1TB or 512GB version for maximum write speed)
WHERE TO BUY AN SSD PCIE ADAPTER
SHOP APPLE STORE USA
Help support Bare Feats by clicking our Apple display ads or THIS Apple USA link when ordering any Apple product or Apple compatible product.