Originally posted April 17th, 2015 by rob-ART morgan, mad scientist
The single USB-C connector can present some logistical challenges for the 12" Retina MacBook user. We happen to have some interesting storage options in our inventory that we tested.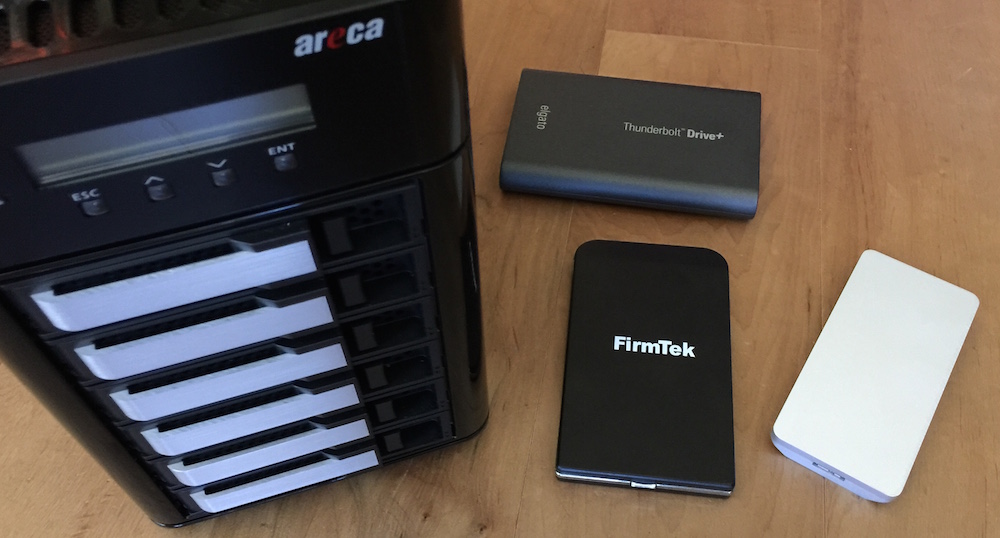 GRAPH LEGEND
ARC-5028T2 6-Bay = Areca ARC-5028T2 Thunderbolt 2.0/USB 3.0 RAID enclosure with six Seagate 2TB SSHD drives in RAID 0 mode
Thunderbolt Drive+ = Elgato Thunderbolt Drive+ (with both Thunderbolt and USB 3.0 port; bus-powered; 512G 6Gbps SSD preinstalled)
dLite = FirmTek dLite (bus-powered USB 3.0 enclosure; sold empty; we installed an OWC 240G Mercury Extreme Pro 6Gbps SSD)
Envoy Pro = OWC Mercury Envoy Pro (bus-powered USB 3.0 enclosure with pre-installed Aura Pro 480G 6Gbps flash blade)

Test 'mule' was the 'early 2015' Retinal MacBook 12"
RED graph bar means the FASTEST overall in Megabytes per Second.
LARGE SEQUENTIAL TRANSFER TEST
We used AJA System Test to test file level sequential transfer speed using a 16GB test document.

SMALL RANDOM TRANSFER TEST
We used a range of 4K to 1024K blocks in the Standard Random test in QuickBench as a predictor boot volume 'house keeping' performance and a simulation of an application that does multiple small random transfers.


INSIGHTS
1. We like having the flexibility of a storage device that has both Thunderbolt 1.0/2.0 and USB 3.0 ports. That makes the 'sneaker' net more efficient. For example, the transfer speed of the Areca 6-bay RAID box jumps to 1000MB/s when connected to a Mac with a Thunderbolt 2.0 port.
2. The three bus-powered USB 3.0 enclosures mounted and worked fine with the Retina MacBook using the USB-C_to_USB Adapter. Ditto for USB 3.0 flash drives like the VisionTek Pocket SSD.

Feedback or comments? Feel free to email me,
Also, you can follow me on Twitter @barefeats
WHERE TO BUY USB 3.0 STORAGE DEVICES WE TESTED
SHOP APPLE STORE USA
Help support Bare Feats by clicking our Apple display ads or THIS Apple USA link when ordering any Apple product or Apple compatible product.