Originally posted Friday, May 16th, 2014 by rob-ART morgan, mad scientist
FirmTek is now shipping the SeriTek/6G2+2, a new SATA PCIe x2 host adapter that not only comes with dual external eSATA 6Gbps ports (direct connect and port multiplication), but enables you to mount two 2.5" drives directly on the adapter. That second feature is the one we decided to benchmark using our 2010 Mac Pro hex-core tower.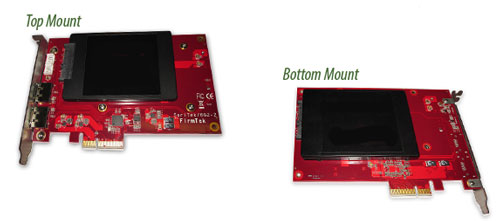 GRAPH LEGEND
Two SSD = SeriTek/6G2+2 with dual 500GB Samsung 840 EVO 6Gbps SSDs mounted on the adapter and striped (RAID 0) using Disk Utility's software RAID function
One SSD = SeriTek/6G2+2 with one 500GB Samsung 840 EVO 6Gbps SSD mounted on the adapter

SIMULATED 4K VIDEO CAPTURE and PLAYBACK
We used AJA System Test to test file level sequential transfer speed of a 16GB test document. It also simulates capture and playback of a 4096x2160 10-bit RGB video. (HIGHEST number means FASTEST in Megabytes per Second.)


SMALL RANDOM TRANSFERS
We use the 4K to 1024K Random test in QuickBench as a predictor boot volume performance and a simulation of an application that does multiple small random transfers. (HIGHEST number means FASTEST in Megabytes per Second.)


INSIGHTS
With the prices of 2.5" SATA SSDs dropping, the ability to mount them directly on the SeriTek/6G2+2 gives you an affordable way to create a fast, internal, bootable volume for your Mac Pro tower. With added support for both direct connect and port multiplier external storage devices, it is a truly flexible SATA storage 'workhorse.'
For those of you with Thunderbolt ports on your Mac, you can mount the SeriTek/6G2+2 inside the new ThunderTek/PX-2+2 and similar Thunderbolt-to-PCIe expansion chassis.
One close colleague of ours is very excited about the 6G2+2. He's currently using a PCIe card with one SSD in one PCIe slot and an eSATA card in a second PCIe slot in his 2010 Mac Pro. He plans to replace both of cards with one SeriTek/6G2+2. He's mount his existing SSD and add a second plus connect to his existing external eSATA enclosures.
FEATURES AND BENEFITS
Mount up to two 2.5" SSDs or HDDs directly on the card

Mac OS X 10.6.X through 10.9.x bootable with PCIe 2.0 slot

Two external eSATA ports with port-multiplication and direct connect support

Supports up to 12 SATA hard disks by adding dual PM enclosures like the SeriTek/5PM

Supports Windows 7 and 8 (non-bootable)

Compatible with Thunderbolt PCIe Expansion Chassis

PCI-Express Base 2.0 specification compliant, supports 2.5 Gbps and 5.0 Gbps

Backwards-compatible with SATA 6.0 Gb/s, 3.0 Gb/s and 1.5 Gb/s hard drives

Fully compliant with Serial ATA Revision 3.0 specification

S.M.A.R.T application support for third party Macintosh utilities

Supports Disk Utility RAID and JBOD configurations

Complete CRC error checking for ensuring data integrity

Provides hot swap and PM support not available with internal Mac Pro bays

Bandwidth can exceed 700MB/sec. with high-speed HHD/SSD configuration

User-upgradeable firmware
THE COMPETITION
There are PCIe adapters by other companies that include some of the features of the SeriTek/6G2+2.
The OWC Mercury Accelsior_E2 comes with pre-installed dual SandForce/LSI flash blades and two external eSATA ports. We measured up to 679MB/s sequential transfer speed in our testing in the same 6-Core Mac Pro tower.
The Sonnet Tempo SSD Pro lets you put two 2.5" SSDs on a full length PCIe card. With two 6Gbps 2.5" SSDs, it measured up to 1003MB/s sequential transfer speed, thanks to the PLX switch. However, it does not have external eSATA ports. It is priced at $299.95 plus the cost of the SSDs (assuming you don't have them already).
The cost of the SeriTek/6G2+2 is $199.95. You can mount your existing SSDs or HDDs on the card or purchase new SSDs with with capacities up to 1TB each for a total of 2TB on the card or notebook HDDs with capacities up to 2TB each for a total of 4TB on the card.
Feedback or comments? Feel free to email me,
Also, you can follow me on Twitter @barefeats
WHERE TO BUY THE FIRMTEK SERITEK/6G2+2
The FirmTek SeriTek/6G2+2 eSATA controller for Apple Mac Pro and Windows 7/8 PC can be purchased from FirmTek distributors, resellers or directly from FirmTek. Companion products include the miniSwap/ES and new ThunderTek/PX-2+2.
WHERE TO PURCHASE FAST, HIGH CAPACITY SSDs
WHERE TO PURCHASE HIGH CAPACITY NOTEBOOK HDDs
SHOP APPLE STORE USA
Help support Bare Feats by clicking any Apple display ad or THIS Apple USA link when ordering any Apple product.
(Pssst. Amazon has the 2013 Mac Pro 4-core
and 2013 Mac Pro 6-core in stock.)
PowerMax not only sells new and used Macs, but will give you a generous trade-in offer on your old Mac.