Originally posted Tuesday, May 6th, 2014 by rob-ART morgan, mad scientist
Monday, May 12th, Updated table referencing 2008 and 2006 Mac Pro models.
RamCity sent us a pair of 512GB XP941 blades and two brands of M.2 (NGFF) -> PCIe Adapters to mount them. We stuck them inside a 2010 Mac Pro tower's PCIe bay. Fasten your seat belts!

GRAPH LEGEND
XP941*2 slots 2+3 = An XP941 blade on two separate Bplus PCie x4 adapters in a RAID 0 set and installed in slots 2 and 3 of a 2010 Mac Pro tower.
XP941*2 slots 3+4 = An XP941 blade on two separate Bplus PCie x4 adapters in a RAID 0 set and installed in slots 3 and 4 of a 2010 Mac Pro tower.
XP941*2 one card = An XP941 blade on one Bplus PCie x4 adapter in slot 4 of a 2010 Mac Pro tower.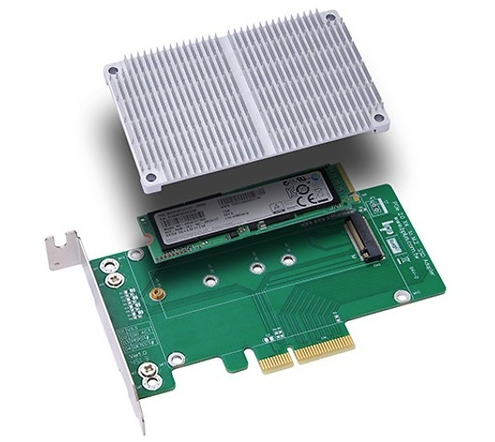 SIMULATED 4K VIDEO CAPTURE and PLAYBACK
We used AJA System Test to test file level sequential transfer speed of a 16GB test document. It also simulates capture and playback of a 4096x2160 10-bit RGB video. (HIGHEST number means FASTEST in Megabytes per Second.)


INSIGHTS
The 512G Samsung XP941 is fast. Twice as fast as the fastest 2.5" notebook size 6Gbps SSD we have tested to date. And a pair of them striped across slots 2+3 of a 2010 Mac Pro tower is four times faster.
I emphasize slots 2+3 because, as you can see from the graphs above, slots 3+4 produce significantly slower times with the striped pair of XP941s. That is because slots 3+4 share the same x4 uplink to the CPU. Therefore, after overhead, the total bandwidth tops out around 1500MB/s.
We tested with both the Bplus and Lycom M.2 (NGFF) -> PCIe Adapters. There was no difference in the transfer speeds.
BTW, if you have a Thunderbolt2-to-PCie expansion chassis, the XP941 mounted on a compatible PCIe adapter will work there, too. However, you will be limited to 1375MB/s per Thunderbolt 2.0 bus no matter now many XP941s you stuff in the box. We experienced that same limit when we tested a single LaCie Little Big Disk Thunderbolt 2.0 which uses a pair of XP941s.
Trivia: In case you didn't know it, the 2013 Mac Pro uses the Samsung XP941 for its flash storage. However, before you get excited about easy upgrading, it uses a different connector from the blades we tested.
Caution. Don't expect the 128G and 256G versions of the XP941 to produce the same transfer speeds as we measured with the 512G blades in our 2010 Mac Pro mule. Also, different models of Mac Pro tower produce different results. Consult the table below created by RamCity showing performance of a single XP941 mounted on either a Lycom or Bplus PCIe adapter: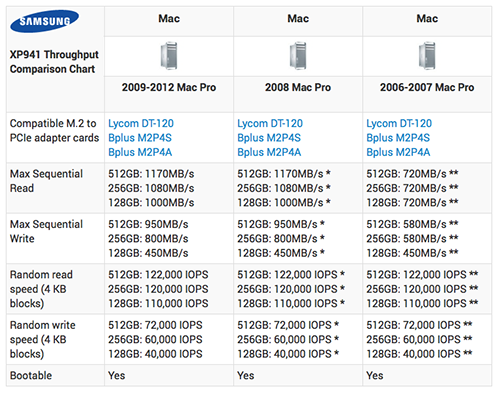 * To achieve max throughput in the 2008 Mac Pro, one of the two PCIe 2.0 x16 slots must be used. These models have two x16 PCIe 2.0 slots and two x4 PCIe 1.0 slots. In our testing on May 12th, 2014, we confirmed the speeds listed above for the x16 PCIe 2.0 slot with the 512GB XP941. We also tested in the 4 lane PCIe 1.0 slot which measured 742MB/s READ, 588MB/s WRITE.
** Using the "Expansion Slot Utility" in the System/Library/CoreServices folder, we reconfigured the PCIe slot speeds to various combinations of x4, x8, and x16 slots to benchmark the XP941. The transfer speeds above were achieved using the x4 slots. The x8 and x16 slots did not produce any faster transfer speeds. On other other hand, if you use a x1 slot, the transfer speeds drop to 200MB/s READ and 170MB/s WRITE. We tested with both OS X Leopard and Snow Leopard. OS X Tiger kenel panicked at startup. Though we didn't try it, OS X Lion, the last Mac OS to be officially supported on the 2006 Mac Pro, should also work.
Other wicked fast flash storage PCIe cards are coming soon. One example is the Tempo PCIe SSD by Sonnet Technology. (In April 2015, we reported on the Samsung SM951 that's 50% faster than the XP941.)
Meanwhile, we're having fun with the XP941 mounted on PCIe adapters courtesy of RamCity.
Feedback or comments? Feel free to email me,
Also, you can follow me on Twitter @barefeats
WHERE TO BUY THE SAMSUNG XP941 SOLID STATE BLADE
It is available for worldwide shipping from RamCity. Ditto for the M.2 (NGFF) -> PCIe Adapters. One time 5% off discount code: barefeats (Expires 8/12/2015)
SHOP APPLE STORE USA
Help support Bare Feats by clicking our Apple display ads or THIS Apple USA link when ordering any Apple product.
(Pssst. Amazon has the 2013 Mac Pro 4-core
and 2013 Mac Pro 6-core in stock.)
PowerMax not only sells new and used Macs, but will give you a generous trade-in offer on your old Mac.