Originally posted Monday, December 16th, 2013, by rob-ART morgan, mad scientist
FirmTek is now offering an affordable means to migrate your half-size PCIe cards to the newest Macs with Thunderbolt ports. The ThunderTek/PX is a compact, single slot Thunderbolt-to-PCIe expansion chassis. Bundled with the SeriTek/Q6G it enables you to bridge a Thunderbolt port to four 6Gb/s eSATA ports, supporting up to 20 drives with 5 bay Port Multiplier enclosures like the SeriTek/5PM.
For our test, we used the ThunderTek/PX-Q6G bundle to connect a miniSwap/ES dual-bay eSATA enclosure to one of the 2013 Retina MacBook Pro's Thunderbolt ports. The enclosure contained two Samsung 840 PRO 6Gbps SSDs. We benchmarked both single and dual SSDs (RAID 0). We compared those results to the same enclosure connected to the same Q6G adapter installed in a 4 lane PCIe slot of a 2010 Mac Pro tower.
GRAPH LEGEND
ThunderTek two SSDs = rMBP 2013 with ThunderTek/PX + SeriTek/Q6G + miniSwap/ES with dual Samsung 840 PRO SSDs in RAID 0 (striped)
Mac Pro two SSDs = Mac Pro 2010 tower with SeriTek/Q6G in PCIe slot 3 + miniSwap/ES with dual Samsung 840 PRO SSDs in RAID 0 (striped)
ThunderTek one SSD = rMBP 2013 with ThunderTek/TX + SeriTek/Q6G + miniSwap/ES with one Samsung 840 PRO SSD
Mac Pro one SSD = Mac Pro 2010 tower with SeriTek/Q6G in PCIe slot 3 + miniSwap/ES with one Samsung 840 PRO SSD

FINDER DUPLICATE
We duplicated a 1.82GB Video in Finder, forcing each drive to read from and write to itself as fast as possible. The formula to calculate the transfer speed in megabytes per second is size/time*2. (HIGHEST number means FASTEST.)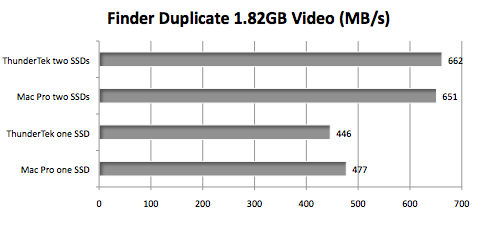 LARGE SEQUENTIAL TRANSFERS
We used AJA System Test to test file level, large sequential transfer speed using a 16GB test document that simulates a video whose frame size is 4096x2160. (HIGHEST number means FASTEST.)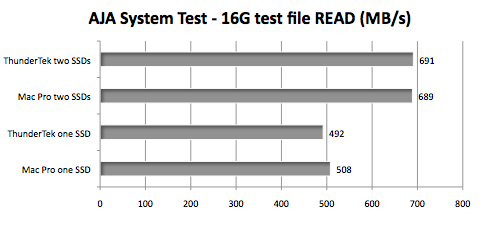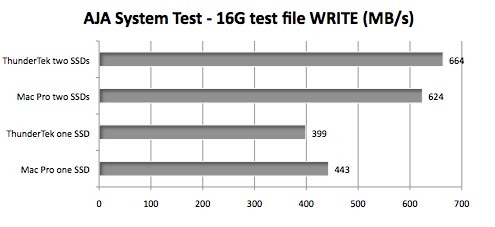 SMALL RANDOM TRANSFERS
We use the Standard Random test in QuickBench as a predictor boot volume performance and a simulation of an application that does multiple small random transfers. (HIGHEST number means FASTEST.)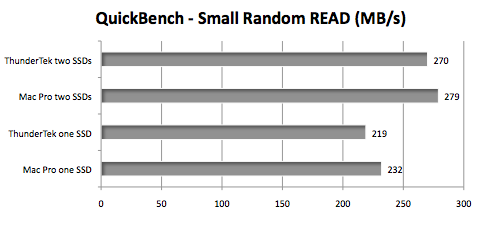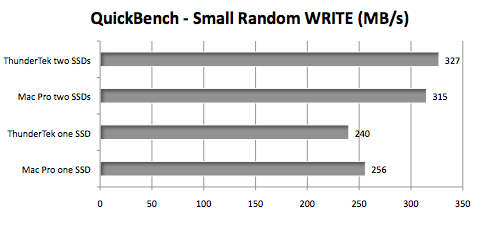 INSIGHTS
As you can see, the striped pair of 6Gb/s SSDs connected to the MacBook Pro Retina 15" using the ThunderTek/PX performed on par with the 2010 Mac Pro tower using just the Q6G 6G eSATA card. The single SSD scenario was in the 'ball park.'
Thunderbolt 1.0 has real-world bandwidth limits. The two SSDs we used in testing are capable of 1000MB/s when striped and connected to an 8 lane or 16 lane SAS/SATA host adapter inside a Mac Pro tower. However, Thunderbolt 1.0 can provide sufficient bandwidth to drive a 2 lane host adapter like the SeriTek/Q6G at the same speeds it exhibits when plugged into a Mac Pro tower's 4 lane slot.
There are Thunderbolt-to-PCIe expansion boxes with two or three slots that can handle full length PCIe cards. But the ThunderTek/PX is a great low-cost alternative for migrating single half-length PCIe cards like the SeriTek/Q6G to newer Macs with Thunderbolt ports. No need to buy an expensive Thunderbolt storage device. Your existing eSATA enclosures are ready to rock'n'roll.
There are some simpler two port Thunderbolt-to-eSATA hubs, but the write speed for one 6Gbps SSD averages 232MB/s. The write speed for two 6Gbps SSDs averages 450MB/s.
Finally, one reason we featured the 2013 Retina MacBook Pro as the test bed for the ThunderTek/PX is because the 2013 iMac's Thunderbolt port produced much lower write speeds -- for all Thunderbolt 1.0 devices we tried. We are not sure why -- unless the rMBP's Thunderbolt 2.0 controller has some improvements that affect Thunderbolt 1.0 devices.
KEY FEATURES OF THE THUNDERTEK/PX
Chassis supports compatible single half-length x1, x2 or x4 PCIe 2.0 card

ThunderTek/PX and ThunderTek/PX-Q6G bundle are both Mac OS certified for Thunderbolt

Supports compatible PCIe cards for eSATA, USB 3.0, 8Gb Fibre Channel, 10G Ethernet, audio and more

PCIe expansion via Thunderbolt offers up to 10Gb/s dual channel data transfer rates

Energy Saver Mode: automatically powers on/off with your computer

Light-weight, rugged, aluminum case for maximum durability and heat dissipation

Ventilated case and offers quiet fan operation

Feedback or comments? Contact me , mad scientist.
Also, you can follow me on Twitter @barefeats
WHERE TO BUY
The FirmTek ThunderTek/PX (without PCIe card) and ThunderTek/PX-Q6G (4-port eSATA bundle) are available now from FirmTek and selected resellers. Check their site for details on the miniSwap/ES enclosure we used.
WHERE TO BUY SOLID STATE DRIVES
SHOP APPLE STORE USA
Help support Bare Feats by clicking our Apple display ads or THIS Apple USA link when ordering any Apple product.