Originally posted Monday, December 9th, 2013, by rob-ART morgan, mad scientist
I'm constantly asked about Hybrid HDDs for Mac Pros as well as older MacBook Pros. Though we have posted Hybrid notebook drive results before, I decided to revisit this query by testing a 3.5" Hybrid HDD compared to a regular HDD, Fusion Drive, and Solid State Drive. Furthermore, we tested all four inside the Mac Pro tower as well as outside (using a 6Gbps host adapter).
GRAPH LEGEND
SSD = Samsung 840 PRO Solid State Drive 256GB
Fusion = "Roll-Your-Own" Fusion of the Samsung 256GB SSD and Seagate 1TB HDD using "diskutil cs create fusion" command in Terminal app
Hybrid = Seagate SSHD 2TB (model ST2000DX001)
HDD = Seagate HDD 1TB (model ST1000DM003)

int = drive was installed in a standard Mac Pro tower 3Gbps drive bay
Q6G = drive was in an external enclosure connected to a 6Gbps host adapter (FirmTek SeriTek/Q6G)
Test Mule was a 2010 Mac Pro 6-core Westmere running OS X Mavericks.
FINDER DUPLICATE
We duplicated a 1.82GB Video in Finder, forcing each drive to read from and write to itself as fast as possible. The formula to calculate the transfer speed in megabytes per second is size/time*2.
LARGE SEQUENTIAL TRANSFERS
We used AJA System Test to test file level, large sequential transfer speed using a 16GB test document that simulates a video whose frame size is 4096x2160.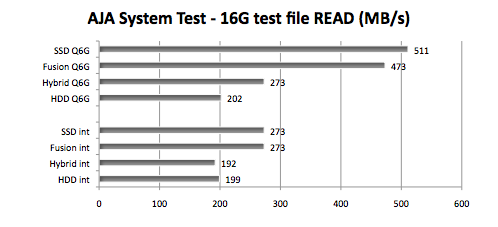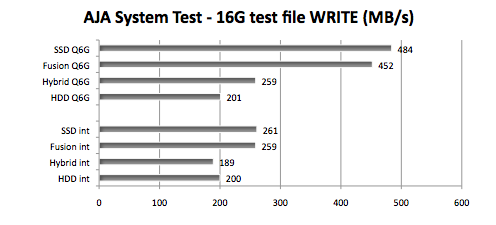 SMALL RANDOM TRANSFERS
We use the Standard Random test in QuickBench as a predictor boot volume performance (or when the volume is used with an application that does multiple small random transfers).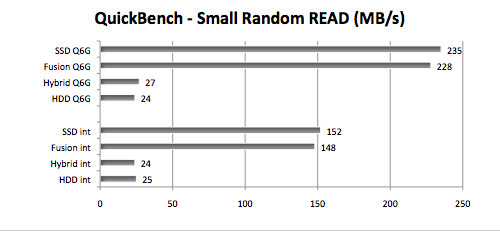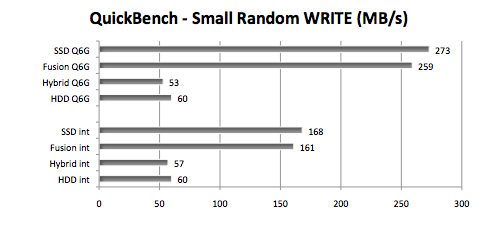 INSIGHTS
The Seagate SSHD "Hybrid" drive was not impressive compared to the regular HDD from Seagate. To go fast all the time, you need a pure solid state drive (SSD) -- preferably a 6Gbps synchronous SSD on a 6Gbps controller.
If you are trying to balance capacity with speed, you can enjoy the best of both (in most circumstances) by creating your own Fusion drive like we did -- with a much larger flash component than the 6GB provided by the Seagate SSHD Hybrid drive.
Our test Fusion Drive used a 256G SSD. The bigger the SSD used, the faster your Fusion Drive will perform. The ultimate Fusion of speed and capacity would likely be a 1TB SSD fused with a 4TB HDD -- both connected to a 6Gbps interface.
Feedback or comments? Contact me , mad scientist.
Also, you can follow me on Twitter @barefeats
WHERE TO BUY HDDs or Hybrid SSHDs
WHERE TO BUY SOLID STATE DRIVES
SHOP APPLE STORE USA
Help support Bare Feats by clicking our Apple display ads or THIS Apple USA link when ordering any Apple product.