Originally posted Tuesday, September 17th,, 2013, by rob-ART morgan, mad scientist
Other World Computing has a product that can increase your Mac mini's internal storage in quantum leaps. It's called the "Data Doubler," a kit with all the parts, tools, and instructions you need to replace the existing drive and/or add a second drive. We used this kit to replace the factory 500GB HDD in a 2012 Mac mini with dual 1.5TB HDDs for a total of THREE TERABYTES. Because we striped the two drives (RAID 0), we gained speed as well as capacity.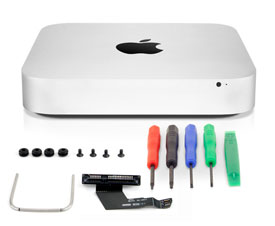 LARGE SEQUENTIAL TRANSFERS
We used AJA System Test to test file level, large sequential transfer speed using a 16GB test document that simulates a video whose frame size is 4096x2160.


LEGEND OF GRAPHS
Dual 1.5TB HDDs = Dual Hitachi 1.5TB HDDs (HTS541515AE630) in a RAID 0 (striped) configuration
Stock 500G HDD = Single Factory Hitachi 500GB HDD (HTS545050A7E36)
Both drive configurations were mounted inside a 2012 Mac mini 2.5GHz Core i5 running OS X 10.8.5.
SMALL RANDOM TRANSFERS
We use the Standard Random test in QuickBench as a predictor boot volume performance (or when the volume is used with an application that does multiple small random transfers).


INSIGHTS
The Mac mini is not a dead end when it comes to storage. With the help of OWC's Data Doubler kit, we increased the internal storage by a factor of 6.
As for speed, striping the two 1.5TB HDDs doubled the large sequential transfer speed. It also doubled the small random write speed. If you prefer security over speed, you can always mirror them (RAID 1), creating a constant, real-time backup.
On the other hand, if speed is more important than capacity, you can go even faster by installing one or more 6Gbps SSDs capable of 500+MB/s. (We plan to install a pair of OWC Mercury Extreme Pro SSDs next and will report on that.)
Don't forget memory. While you have the Mac mini taken apart, it's a good time to increase your memory capacity. In fact, we used this opportunity to double the memory of our test unit from 8GB to 16GB using a kit from OWC.
Feedback or comments? Contact me , mad scientist.
Also, you can follow me on Twitter @barefeats
WHERE TO BUY LARGE CAPACITY NOTEBOOK HDDs for your Mac mini
WHERE TO BUY SOLID STATE DRIVES
SHOP APPLE STORE USA
Help support Bare Feats by clicking our Apple display ads or THIS Apple USA link when ordering any Apple product.