Many 'late 2012' iMac owners are frustrated that the only user serviceable upgrade is memory. For the brave, however, there are other upgrades that are possible -- especially in the storage category.
One such option for the 'late 2012' iMac (27") is the MaxUpgrades MaxConnect kit that will add a 'standard size' 6Gbps SSD 2.5" capable of 500+MB/s. This is especially useful if you purchased the iMac with only the one HDD. The kit includes a 'dummy' pass-through SSD blade that provides a 6G SATA port for the added SSD (see image below).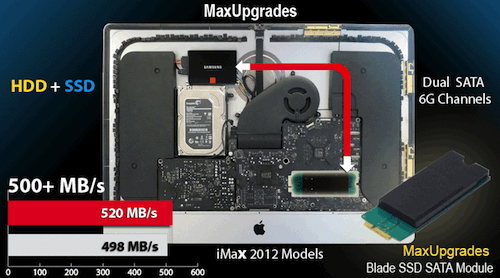 That's not enough speed? How about a kit that replaces the one factory HDD with two 6Gbps SSDs? Striped together (RAID 0), they can achieve 1000+ MB/s. (See diagram of installation in image below.)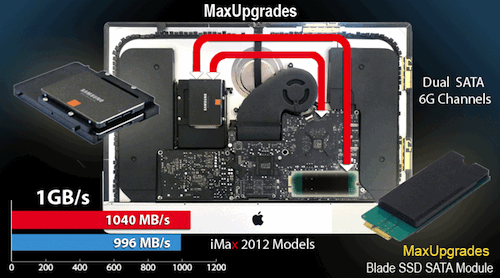 These options are made possible with the help of a replacement Blade pass-through Module with a 6Gbps SATA port. Of course, if you ordered the Mac model with the Fusion Drive or large capacity solid state module, the factory flash module is occupying the socket where the pass-through module goes.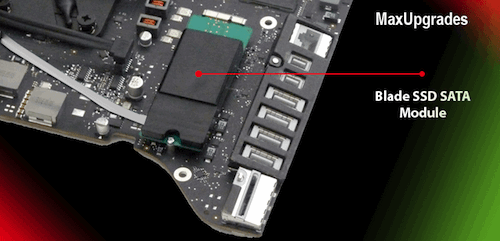 The kit comes with all you need to install the upgrade including data cables, power cables, mounting screws, and mounting tools. The only thing lacking is the tool to open the iMac and adhesive strips to reattach the screen. But those items are also available in a bundle. (See WHERE TO BUY section for links.)
CAUTION: If you are installing this in an iMac with a Fusion Drive, removing the factory blade module will corrupt your Fusion volume. If you wish to continue using a Fusion configuration or just plan to use the factory HDD as a separate storage unit, you'll want to backup your Fusion volume on an external storage device. Then whether you create your own Fusion volume or not, you can restore your main boot volume after installing the MaxConnect blade and SSD.
Also keep in mind that this upgrade is for the 'late 2012' iMac 27 inch model only. The 21.5" model doesn't have enough free space internally to install this kit.
BOTTOMLINE
Mac owners like options. The upgrade of the memory on the 'late 2012' iMac 27" is a snap -- literally. What's not "cool" is having to choose the storage option at the time of purchase and being stuck with it during the life of ownership. Thankfully "mad scientists" like MaxConnect step forward to say, "Never fear. A solution is here."