SHOOTOUT: Is the flash storage in the
2013 Retina MacBook Pro faster than
the storage in the 2012 version?

Originally posted Wednesday, February 27th, 2013, by rob-ART morgan, mad scientist
Our 'Mid 2012' Retina MacBook Pro (15") has a Samsung 512G flash storage module. One of our "remote mad scientists" bought a 'Early 2013' Retina MacBook Pro (15") with 512G flash storage but it is made by SanDisk. (See an article on Anandtech for more details on Apple's choices of manufacturers.)
So which one is faster, the Samsung or SanDisk flash storage? And how do both compare to OWC's Aura Pro 480G flash storage upgrade? We have an answer to both questions.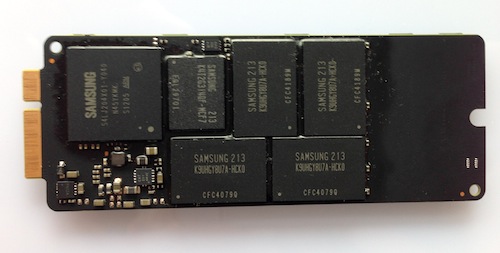 (Above is a photo of the 'mid 2012' Retina MacBook Pro's Samsung 512G flash storage module.)
SMALL RANDOM TRANSFER TEST
The Standard Test from Intech's QuickBench includes small random transfers ranging from 4K to 1024K simulating what goes on constantly with OS X housekeeping and many applications.


GRAPH LEGEND
Aura Pro 480G = OWC 480GB Aura Pro solid state storage UPGRADE module
SanDisk 512G = 'early 2013' Apple SD512E (SanDisk X100) solid state storage module
Samsung 512G = 'mid 2012' Apple SM512E (Samsung 830) solid state storage module
LARGE SEQUENTIAL TRANSFER TEST
The Custom Sequential Test (1024MB) in Intech's QuickBench gives a quick snapshot of the large file transfer speed. (HIGHEST number means the FASTEST in megabytes per second.)


WHAT DID WE LEARN?
The Samsung flash storage in the 'mid 2012' Retina MacBook Pro is faster than the SanDisk flash storage in the 'early 2013' Retina MacBook Pro when doing small RANDOM transfers. However, the SanDisk has a slight edge when doing large SEQUENTIAL transfers. Unless you are OC about the speed of your storage, they both are plenty fast compared to a hard disk drive.
However, as you can see from the RED bar in the four graphs above, the OWC Aura Pro flash storage towers over both in RANDOM transfers and wins the race on SEQUENTIAL transfers -- making it a worthy upgrade.
In case you are wondering why the Aura Pro is only 480G instead of 512G, it's because it reserves 32G in a separate partition for block management, garbage collection, and other firmware level activity to extend the life of the storage and maintain top performance. Though Samsung offers Magician software to add overprovisioning, that software is not available to Mac OS X users. However, OS X does provide TRIM (block management) support for the Samsung and SanDisk storage modules.
CONCLUSIONS
If you have a 'mid 2012' Retina MacBook Pro with the Samsung flash storage, do not fear you are being "smoked" by the 'early 2013' model with the SanDisk flash storage.
If you want to "one up" your friends who just bought the 2013 Retina MacBook Pro, you could order the Aura Pro from OWC for your 2012 Retina MacBook Pro.
If you purchased the 2012 (or 2013) MacBook Pro with the 256G flash storage and need more capacity, the 480G Aura Pro is a nice upgrade. (Apple does not offer upgrades.) It's very easy to install. OWC provides the tools and the step-by-step directions.
WHAT DO I DO WITH THE STORAGE MODULE I REMOVED?
You can install the removed Retina MacBook Pro flash storage module in the OWC Envoy Pro USB 3.0 bus powered storage device and use it as auxiliary storage. The USB 3.0 ports on the Retina MacBook Pro are very fast. We've timed the Envoy Pro at 435MB/s read/write.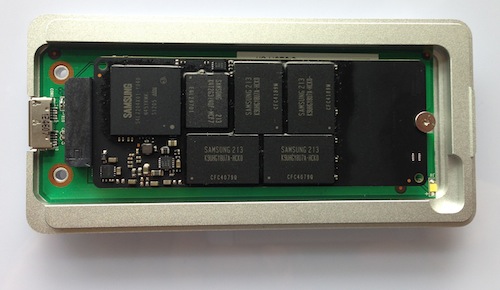 (Above is a photo of the Envoy Pro with the Retina MacBook Pro's Samsung 512G flash storage installed and the cover removed.)
Feedback or comments? Contact me , mad scientist.
Also, you can follow me on Twitter @barefeats