CalDigit joins the ranks of new, faster USB 3.0 enclosures with the AV Pro. It has a number of key features but first we want you to see the performance.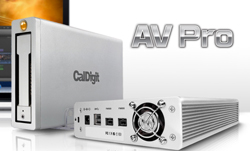 We hooked it up to one of the four USB 3.0 ports of the 'late 2012' iMac Core i7. The AV Pro we tested came with a 256GB Intel 520 SSD mounted in the removable tray.
The AV Pro comes with a utility that includes a benchmarking capability similar to AJA System Test. We used that benchmark and made screen shots of the results in the different tabs.
Intech's QuickBench - The screen shot below shows the results of the Custom Sequential Test (1024MB) including an average of the 5 cycles.

And finally, here is the Standard Test from QuickBench that includes small random transfers simulating what goes on constantly with OS X housekeeping and certain applications.
KEY FEATURES and INSIGHTS
IT'S FAST
The CalDigit AV Pro joins the newest generation of USB 3.0 enclosures that offer speed rivaling single drive eSATA and Thunderbolt enclosures. Thanks to the installed Intel 520 6G SSD, we measured as high as 426MB/s. Though CalDigit offers versions of the AV Pro that have HDDs up to 4TB, be aware that those drives will transfer at less than half that speed.
We published results for the 2012 iMac, but we measured similar speeds on the Retina MacBook Pro 15" and 2012 MacBook Air 11".
IT'S VERSATILE
You can run the SSD version with USB 3.0 bus power only. The "smart" fan "knows" when you have an SSD installed so it does not run. However, if you install a drive tray with an 3.5" HDD, the fan will do its thing to keep it cool. You'll also need the AC adapter for the 3.5" HDD.
Because it requires no driver, you can use the AV Pro to boot OS X or Windows. You can monitor the drive "health" using the included utility. You can even monitor the AV Pro remotely using your mobile device.
If you have a legacy Mac like a Mac Pro, or 2011 iMac with a FireWire 800 Port, you will be able to connect to the AV Pro to transfer data using that port. We measured 83MB/s READ and 82MB/s WRITE (average) when connected to a FireWire 800 port. That is faster than USB 2.0 but much slower than USB 3.0, as you can see -- but it is versatile. You can also use the FW800 port to daisy chain to another enclosure if you only have one spare USB 3.0 port and the second enclosure has FW800 ports.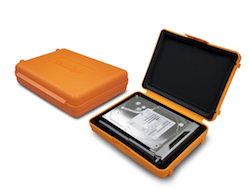 You can purchase additional drive modules for the AV Pro with pre-installed SSDs or HDDs. What's more, they come in an Archive Box that protects it from dirt or damage. The drive modules can be used in other CalDigit storage products like the T1 and T2 Thunderbolt enclosures.
For more info on the AV Pro, visit the product page on the CalDigit website.
BOTTOM LINE
If you are looking for a fast, bus-powered USB 3.0 storage device for your 2012 Mac but still want the flexibility of connecting to older Macs, the CalDigit AV Pro just might be your cup of tea.
Feedback or comments? Contact me , mad scientist.
Also, you can follow me on Twitter @barefeats