Originally posted Friday, April 20th, 2012, by rob-ART morgan, mad scientist
Added 1TB Velociraptor HDD on April 27th, 2012
How would you like a screaming internal storage unit for your Mac Pro that requires no cables, no special mounting sled, doesn't take up a drive bay, and can boot OS X? Then you will want to know about Accelsior, a brand new 6Gb/s SSD PCIe card from Other World Computing.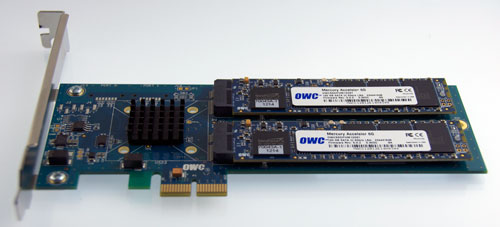 To highlight the performance of the Accelsior compared to conventional single drive storage solutions, we collected speed data for a single internal HDD, a single internal 6Gb/s SSD, and a single external 6Gb/s SSD.
REAL WORLD TESTS
For the first three graphs, SHORTER bar means fastest time in seconds.
ADOBE PHOTOSHOP CS5.1 ROTATE
We rotated a 6.68GB image (40000x29908) measuring how long it took in seconds. This is a bit extreme but we wanted to force use of each test drive as a scratch volume.
OS X RESTART
We timed it from clicking the "Are you sure you want to restart..." confirm button to when the Finder screen displayed. (Not much gain here as you can see.)
FINDER DUPLICATE
This is always revealing. Duplicating a large document forces the drive read from and write to itself at the same time.

GRAPH LEGEND
Accelsior = OWC 120GB Mercury Accelsior PCI Express SSD
Rocket SSD = OWC 120GB Mercury Extreme Pro 6G SSD connected to the HighPoint RocketRAID 2744
Internal SSD = OWC 120GB Mercury Extreme Pro 6G SSD connected to Mac Pro internal 3G SATA bus
Internal Veloci = WDC 1TB Velociraptor HDD (10K RPM) connected to Mac Pro internal 3G SATA bus
Internal HDD = Hitachi 2TB Deskstar 7K3000 HDD connected to Mac Pro internal 3G SATA bus

TEST MULE: 2010 Apple Mac Pro "Westmere" 3.33GHz Hex-Core running OS X 10.7.3 Lion. The "Rocket SSD" required a special adapter to be mounted a Mac Pro drive bay. In this test we used the Icy Dock Full Metal converter case.
ARTIFICIAL BENCHMARKS
For the next four graphs, LONGER bar means fastest in megabytes per second.
AJA SYSTEM LARGE SEQUENTIAL TEST
To simulate the capture and playback of a 16GB 4096x2160 10-bit RBG video, we used AJA System Test.


INTECH QUICKBENCH SMALL RANDOM TEST
We measure the transfer speed of small blocks (from 4K to 1024K) --- average of 5 runs. OS X spends a lot of its time in this activity so this helps rate how well each drive will function as a boot drive.


INSIGHTS and ANALYSIS
The OWC Accelsior is faster than any single drive option on the Mac Pro. It could be accused of "cheating" since it's really two flash storage modules in a hardware RAID 0 configuration. But it is a "lean, mean storage thing."
It can get even crazier. A pair of Accesiors can be striped with Apple's Disk Utility to go even faster. DigLloyd Lab measured a striped pair at transfer speeds as high as 1190MB/s. How about going nuts with three of them?
You can come close to the speed of a single Accelsior by connecting a single 6Gb/s SSD to a fast 6Gb/s Host Adapter (like we did), but the cost will balloon and internal installation can be tricky. And the only 6Gb/s host adapter that will boot OS X is the ATTO ExpressSAS R6xx series starting at $995.
As with with other solid state storage devices, the price per gigabyte for the Accelsior is higher than HDDs, but there's always some pain to get the gain. Consider this: the price of the 240G and 480G Accelsiors is comparable to similar capacity 6Gb/s SSDs -- and that doesn't include the cost of special mounting adapters or cables or host adapters for those 2.5" SSDs.
I'm excited about having the Accelsior for a Mac Pro "hot rodding" option as a boot volume and/or a scratch volume. For more on this, I recommend Lloyd Chamber's excellent review of the Accelsior.
Feedback or comments? Contact me , mad scientist.
Also, you can follow me on Twitter @barefeats