Originally posted Friday, April 6th, 2012, by rob-ART morgan, mad scientist
Wednesday, July 18th, 2012 -- added more info on RocketCache 3244x8 for external storage devices
One of the frustrations of the Mac Pro owner is the lack of built-in 6Gb/s SATA data ports. To take advantage of the new 6Gb/s SSDs (and HDDs), one needs a 6Gb/s PCIe host adapter. There are several available with PCIe bandwidth ratings from 1 lane to 16 lanes. To get the full speed of a 6Gb/s SSD, we recommend 8 lanes or more.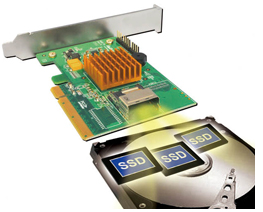 Another frustration of the Mac Pro owner is the fact that the 6Gb/s SSDs can be expensive with limited capacity. Though you can use a less expensive 6Gb/s HDD, it won't be nearly as fast as a 6Gb/s SSD. The idea behind the HighPoint RocketCache is to provide the best of both. Its core feature is to dedicate 64 GB of one or more 6G SSDs as a working cache for one or more HDDs connected to it.  
The RocketCache gives you four RAID-caching methods from which to choose. For this article, we chose the "Maximum Performance" method. (Click graphic below to larger version.)
To test the gains provided by the RocketCache RAID-caching function, we rotated a 6.68GB image (40000x29908) in Adobe Photoshop CS 5.1, measuring how long it took in seconds. This is a bit extreme but we wanted to force use of the scratch volume. Using Activity Monitor, we verified that this scenario forced Photoshop to use the scratch disk for overflow. 
We had two matching Hitachi Deskstar 7K3000 2TB HDDs. One was connected to the Mac Pro's internal 3Gb/s SATA interface. One was connected to the RocketCache's 6Gb/s mini-SAS interface using a mini-SAS to SATA breakout cable. In addition, a 6Gb/s SSD (240GB) was connected to the RocketCache with 64GB of its capacity dedicated as cache for the HDD. Each HDD took turns being the scratch volume for Photoshop. The only variation to this scenario was to add a second and third 6Gb/s SSD to speed up RAID-caching.
To summarize, we tested using these scratch volume scenarios: 
1. one 6Gb/s HDD connected to the Mac Pro's internal 3Gb/s SATA interface
2. one 6Gb/s SSD connected to the Mac Pro's internal 3Gb/s SATA interface
3. one HDD plus one 6Gb/s SSD connected to the 6Gb/s RocketCache 3240X8
4. one HDD plus two 6Gb/s SSDs connected to the 6Gb/s RocketCache 3240X8
5. one HDD plus three 6Gb/s SSDs connected to the 6Gb/s RocketCache 3240X8

As you can see from the graph, when the HDD scratch drive was connected to the RocketCache, the image rotated faster than when the scratch HDD was connected to the Mac Pro internal SATA port.
Another test we ran was to simulate the capture and playback of a 16GB 4096x2160 10-bit RBG video using AJA System Test.


Thanks to the "magic" of RAID-caching, your large capacity HDD matches the speed of one or more 6Gb/s SSDs.
Speaking of "magic," some may question if 64GB is sufficient for best caching effect. One reason HighPoint chose that size is to keep the price reasonable. No need to buy an expensive large capacity SSD to use for caching. Also, the caching algorithm in firmware flushes out the "obsolete" data so 64GB should be more than sufficient.
One feature missing is the ability to boot OS X. Hopefully that feature can be added at some point.
The RocketCache is a novel, affordable approach to solving the cost/performance/capacity conundrum for Mac Pro users. By purchasing a 6G SSD as small as 60GB for @$105 and a 3TB HDD for @$175, you get both speed and capacity for a reasonable price. Of course, you must add to that the price of the RocketCache 3240X8 (@$169) and the special kits to mount and connect internal drives to it (@$128). Affordable and clever RAID-caching.
INTERNAL DRIVE MOUNTING and CABLE OPTIONS
Most 6Gb/s host adapters for the Mac Pro only offer external ports. This is partly due to the fact that the 2009 and 2010 models of Mac Pro no longer have an internal mini-SAS connector.  Apple's Pro RAID card requires no mini-SAS cable connection thanks to a proprietary pin out in slot 4 that takes over the four internal drive bays. "Proprietary" means third party RAID cards require a third party mounting, power connection, and data connection solution.
The MaxUpgrades MacConnect Backplane Attachment provides special drive bay sleds that enable you to mount the internal drives in such a way that they pull power off the backplane while pointing the SATA port downward at a 90 degree angle. That enables you to connect the drives using the special sled to the RocketCache. ($129 from MaxUpgrades direct)
Another special sled kit faces the "business end" of the internal drives outward to facilitate connection of the Mini-SAS to SATA breakout cable from the RocketCache It is called the Pro-Cable -1 from TransIntl. It requires you to pull power to the drives from the optical bay. ($128 direct from TransIntl)
Some users may want to mount the RocketCache drives in the lower optical bay. There are third party mounting adapters for that scenario, too.
"SISTER" ROCKETCACHE for EXTERNAL DRIVE ENCLOSURES
If you are queasy about the internal mounting scenario, HighPoint now offers a RocketCache 3244X8 which has an external mini-SAS port that supports up to four drives -- a combination of one or more SSDs with a combination of one or more HDDs. There are mini-SAS cables available from MacSales.com that enable you to connect with a multibay bay enclosure that has either one mini-SAS port (like the Stardom ST8-U5) or four dedicated eSATA ports (like the FirmTek SeriTek/2eEN4).
Feedback or comments? Contact me , mad scientist.
Also, you can follow me on Twitter @barefeats