Posted Tuesday, October 20th 2009, by rob-ART morgan, mad scientist
Firmtek is now shipping the SeriTek/2ME4-E, a "Snow Leopard Compatible, 4-Port, eSATA Host Adapter with Port Multiplier Compatibility for PCI-Express Equipped Apple Macintosh Computers." We tested it with their compact, well designed four bay and five bay enclosures (2eEN4 and 5PM) using four and five 2TB SATA drives respectively.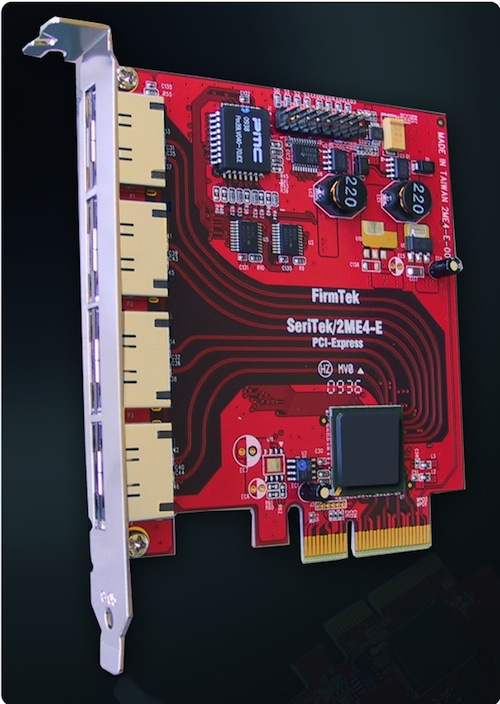 These four graphs show the results of the Area Test using DiskTester 2.0 (4GB test size, 256MB chunk). We posted results for "empty" (0%) and "full" (90%):




LEDGEND of GRAPHS
4 Direct = four drives in a RAID 0 set installed in the SeriTek/2eEN4 enclosure each 'fed' its own direct SATA data channel (port)
5 Multi = five drives in a RAID 0 set installed in the SeriTek/5PM (Port Multiplier) enclosure and 'fed' through a single eSATA data channel (port)

Drives used: Hitachi Deskstar 7K2000 (HDS722020ALA330)
Host adapter used: FirmTek SeriTek/2ME4-E (now shipping)
Test software used: DiskTester 2.0
Test mule: Mac Pro Nehalem 2.93GHz octo-core (Snow Leopard 10.6.1)

ANALYSIS
The SeriTek/2ME4-E four-port eSATA host adapter is a versatile workhorse for attaching external eSATA enclosures to any model of Mac Pro. Some of its advantages include:
It matches up nicely with FirmTek enclosures including the SeriTek/2eEN4 Four-Bay Hot-Swap Eternal eSATA Enclosure and the SeriTek/5PM Five-Bay Hot-Swap External eSATA Port Multiplier Enclosure (both used in our testing). I want to emphasize that FirmTek enclosures are not only compact and quiet, but the drives plug directly into the backplane. (Most eSATA enclosures use a secondary cable to connect the drives to the backplane.)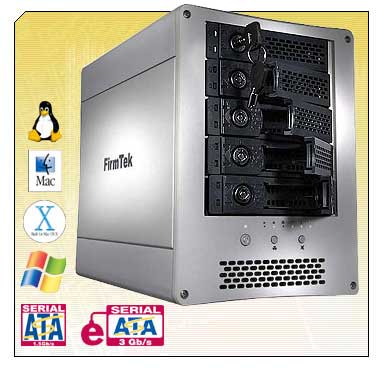 The SeriTek/5PM enclosure includes a heat management system, user selectable 3-speed fan control, front-panel power switch, temperature and fan failure alarms plus the ability to support up to twenty hard drives using four SeriTek/5PM enclosures with the SeriTek/2ME4-E or any 4-port SATA PM host adapter compatible with the Mac Pro. A single data cable supports all five hard drives which reduces cable clutter while providing over 250MB/sec large sequential READ performance with a five drive striped (RAID 0) set and the SeriTek/2ME4-E host adapter.
Why did we max out at 250MB/s? That's because the five drives are being "fed" through a single eSATA port (aka data channel) with a theoretical max bandwidth of 300MB/s. When multiple drives share a single port, there is always an overhead penalty. Hence the 250MB/s max we recorded.
If you need to go faster, the SeriTek/2eEN4 Four-Bay Hot-Swap External eSATA Enclosure provides one dedicated port (data channel) per drive. As you can see from the graphs, we attained 502MB/s with the four 2TB Hitachi drives we used for testing. Firmtek tested with four Samsung F3s and attained 570MB/s. We're looking forward to testing four of the new 6Gb/s Seagate Barracudas to see if they can reach 700MB/s in a RAID 0 set. (Four SSDs could easily reach 700MB/s.) I mention those scenarios because the built-in SATA controller inside the Mac Pro maxed out at 615MB/s with four OCZ Vertex SSDs in our testing even though they are capable of a collective 1000+MB/s.
NOTE: We tested in the x16 Slot #2 on our 2009 Mac Pro. The SerTek/2ME4-E is rated at x4 but works fine in slots rated slower or faster than x4. I recommend using the highest rated empty slot for best performance.
WHERE TO BUY THE SERITEK/2ME4-E eSATA HOST ADAPTER
Order direct from FirmTek's online store. The 5PM and 2eEN4 enclosures are available there, too.
WHERE TO BUY SATA DRIVES
WHERE TO BUY APPLE PRODUCTS
When you make a purchase at the Apple Online Store (USA), please CLICK THIS LINK. It's a great way to support Bare Feats since we earn a commission on each click-through that results in a sale.