Posted Friday, September 25, 2009, by rob-ART morgan, mad scientist
Updated Friday, October 2nd, 2009, with WD Black 2TB drive
The recent 2TB HDD releases coming fast and furious. We tested four samples in this article. Two are low power "green" drives and two are "performance" drives. Can you guess which is which?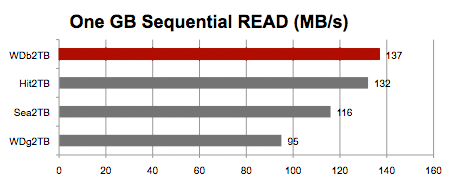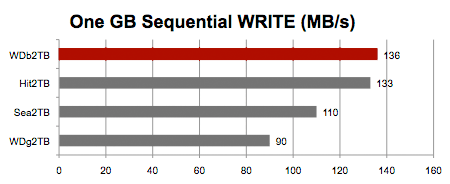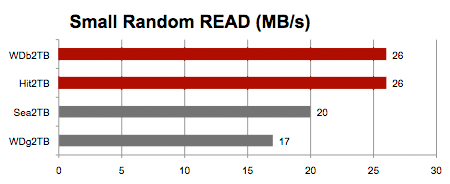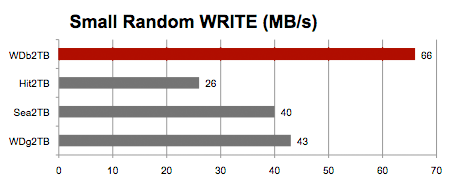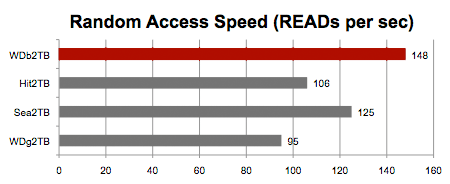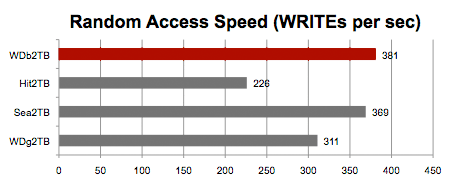 LEGEND of GRAPHS

WDb2TB = Western Digital Caviar Black 2TB HDD (WD2001FASS) Idle: 8.2 watts
Hit2TB = Hitachi Deskstar 7K2000 (HDS722020ALA330) Idle: 7.5 watts
Sea2TB = Seagate Barracuda LP (ST3200052AS) Idle: 4.2 watts
WDg2TB = Western Digital Caviar Green (WD20EADS) Idle: 3.7 watts
ANALYSIS (updated)
The Western Digital Caviar Black 2TB HDD scored the fastest large sustained transfer speed as shown in the One GB Sequential Test (QuickBench Custom) and Finder Duplicate Test. If you are looking for the fastest 2TB drive for for reading and writing large blocks of data, those are the numbers to focus on. The other "performance" drive (Hitachi 7K2000) was slightly slower. As for our "full volume" test, the Hitachi edged out the WD Caviar Black.
If you plan to use a 2TB drive for booting OS X, the key performance measure is access time, which is revealed by the Random Access Test (DiskTester). The WD Caviar Black wins again. Ditto for small random transfer speed (QuickBench Standard Test).
Of the two "green" low-power drives, the Seagate Barracuda LP at 5900 RPM is the most impressive. Of all the green drives we've ever tested, it provides the best compromise between low power and speed.
MORE TO COME
We're looking forward to testing the new 2TB Seagate Barracuda XT 6Gb/s HDD which is touted to be the fastest 7K drive ever made. It is downwards compatible with 1.5Gb/s and 3Gb/s host adapters. We have samples of the new Seagate Cheetah 15K.7 450G 6Gb/s SAS drive which we plan to test with the ATTO ExpressSAS H644 6GB/s host adapter.
If you don't need the 2TB storage capacity, there are certainly faster boot drives than the 2TB samples above. Two that come to mind are the WD Velociraptor 300G 10K HDD and Crucial M225 256G Solid State Drive. The Crucial SSD's large sustained speed is twice as fast and it's small random speed is ten times faster.
Also stay tuned for a test showing what you can do with four Hitachi 7K2000 drives in a Mercury Elite-AL Pro Qx2 Quad Interface RAID enclosure. How does an 8 Terabyte RAID 0 or a 6 Terabyte RAID 5 volume sound? Think that can hold all your stuff?
WHERE TO BUY 2TB SATA HARD DRIVES