Originally posted April 17th, 2008, by rob-ART morgan, mad scientist
FirmTek is one of our favorite enclosure makers for one main reason: the drives connect directly with the backplane. There are no internal cables between the drive and the backplane, reducing the possibility of electro-magnetic interference (EMI) .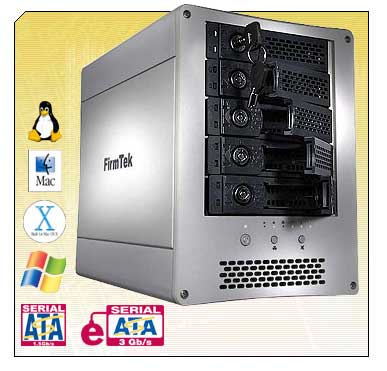 KEY FEATURES
In addition to the "direct-to-backplane" feature, SeriTek/5PM is significant in that it's the first Port-Multiplier (PM) enclosure offered by FirmTek. Port-Multiplication, as you know, enables you to connect up to 5 drives to a single SATA data cable (channel). The only caveat is that your maximum throughput is limited to 230MB/s per channel. FirmTek isn't always the first out with a product but when they do release it, it's done first class.
The SeriTek/5PM is compact and attractive, made from brushed and annodized extruded aluminum. It goes nicely next to your Mac Pro or MacBook Pro. The drive trays are designed to allow maximum air circulation around the drives.
Yet, though compact, it features a server-class internal power supply along with a special Heat Management System (HMS) to ensure that the drives are kept cool. The HMS provides superior air flow throughout the chassis and utilizes two whisper quiet fans to keep air moving without being an audible annoyance. In addition, the fans can be set to three different speeds by the user, depending needs of the unique work environment.
Also, if for some reason the drive temperatures approach "critical mass" or one of the fans were to fail, there is a visual and audible alarm to alert the user.
We encourage you to either visit FirmTek's booth at NAB (SL7729) or visit their website for more information. We'll publish some benchmarks utilizing this enclosure filled with 1TB 3G SATA drives and connected to a FirmTek SATA host adapter in the near future.
WHERE TO BUY THE FIRMTEK SERITEK/5PM ENCLOSURE
You can order the enclosure online from the FirmTek store or from their authorized dealers such as Other World Computing. It is compatible with any 3G SATA host adapter that supports Port-Multiplication.
WHERE TO BUY OTHER PM ENCLOSURES
PC-Pitstop has both PM enclosures and SATA host adapters.
WHERE TO BUY PORT-MULTIPLIER (PM) SATA HOST ADAPTERS
FirmTek offers the SeriTek line of SATA host adapters, some of which are PM
HighPoint's RocketRAID 2522, 2314MS, 2314, and 2304 SATA RAID adapters support Port-Multiplication
Sonnet Technology offers the Tempo SATA E4P PM host adapter.
Wiebetech's TeraCard comes in 3 versions that support PM
WHERE TO BUY SATA 3G DRIVES
MacGurus (host adapters, enclosures, drives, cables)

Other World Computing (host adapters, enclosures, drives)

Small Dog Electronics (host adapters, enclosures, drives)

TransIntl (host enclosures, drives, internal mounting kits)

WHERE TO BUY A MAC PRO
When ordering products from Apple Store USA, please click THIS TEXT LINK or any Apple display ad as your "portal" to the online store. In so doing, you help to support Bare Feats.
Also check with Small Dog Electronics and Power Max. (Power Max takes trade-ins.)
WHERE TO BUY MEMORY FOR YOUR MAC PRO
Apple charges and arm and a leg for CTO memory options. We suggested ordering your Mac Pro with minimal memory and getting 8GB or 16GB of matched FB-DIMMs that meet Apple's specs and use Apple approved heat sinks from ....