Posted Friday, February 6th, 2015 by rob-ART morgan, mad scientist
We published two articles showing how a SINGLE NVIDIA GeForce GTX 980 compares to other Mac Pro tower compatible GPUs. But what happens when you stuff two GTX 980s in your Mac Pro? What apps benefit from this? How do other dual fast GPUs compare?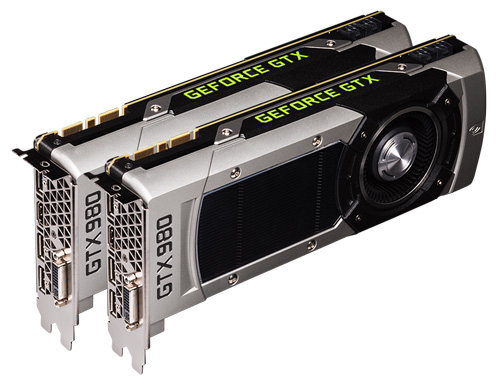 GRAPH LEGEND
GTX 980*2 = dual NVIDIA GeForce GTX 980 GPU (4GB, 1215MHz)
R9 290X*2 = dual AMD Radeon R9 290X (4GB, 1000MHz)
HD 7950*2 = dual AMD Radeon HD 7950 (3GB, 800MHz)
FP D700*2 = dual AMD FirePro D700s (6GB, 850MHz) in 2013 Mac Pro 8-core
GTX 980 = single NVIDIA GeForce GTX 980 GPU (4GB, 1215MHz)
R9 290X = single AMD Radeon R9 290X (4GB, 1000MHz)

All GPUs (except the D700s) were tested in a 2010 Mac Pro 3.33GHz 6-core with 24G of RAM running OS X 10.10.1 Yosemite. NVIDIA GPUs used web driver 343.02.01f01 and CUDA 6.5.37.
DaVinci Resolve 11
We found that Noise Reduction rendering during playback was pure GPU. The GPU's core utilization was at maximum. We applied one noise reduction node to the Standard Candle project and the Standard_Flashlight project. LONGEST graph bar means FASTEST in frames per second.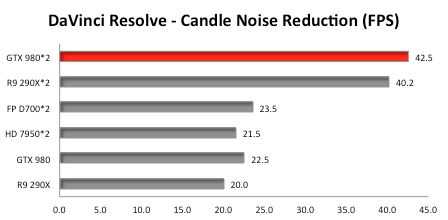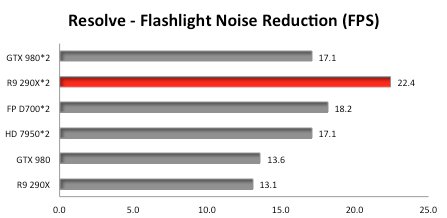 LuxMark 2
This is an OpenCL benchmark. We rendered the Sala scene (488K triangles) using GPUs only. LONGEST graph bar means FASTEST in thousands of samples per second.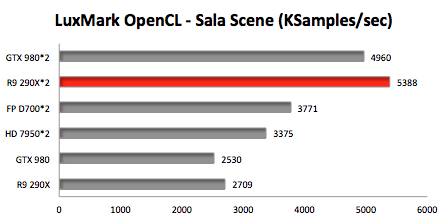 Octane Render 2
This is a "GPU only" standalone renderer that can process scenes created in Maya, ArchiCAD, Cinema 4D, etc. -- and does so in a fraction of the time it takes with a CPU based renderer. However, it only runs only on CUDA capable NVIDIA graphics cards. We used the DEMO version with a test scene called octane_benchmark.ocs. For our test we selected RenderTarget PT (Path Tracing). SHORTEST graph bar means FASTEST render time in seconds.

INSIGHTS
In at least three of our four examples, dual NVIDIA GeForce GTX 980s doubled the performance compared to one GTX 980. Of course, similar gains are possible with a pair of R9 290Xs and other GPUs compared to one.
Note that the fastest pair of FirePro D700s in the 'late 2013' Mac Pro could not keep up with a pair of GTX 980s or R9 290xs. And they were only slightly faster than a pair of HD 7950s.
Keep in mind that the Mac Pro tower can't feed enough power to the dual 980s, dual 290Xs, or dual 7950s. We used an auxillary power supply to compensate. For the hard core GPU rendering, there are external expansion boxes with their own power supplies. In an earlier article, we featured the Cubix Xpander which facilitated the connection of 5 GPUs to the Mac Pro tower.
Articles featuring a single GeForce GTX 980 versus other GPUs:
Games and OpenGL Benchmarks versus 8 other GPUs
and
DaVinci Resolve, LuxMark, and Octane Render versus 9 other GPUs.
Comments? Suggestions? Feel free to email me,
Follow me on Twitter @barefeats

WHERE TO BUY APPLE products:
USA readers can help us earn a commission by using this Apple Store USA link or by clicking on any Apple display ad. Live outside the USA? No problem. We are affiliated with these Apple Stores: