Posted July 14th, 2016 by rob-ART morgan, mad scientist
Inquiring minds want to know, "Is the GeForce GTX 1070 almost as fast as the GTX 1080?" In this first pass, we stressed both of them using 'toughest' settings on three GPU intensive OpenGL apps. And we included the GTX 980 Ti to represent the high end of the previous generation of NVIDIA GPUs.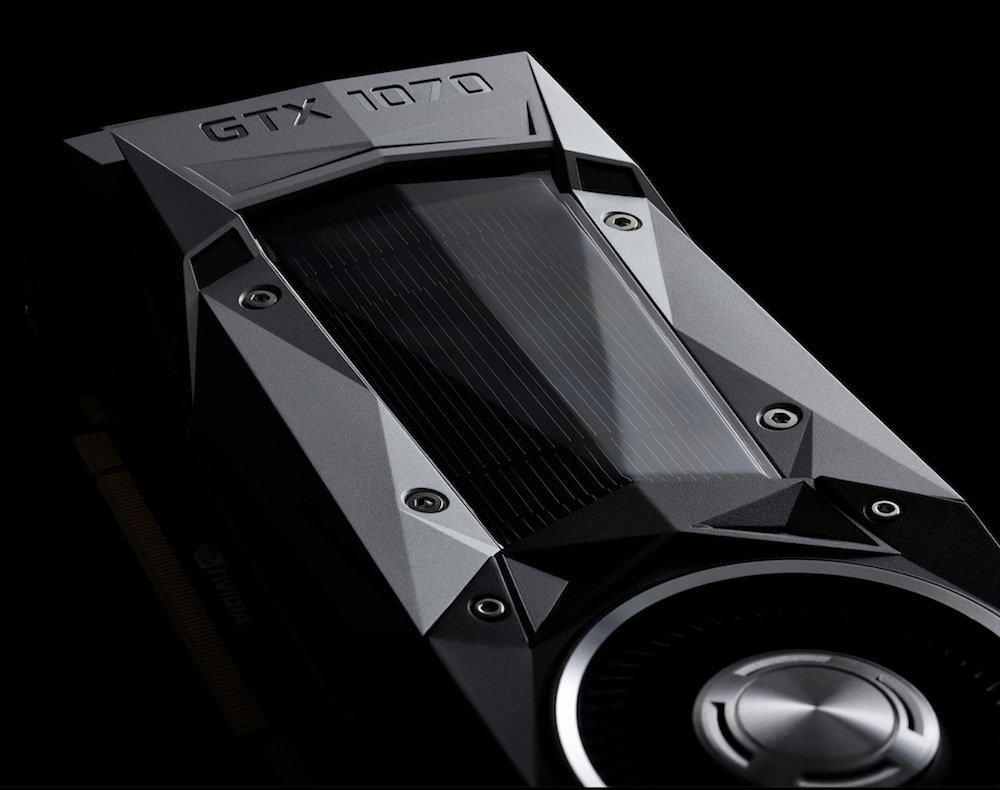 GPU GRAPH LEGEND
cMP GTX 1080 = NVIDIA GeForce GTX 1080 Founders Edition (8GB GDDR5X)
cMP GTX 1070 = NVIDIA (ASUS) GeForce GTX 1070 Founders Edition (8GB GDDR5)
cMP GTX 980 Ti = NVIDIA (EVGA) GeForce GTX 980 Ti (6GB GDDR5)
All tests were run under Windows 7 Ultimate (BootCamp) on a 2010 Mac Pro tower 6-core 3.33GHz. Display was the Dell 5K UltraSharp set at 3840x2160.
Tomb Raider
Using "Ultra" preset, we ran the built-in benchmark. (HIGHEST in Average Frames per Second = FASTEST)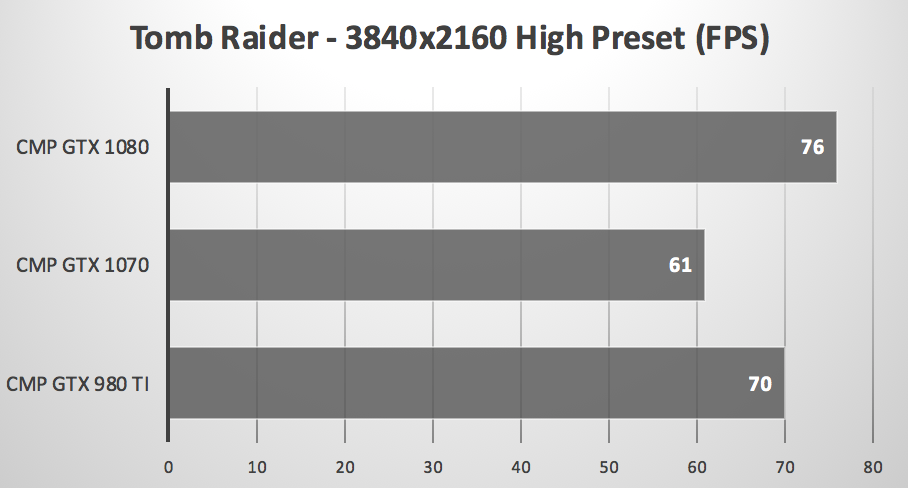 Left 4 Dead 2
We use the console command "timedemo" to playback a recorded game session. Settings were FullScreen, Anti-Aliasing 8x, Anisotropic 16X, Vsync Disabled, Shader Detail Very High, Effect Detail and Model/Texture Detail both High, Multicore Rendering Enabled. (HIGHEST in Average Frames per Second = FASTEST)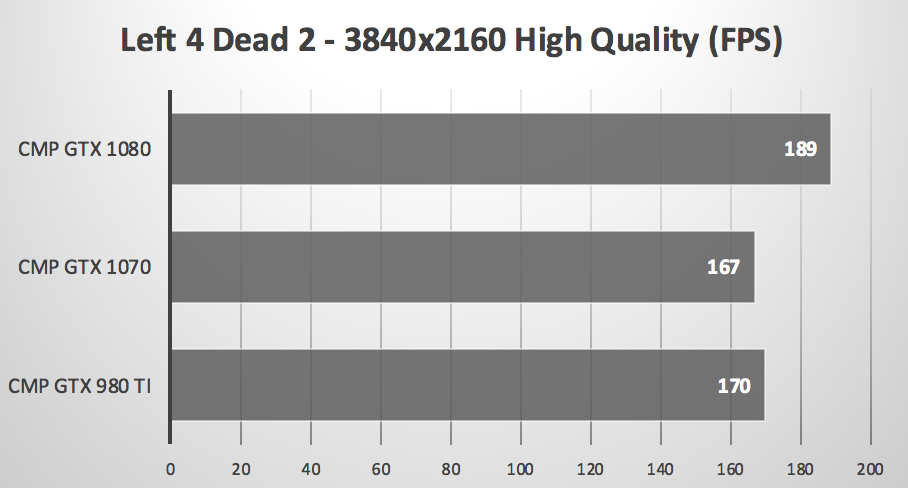 Diablo III (Patch 2.4.1)
My character is standing next to the New Tristram Waypoint. Settings were Fullscreen, Anti-Aliasing enabled, Reflections DISabled, all other settings "HIGH." (HIGHEST in Average Frames per Second = FASTEST)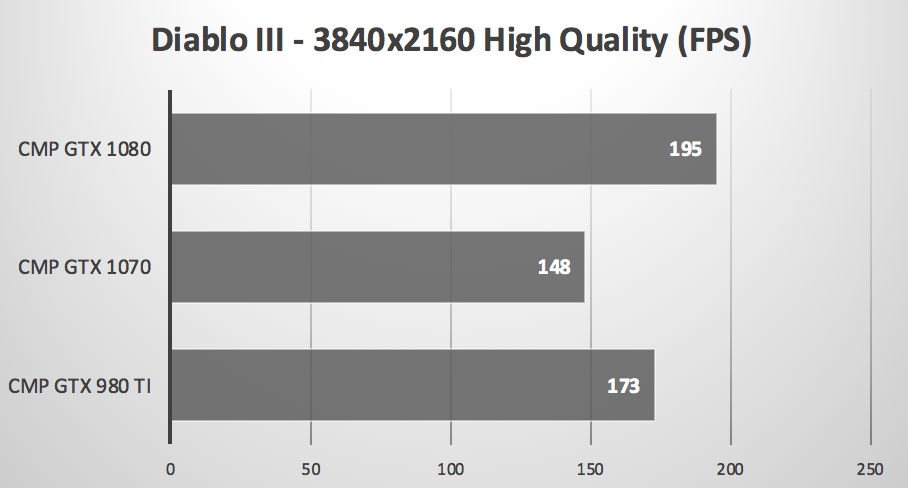 FurMark 'GPU burner'
This module in the GPUTest suite is a very intensive OpenGL benchmark that uses fur rendering algorithms to measure the performance of the graphics card. Fur rendering is especially adapted to overheat the GPU and that's why FurMark is also a perfect stability and stress test tool (also called GPU burner) for the graphics card. Settings were FullScreen at 3840x2160 Custom resolution. (HIGHEST in Average Frames per Second = FASTEST)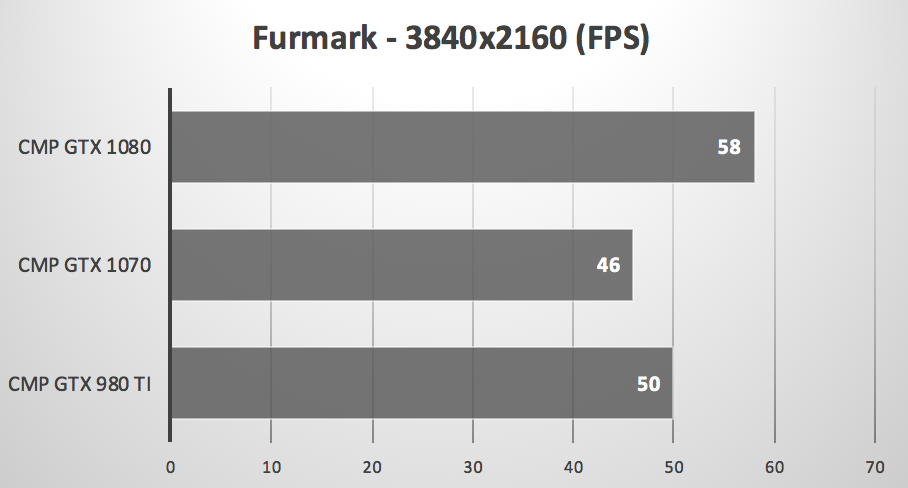 ANALYSIS
So does the GeForce GTX 1070 produce better 'bang for the buck' than the GTX 1080 or GTX 980 Ti? The GTX 1080 was 13% to 32% faster in our tests featured on the page. The GTX 1080 cost us $699 or 56% more than the GTX 1070 (at $449). So it could be argued that the GTX 1070 is a better buy.
The lowest price of the GTX 980 Ti from our source was $459. So should you consider a new or used GTX 980 Ti since it was as much as 17% faster than the GTX 1070 (in our tests)? On the downside, the GTX 980 Ti requires two power feeds while the GTX 1070 only requires one. On the upside, at least you can get an OS X compatible driver for the 980 Ti today.
We expect NVIDIA to post an OS X compatible web driver at some point for the GTX 1070/1080. When that happens, we will run these same tests along with others under OS X.
And once there is a CUDA driver that recognizes the GTX 1070/1080, we will post some CUDA benchmarks including DaVinci Resolve (Noise Reduction), Blender, Octane Render and more.
BIG MAHALO to MacVidCards for the loan of the GTX 980 Ti.
Comments? Suggestions? Feel free to email me,
Follow me on Twitter @barefeats

WHERE TO ORDER DESKTOP GPUs
Order the NVIDIA GeForce GTX 1070 and GTX 1080 direct from NVIDIA. Also check with B&H Photo/Video -- who also lists a super clocked gaming version.