Originally posted 10/18/02 by rob-ART morgan, mad scientist
(rob-art@barefeats.com)
The only currently shipping PCI graphics card is the Radeon 7000. I wanted to know how it compared to the old Radeon Mac Edition as well as the newest AGP graphics cards. Here's the answer: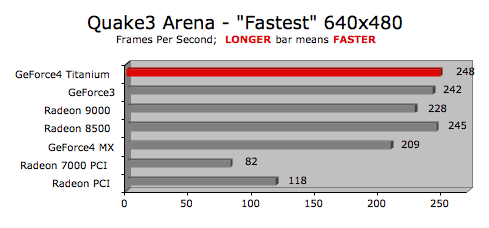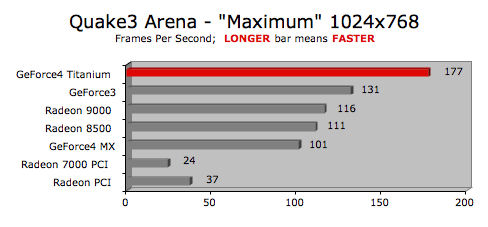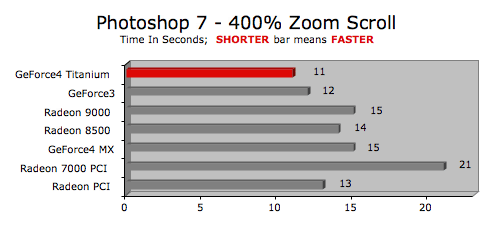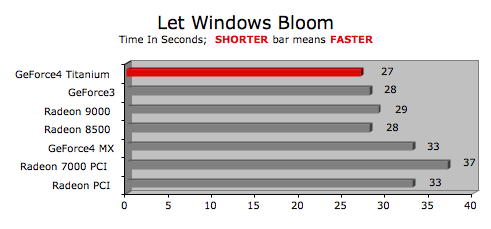 PERFORMANCE ANALYSIS
If you are a 3D gamer looking to speed up your favorite graphics intensive game (like Quake3 Arena), don't expect any help from the Radeon 7000. I suppose it might perform better in a 66MHz slotted Blue'n'White but only if the CPU was cranking. If you must depend on a PCI slotted card, the older Radeon Mac Edition is a better choice.
As for 2D performance, the Radeon 7000 lags behind the others but not as dramatically as it did in the 3D tests.
WHERE TO BUY
ATI has their own online store where you can purchase the Radeon 7000, 8500 and 9000.
Check also with Other World Computing, MacResQ, and Buy.Com.
FLASH: MacResQ will have the GeForce4 Titanium in stock starting October 22nd. Preorder putting "BAREFEATS" in the Q-Pon code and you get it for $350 with free ground shipping. (Compare that to the price on the Apple Online Store of $399 plus shipping.)
RELATED LINKS
See the Bare Feats tests with some of these graphics cards installed in the new DDR Macs. Here's MORE.
Anandtech compares the Radeon 9000 to the 8500, GeForce4 MX, and GeForce4 Titanium AGP cards for Windows PC's. The Radeon 9000 is aimed at the GeForce4 MX line. The test results on SharkyExtreme show they hit their target.
Here's an interesting comparison: Geforce4 Go versus the Radeon 9000 Mobility (both are NEW chips for laptops). It will be interesting to see which chip Apple uses in the next generation Titanium G4 PowerBook.
Read about the new Radeon 9700 (Mac Edition coming in a few months), which, according to Anandtech.com's tests, is 30 to 50% faster than the GeForce4 Titanium (Ti 4600) running Unreal Tournament 2003 on a Windows PC. And, according to SharkyExtreme, at high quality and 1600x1200 setting, the 9700 beats the GeForce4 Ti 4600 by a significant amount.
TEST NOTES
The test "mule" was my trusty G4/1000 MP "SDR" Power Mac with 1.5 1GB of PC133 CL2 SDRAM and 120GB IBM 120GXP boot drive running OS X (10.2.1).
Graphics cards tested included...
... ATI Radeon Mac Edition PCI (32MB DDR; VGA and DVI)
... ATI Radeon 7000 Mac Edition PCI (32MB DDR; VGA and DVI)
... nVIDIA based GeForce4 MX AGP (64MB DDR; VGA and ADC)
... ATI Radeon 8500 Mac Edition AGP (64MB DDR; VGA and DVI)
... ATI Radeon 9000 Mac Edition AGP (64MB DDR; DVI and ADC)
... nVIDIA based GeForce3 AGP (64MB DDR; ADC)
... nVIDIA based GeForce4 Titanium AGP (128MB DDR; DVI and ADC)