Posted Thursday, July 25th, 2013 by rob-ART morgan, mad scientist
Recently we've had much fun testing pairs of the highest powered GPUs. Sobering up, we wanted to show you what is to be gained by upgrading from single graphics processors available from Apple as CTO or Retail Store kit. In other words, will pro apps that use GPU acceleration run a lot faster by replacing the Radeon HD 5770, Radeon HD 5870, or Quadro 4000 with a Fire Breathing GPU?
GRAPH LEGEND
G770 = one eVGA GeForce GTX 770 (flashed)
G680 = one eVGA GeForce GTX 680 Mac Edition
G580 = one GeForce GTX 580 Classified (flashed)
G570 = one GeForce GTX 570 (flashed)
K5000 = one Quadro K5000 for Mac
Q4000 = one Quadro 4000 for Mac
R7950 = one Sapphire Radeon HD 7950 Mac Edition
R5870 = one Radeon HD 5870 (Apple CTO or retail store kit)
R5770 = one Radeon HD 5770 (Apple default for all 2010-2012 Mac Pros)
TEST MULE: 2010 Mac Pro Westmere 3.33GHz Hex-Core with 24G of RAM, SSD boot drive, and Sonnet Tempo SSD Pro PCIe for scratch storage. OS X version was 10.8.4. NVIDIA GPUs used latest driver from NVIDIA website.
Final Cut Pro X -- Using a two minute PreRes 10-bit 4:2:2 1920x1080 video sample, we rendered various video effects. The three featured below highlight the gains provided by fastest GPUs over the factory options. (SHORTEST bar means FASTEST time in seconds.)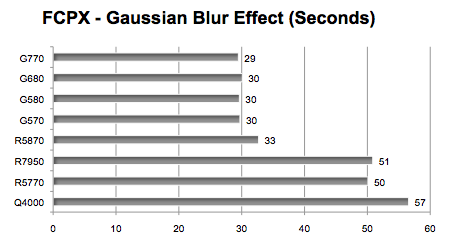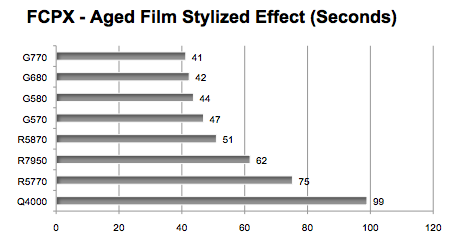 Apple's Motion 5 comes with various project templates. We use the 'Atmospheric - Open' 600 frame 1920x1080 template for our test. We time how long it takes to render the RAM Preview and then calculate the speed in frames per second. (LONGEST bar means FASTEST in Frames per Second.)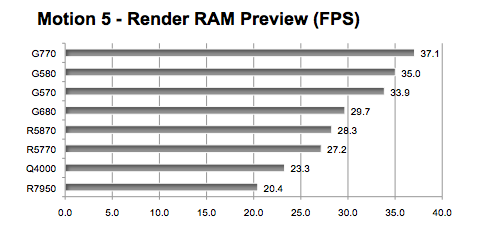 DaVinci Resolve 9.1.4 adds speed and power to color grading of HD video. It uses the GPU to apply and playback multiple effects in real time -- no pre-rendering required. However, the more effect nodes created, the slower the playback.
Our graph features a two minute PreRes 10-bit 4:2:2 1920x1080 video. We set the maximum playback framerate to 500 fps to force fastest playback speed of four nodes (including color correction, and three blur nodes). Results are average frames per second. (LONGEST bar means FASTEST in frames per second.)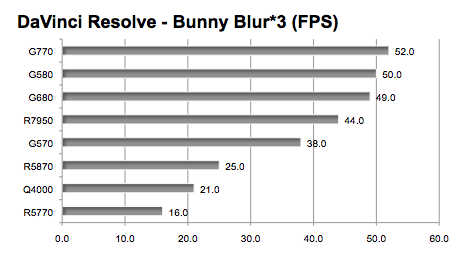 The full version of Resolve supports noise reduction which can seriously slowdown playback. AMD GPUs don't support Noise Reduction, so we feature only NVIDIA GPUs in the graph below.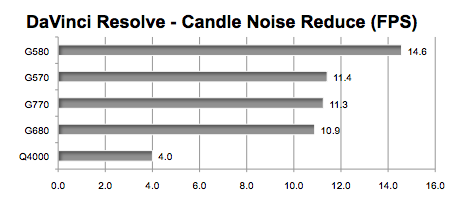 LuxMark OpenCL Benchmark
This is a benchmark that works with all GPUs that support OpenCL. We feature here the results from rendering the Room scene which is extremely complex (2,000,000+ triangles) and is available only on 64bit executables. (LONGEST bar means FASTEST in thousands of samples per second.)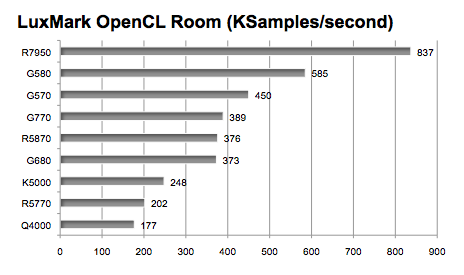 Photoshop CC -- Using a 6000x4500 pixel image, we rendered a 500 pixel Iris Blur -- a filter that is accelerated by OpenCL capable GPUs. (SHORTEST bar means FASTEST time in seconds.)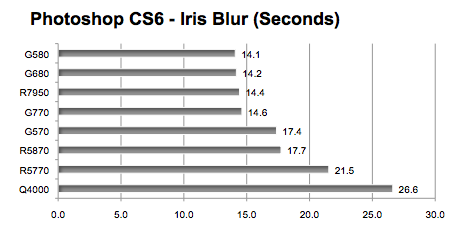 In this second graph, we rendered another OpenCL accelerated filter -- 15 degree Tilt Shift (500 pixel blur).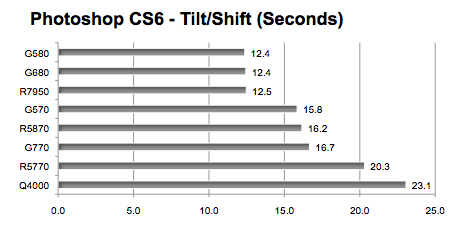 INSIGHTS
In short, the gains you see with the best GPUs depend on what app you are running.
The new Radeon HD 7950 Mac Edition is a bit schizophrenic. It was as fast or faster than the other optional GPUs running our Photoshop and LuxMark OpenCL tests. However, it was slowest running the Motion test. And the Radeon HD 5870 beat it in all three FCPX tests. Maybe when the drivers 'mature' it will do better.
The new GeForce GTX 680 Mac Edition was faster than any of the Apple CTO and Retail kit GPUs in all tests except LuxMark. However, the flashed GeForce GTX 770 edged it out in the FCPX, Motion, Resolve, and Luxmark tests. And the GeForce GTX 580 Classified edged it out in the FCPX, Resolve Blur, and Photoshop tests. The 580 clearly beat it in the Motion, Resolve Reduce Noise, and LuxMark tests.
Looking at the graphs you must have noticed a linear advantage by some GPUs over others in apps like LuxMark and Motion. Yet in apps like Final Cut Pro and Photoshop, the top performers hit a wall.
If you are trying to choose between an AMD Radeon GPU and an NVIDIA GeForce GPU, ask yourself if you are running CUDA enabled apps like After Effects (Ray-traced 3D particularly) and OctaneRender. If the answer is 'yes,' the choice should be NVIDIA. However, when those software publishers modify their apps to support the dual AMD FirePro GPUs in the soon-to-be-released Mac Pro, the AMD GPUs will be back in play.
All the GPUs featured in this article should run on 2008 - 2012 Mac Pros. For 2006 - 2007 Mac Pros, check with the sources listed below for compatible options.
Comments? Suggestions? Email , mad scientist.
Follow me on Twitter @barefeats
WHERE TO BUY CUDA CAPABLE NVIDIA GPUs for your MAC PRO