Posted Friday, September 13th, 2013 by rob-ART morgan, mad scientist
Even as the advent of the 2013 Mac Pro draws nigh, good news continues to flow for owners of existing Mac Pro towers. This week we benchmarked the NVIDIA GeForce GTX 780 and Titan, courtesy of MacVidCards.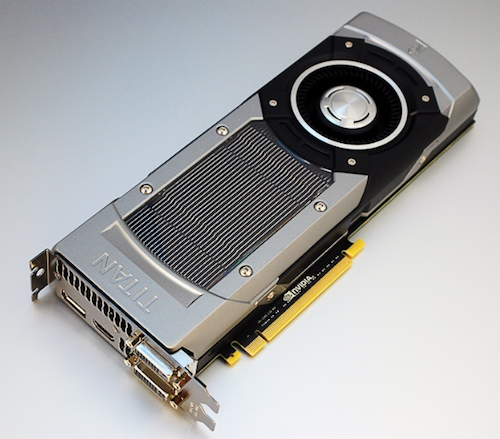 GRAPH LEGEND
GTX Titan = Gigabyte GeForce GTX Titan with 6GB GDDR5
GTX 780 = Gigabyte GeForce GTX 780 with 3GB GDDR5
GTX 580C = EVGA GeForce GTX 580 Classified with 3GB GDDR5
GTX 770 = Gigabyte GeForce GTX 770 with 4GB GDDR5
GTX 680C = EVGA GeForce GTX 680 with 4GB GDDR5
GTX 680 = EVGA GeForce GTX 680 Mac Edition with 2GB GDDR5
QK5000 = NVIDIA Quadro K5000 for Mac with 4GB GDDR5
GTX 285 = NVIDIA GeForce GTX 285 for Mac with 1GB GDDR3
Q4000 = PNY Quadro 4000 for Mac with 2GB GDDR5
R7970 = Sapphire Radeon HD 7970 (Vapor-X GHz OC) with 3GB GDDR5
R7950 = Sapphire Radeon HD 7950 Mac Edition with 3GB GDDR5
R5970 = Apple CTO Radeon HD 5870 with 1GB GDDR5

"Test Mule" was a 2010 Mac Pro 3.33GHz Hex-core running OS X 10.8.4.
OctaneRender (CUDA)
It is a "GPU only" standalone renderer that can process scenes created in and exported from Maya, ArchiCAD, Cinema 4D, etc. -- and does so in a fraction of the time it takes with a CPU based renderer. However, currently it only works with CUDA capable NVIDIA graphics cards. The DEMO comes with a scene called octane_benchmark.ocs. For our test we selected RenderTarget PT (Path Tracing). The render time is tracked and displayed in total seconds.
You must "tell" Octane to render with multiple GPUs by going to Preferences > CUDA devices and putting a check mark next to all GPUs (CUDA devices) you want it to use. We selected all installed GPUs and confirmed that all were used in the rendering of the Benchmark scene. (FASTEST = the LOWEST time in seconds)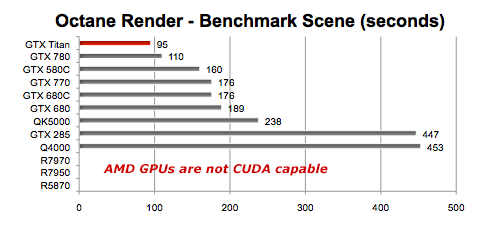 After Effects CC (CUDA)
The Ray-traced 3D project of an animated robot uses CUDA capable GPUs exclusively for rendering. After Effects CS6 and CC automatically use all NVIDIA GPUs to render the project -- assuming the model name of your GPU pre-exists in or is added to the AE Whitelist of "raytracer_supported_cards." (FASTEST = the LOWEST time in seconds.)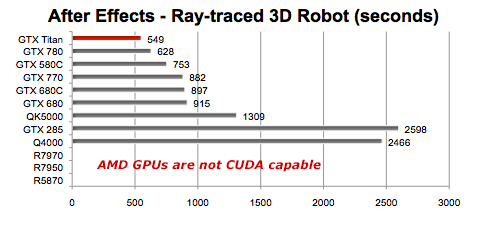 LuxMark Benchmark (OpenCL)
This is a benchmark that works with all GPUs that support OpenCL. Furthermore, the latest version 2.1b2 supports multiple GPUs. We feature here the results from rendering the Room scene which is extremely complex (2,000,000+ triangles) and is available only on 64bit executables. Using OpenGL Driver Monitor, we confirmed that all installed GPUs were utilized in rendering. (FASTEST = HIGHEST number in thousands of samples per second.)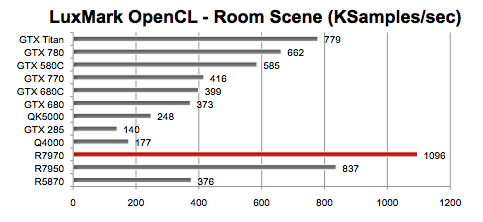 Motion 5 (OpenCL)
It comes with various project templates. We use the 'Atmospheric - Open' 600 frame 1920x1080 template for our test. We time how long it takes to render the RAM Preview and then calculate the speed in frames per second. (LONGEST bar means FASTEST in Frames per Second.)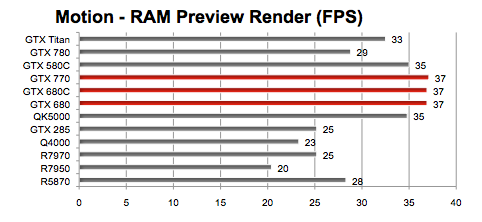 Photoshop CC (OpenCL)
Using a 6000x4500 pixel image, we rendered a 500 pixel Iris Blur -- a filter that is accelerated by OpenCL capable GPUs. (SHORTEST bar means FASTEST time in seconds.)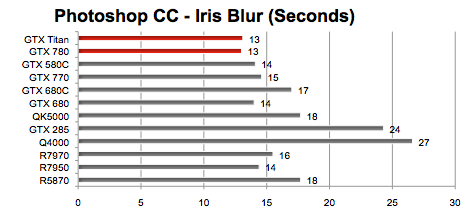 Diablo III (OpenGL) -- "Evil is in its prime."
Our lonely traveler is on the path to adventure stopping occasionally to zap the undead. Settings are 2560x1440 Fullscreen, vSync OFF, Best Quality, Anti Aliasing enabled. (LONGEST bar indicates FASTEST in frames per second.)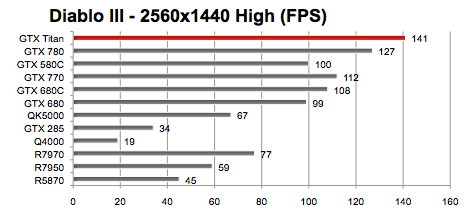 Civilization V (OpenGL)
Using the Steam version and entering "-LeaderBenchmark" in the Properties > Set Launch Options, it runs through multiple animated sequences of the various World Leaders. Though it does not simulate real game play, it is GPU intensive. Resolution was 2560x1440 with FullScreen ON. Quality settings were on "Medium" with one exception -- Texture Quality was set to "High." vSync and High Detail Strategic View were both OFF. (LONGER bar means FASTER average in frames per second.)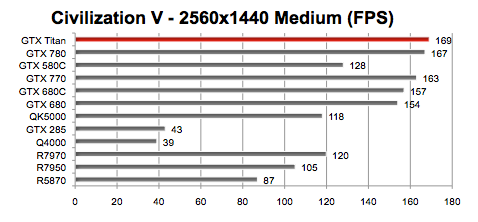 Heaven Benchmark 4.0 (OpenGL)
This benchmark walks and flies through 26 scenes of a village, a ship, and floating islands applying advanced ambient occlusion, volumetric clouds, and various lighting conditions with refraction. We used Extreme preset for our testing which specifies 1600x900 windowed resolution with 8x Anti-aliasing, Ultra Quality for Shaders and Textures, with Occlusion, Refraction, and Volumetric Shadows enabled. (LONGER means bar means FASTER AVERAGE frames per second.)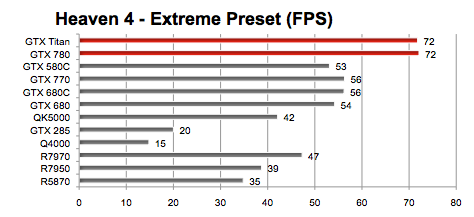 OBSERVATIONS
1. Right off the bat, we are impressed with the Titan's OctaneRender result. It is twice as fast as the GeForce GTX 770 and 680. In fact, a single Titan beat the render time of dual GTX 770s! Food for thought if you are tight on slots and power feeds.
2. The Titan and GTX 780 did best in the Photoshop Iris Blur render but not by a large margin. They were both slower than the GTX 680 and 770 in the Motion RAM Preview render. Why didn't their advantage in the LuxMark OpenCL benchmark translate directly? It depends on what OpenCL functions are in play and whether the CPU is sharing the load.
3. If you are ready to replace your CUDA capable Quadro 4000 or GeForce GTX 285, there are plenty of Mac compatible, CUDA capable NVIDIA GPUs that blow them away.
4. AMD GPUs like the 7970 and 7950 were impressive in the LuxMark OpenCL test, which shows great potential for OpenCL aware apps in the future. However, if you currently depend on CUDA acceleration for apps such as OctaneRender and After Effects, AMD GPUs are a non starter. That could change if those developers incorporate OpenCL acceleration as an alternative.
Comments? Suggestions? Email , mad scientist.
Follow me on Twitter @barefeats
WHERE TO BUY NVIDIA GPUs for your MAC PRO tower