October 5th, 2018, by rob-ART morgan, mad scientist
October 24th: Clarification in "What Did We Learn"
Will AMD GPUs run faster when you upgrade your Mac Pro tower from macOS High Sierra (10.13.6) to Mojave (10.14)?
GRAPH LEGEND
Vega Frontier - AMD Radeon Vega Frontier Edition
RX Vega 56 = AMD Radeon RX Vega 56
RX 580 = AMD Radeon RX 580
HD 7950 = AMD Radeon HD 7950 'Mac Edition'

TEST MULE was a 2010 Mac Pro tower with dual 6-core X5680 3.33GHz Xeon processors and 96G of 1333 MHz DDR3 memory.
GEEKBENCH METAL GPU COMPUTE
(HIGHER Score = FASTER)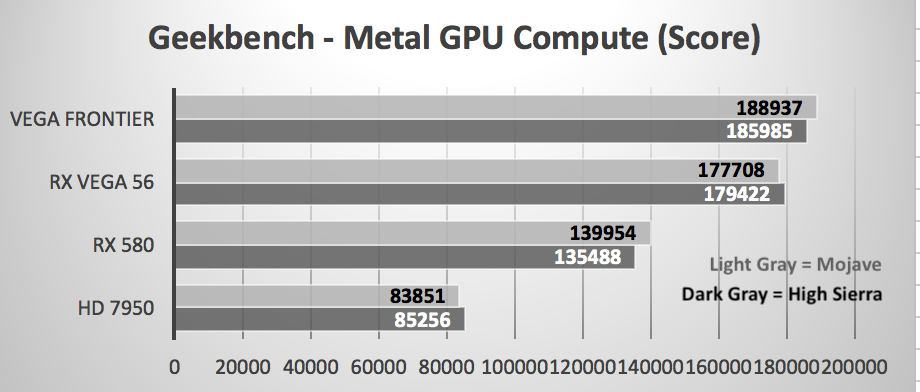 RISE OF TOMB RAIDER (METAL)
A Metal based game, we used the built-in 3 phase benchmark. Settings were High preset at 2560x1440, Fullscreen. (HIGHER Frames per Second = FASTER)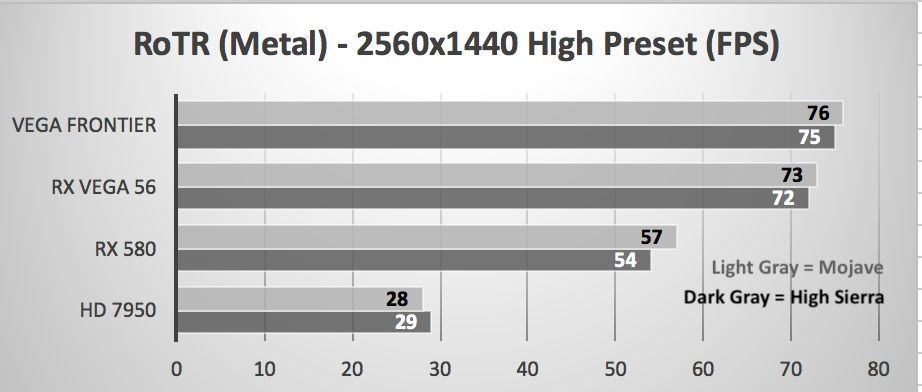 GFXBENCH METAL - AZTEC RUINS HIGH TIER
This cross-platform benchmark measures METAL performance of GPUs. We tested using the new Aztec Ruins High Tier animation at 1080p OFFscreen. (HIGHER Frames per Second = FASTER)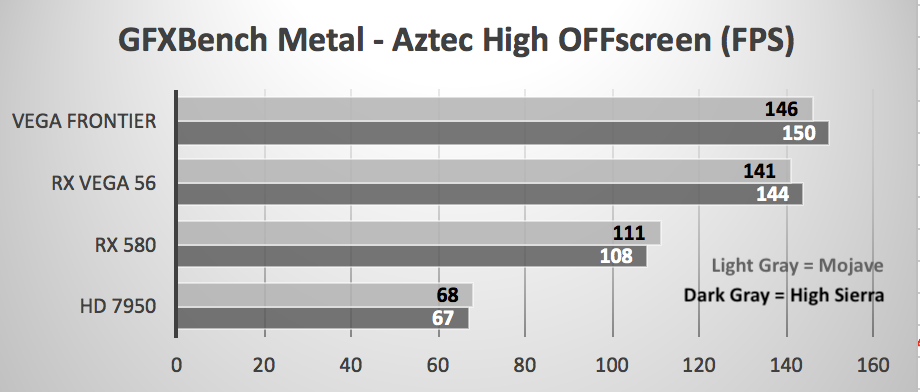 DAVINCI RESOLVE 15 (METAL)
Looping playback of 1080p Candle project while rendering one Noise Reduction node on-the-fly. GPU Processing Mode was Metal. (HIGHER Frames per Second = FASTER)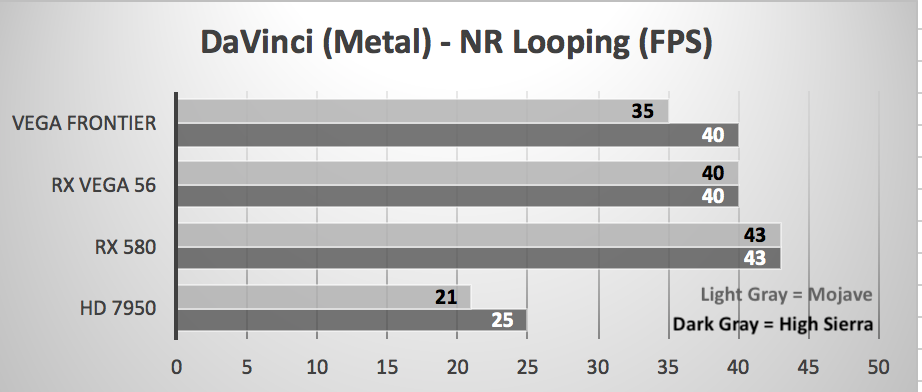 What did we learn?
macOS Mojave provides little or no performance gain over High Sierra running Metal apps. The only exception was DaVinci Resolve. The graph below reveals that, though the Vegas run GPU Processing faster using OpenCL, the RX 580 and HD 7950 run GPU Processing faster using Metal.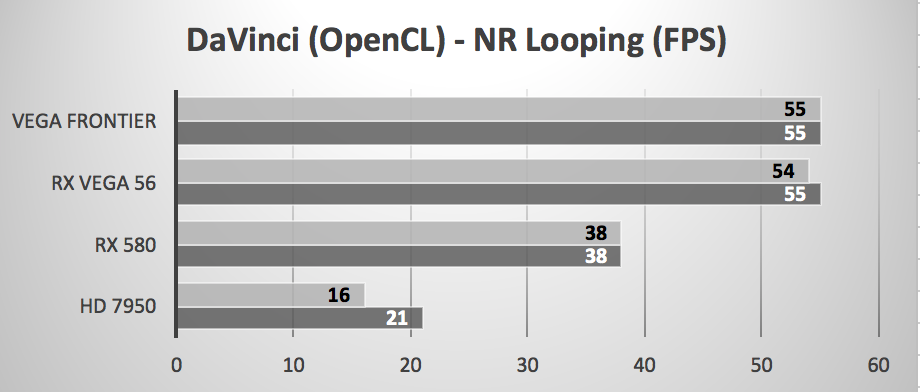 UPDATE: All graphs now show both High Sierra and Mojave results for the Radeon RX 580. Our MSI Armor MK2 model was very quiet compared to the other GPUs. The dual dispersion fans only spin when the GPU is stressed. Even when spinning, they were silent. Signficantly faster than the Radeon HD 7950 Mac Edition and without extreme power requirements, it could be called the "sweet spot" of Mac Pro tower GPU upgrades.
For "speed freaks," the Vega series of GPUs is an even stronger AMD upgrade option, as you can see in the graphs. However, they require more power than the Mac Pro towers provide with the dual 6pin PCIe power cables. We were able to provide supplemental power feeds from the unused SATA connectors in the optical bay and factory drive bay. Not pretty sight. The term, "Rat Rod," comes to mind.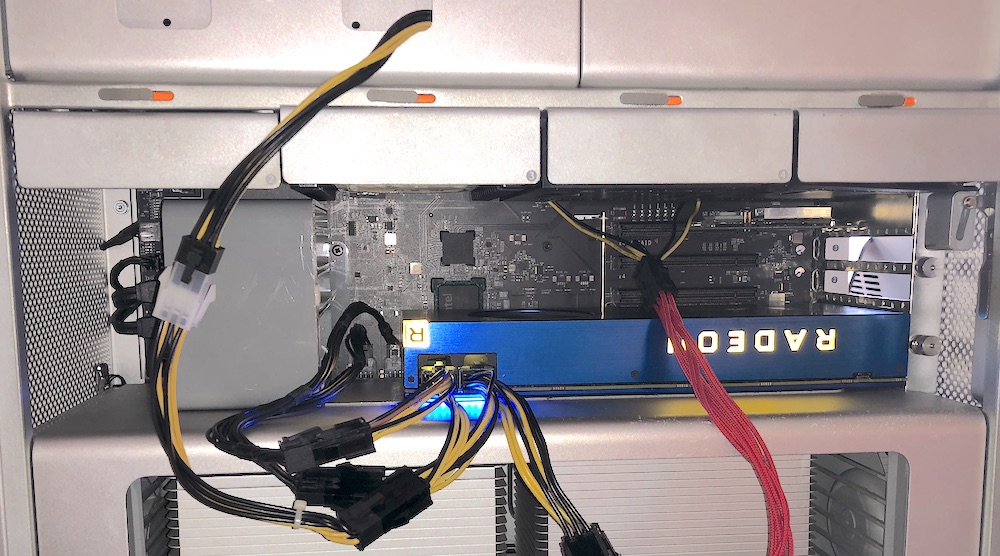 We are hoping to soon see NVIDIA Pascal series GPU drivers for macOS Mojave. Why? Because NVIDIA GPUs are fast and support CUDA as well as Metal and OpenCL. We are greedy. We hope NVIDIA will also produce RTX 2080 and 2080 Ti drivers for Mojave.
How fast are the NVIDIA GPUs? Take a look at these Geekbench scores compared to the fastest AMD GPUs: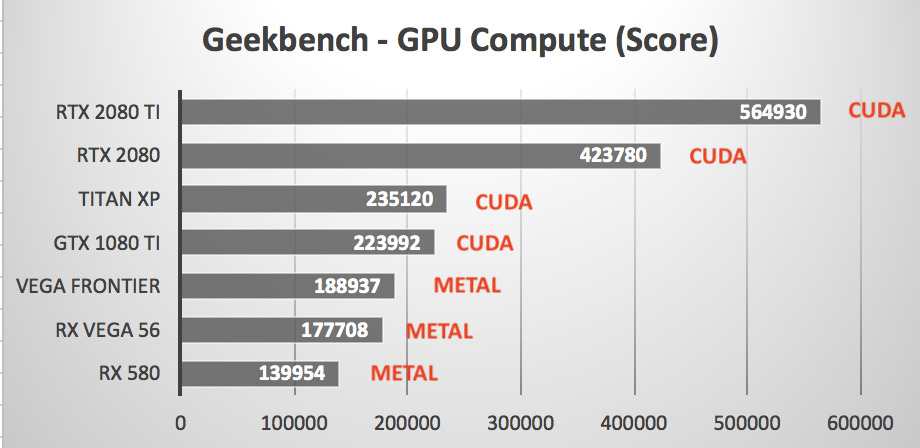 (NOTE: RTX 2080 and 2080 Ti tested using Windows; TITAN XP and 1080 Ti tested using macOS High Sierra)
Comments? Suggestions? Feel free to email me,
Follow me on Twitter @barefeats