Posted Thursday, May 30th, 2013 by rob-ART morgan, mad scientist
Appended Wednesday, June 5th, 2013 with more GPU combos
and DaVinci Resolve results
Did you know that certain Pro Apps render faster with two GPUs instead of one? To illustrate this phenomenon, we conspired with a remote mad scientist at Democrafters to give you examples of the boost you get with two different models of NVIDIA high-end Mac GPUs.
GRAPH LEGEND
680s + Q4000 = two GeForce GTX 680s + Quadro 4000 (in a 6 Core Mac Pro)
Two GTX 680s = two EVGA NVIDIA GeForce GTX 680 Mac Editions (in a 6 Core Mac Pro)
One GTX 680 = one EVGA NVIDIA GeForce GTX 680 Mac Edition (in a 6 Core Mac Pro)
Two K5000s = two NVIDIA Quadro K5000s for Mac (in a 12 Core Mac Pro)
One K5000 = one NVIDIA Quadro K5000 for Mac (in a 12 Core Mac Pro)
One GTX 690 = one EVGA NVIDIA GeForce GTX 690 (in a 6 Core Mac Pro)
After Effects CS6 Ray-traced 3D project of an animated robot uses CUDA capable GPUs exclusively for rendering. Notice the reduction in render time with two NVIDIA GPUS versus one. After Effects automatically uses all NVIDIA GPUs to render the project -- assuming the model name of your GPU pre-exists in or is added to the AE Whitelist of "raytracer_supported_cards." (FASTEST = the LOWEST time in MINUTES.)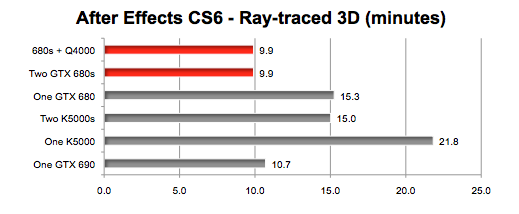 NOTE: The AE Ray-traced 3D animation we refer to as "robot" was provided courtesy of Juan Salvo and Danny Princz. Today, Danny has posted a compilation of render times featuring up to three GPUs.
Octane Render is a "GPU only" standalone renderer that can process scenes created in Maya, ArchiCAD, Cinema 4D, etc. -- and does so in a fraction of the time it takes with a CPU based renderer. However, it only runs only on CUDA capable NVIDIA graphics cards. The DEMO comes with a scene called octane_benchmark.ocs. For our test we selected RenderTarget PT (Path Tracing). The render time is tracked and displayed in minutes and seconds.
You must "tell" Octane to render with multiple GPUs by going to Preferences > CUDA devices and putting a check mark next to all GPUs (CUDA devices). (FASTEST = the LOWEST time in MINUTES.)

THOUGHTS
1. Two GPUs are definitely better than one for certain Pro Apps. Adding a third GPU (Quadro 4000) didn't speed up After Effects but it did give a boost to Octane Render.
We added results for a one GTX 690 to the After Effects "Ray-traced 3D" graph. It has dual processors which explains why it completed the job almost as quickly as two GTX 680s.
2. If you don't have at least one CUDA capable GPU, Octane won't run. After Effects runs but will render using the CPU(s). We tried it with a Radeon HD 5870. It took 8 hours to render three-quarters of the 6 second Robot animation on a 6-core Mac Pro with 12 hyper threads.
3. The $600 GeForce GTX 680 was faster than the $2200 Quadro K5000. (It's being discounted to $1800 but that's still triple the cost.)
4. Multiple GPUs are not a panacea. Not all pro apps running under OS X utilize multiple GPUs for rendering. Some ignore all but the main display GPU. Many use only the CPU(s) for rendering.
5. If you are running Windows on your Mac Pro, you can configure multiple AMD GPUs with a jumper to run in CrossFire mode -- assuming you are using CrossFire aware apps. However, the Windows NVIDIA drivers do not recognize the Mac Pro as SLI compatible. So the SLI jumper will be ignored.
CONFESSION
Each GTX 680 requires two power feeds (and the Mac Pro only provides two). To run the second GTX 680, we used an external ATX 500W power supply. The lower optical bay can be used to provide a third power source. MacVidCards recommends a Booster X5 auxiliary power supply that fits neatly in the lower optical bay of the Mac Pro.
Also, the second GTX 680 was the 4G model sold by mac*pro on eBay. Same clock speed as the Mac Edition -- just more VRAM.
BUT THERE IS MORE
The day after we posted this page, Blackmagic Design provided us with 30 day access to the full version of DaVinci Resolve. That enabled us to measure the effect of multiple GPUs for rendering blur effects and noise reduction on the fly. Using the Candle Benchmark project, here's what we learned:


Dual GTX 680s were able to double the "render on the fly" framerate for the 32 Blur Effect nodes and triple Noise Reduction compared to a single GTX 680. However, Resolve ignored the second 680 until we added a dedicated display GPU. We tested with both a Quadro 4000 and GeForce GT 120 as the "display only" GPU. Notice that you don't have to spend big bucks for a Quadro 4000. The GeForce GT 120 was sufficient -- plus it only requires PCie bus power.
Comments? Suggestions? Email , mad scientist.
Follow me on Twitter @barefeats
WHERE TO BUY GPUs for your MAC PRO