Posted Thursday, April 18th, 2013 by rob-ART morgan, mad scientist
This is a continuation of benchmarking the EVGA GeForce GTX 680 Mac Edition. In Part One we focused on Games and OpenGL Benchmarks. In Part Two we will cover Pro Apps.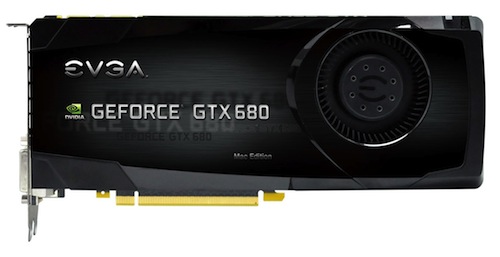 GRAPH LEGEND
GTX 680 Mac = EVGA NVIDIA GeForce GTX 680 Mac Edition (2G VRAM)
QK5000 = NVIDIA Quadro K5000 for Mac (4G VRAM)
Quadro 4000 = NVIDIA Quadro 4000 for Mac (2G VRAM)
GTX 285 = NVIDIA GeForce GTX 285 for Mac (1G VRAM)
GT 120 = NVIDIA GT 120 GPU (512M VRAM)
Radeon 7950 = Sapphire AMD Radeon HD 7950 GPU (3G VRAM)
Radeon 5870 = AMD Radeon HD 5870 GPU (1G VRAM)
Radeon 5770 = AMD Radeon HD 5770 GPU (1G VRAM)
Radeon 4870 = AMD Radeon HD 4870 GPU (512 VRAM)
GTX 680MX = NVIDIA GeForce GTX 680MX (iMac 2012; 2G VRAM)

All Mac Pro GPUs above were in a in a 'Mid 2010' Mac Pro 3.33GHz Hex-Core. The GeForce GTX 680MX is the only exception -- embedded in the 'Late 2012' (27") iMac 3.4GHz Core i7. Both Macs were running OS X 10.8.3.
Cinema 4D OpenGL Animation -- We took the "Car Chase" from Cinebench 11.5, opened it in Cinema 4D, and played it back in Full-Screen mode with max FPS set to 500 -- forcing the animation to run as fast as it could on a given GPU. We timed the first 730 frames of the 800 frame project since there is no action in the last 70 frames. (FASTEST GPU has the HIGHEST number in Frames Per Second.)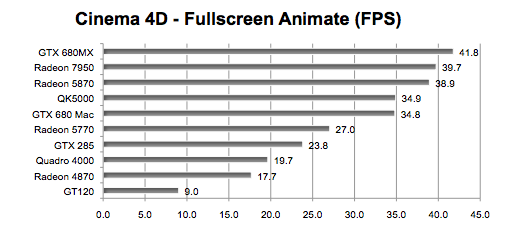 Motion 5 comes with various project templates. We use the 'Atmospheric - Open' 600 frame 1920x1080 template for our test. We time how long it takes to render the RAM Preview and then calculate the speed in frames per second. (FASTEST GPU has the HIGHEST number in Frames Per Second.)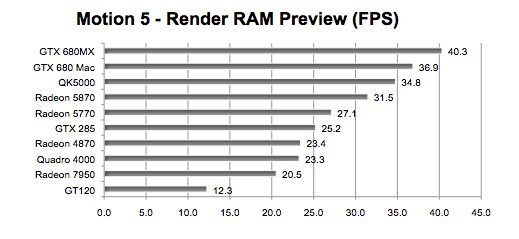 DaVinci Resolve 9 adds speed and power to color grading of HD video. It uses the GPU to apply and playback effects in real time -- no pre-rendering required. However, the more effect nodes created, the slower the playback.
Our test project featured 8 clips (771 frames) of a 32 second 1920x1080 10-bit YUV 4:2:2 SDI 24fps video. We set the maximum playback framerate to 300 fps. We wanted to see how fast each GPU could playback with three nodes. Results are average frames per second. (FASTEST GPU has the HIGHEST number in Frames Per Second.)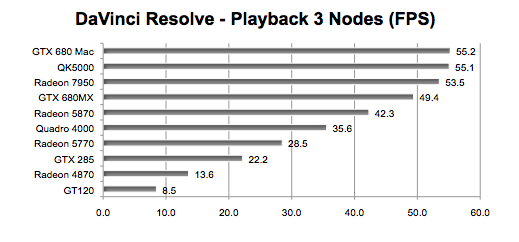 After Effects CS6 Ray-traced 3D render of an animated robot. Thankfully, AE measures and displays the render time. Since it can take many minutes, that's a blessing. Technically, you can render this project with an AMD GPU, but that could take literally hours. Recently we tried to render with a Radeon HD 5870. After 8 hours, it was only three-quarters done. If you plan to use the Ray-traced 3D render function often, a CUDA capable NVIDIA GPU is the preferred tool. (FASTEST GPU has the LOWEST time in MINUTES.)

NOTE: The AE Ray-traced 3D animation we refer to at "robot" was provided courtesy of Juan Salvo and Danny Princz. Danny sent us a link to a compilation of render times featuring up to three GPUs.
Octane Render is a "GPU only" standalone renderer that can process scenes created in Maya, ArchiCAD, Cinema 4D, etc. -- and does so in a fraction of the time it takes with a CPU based renderer. However, it only runs only on CUDA capable NVIDIA graphics cards. The DEMO comes with a scene called octane_benchmark.ocs. For our test we clicked on RenderTarget PT (Path Tracing). The render time is tracked and displayed in minutes and seconds. (FASTEST GPU has the LOWEST time in MINUTES.)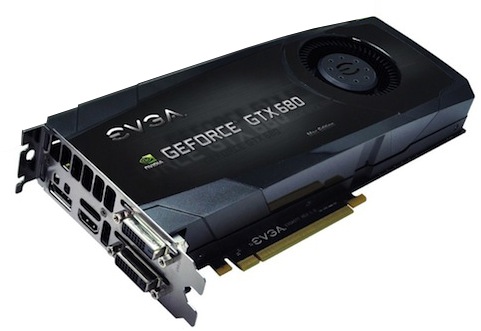 REACTION
The EVGA GeForce GTX 680 Mac Edition was impressive running CUDA accelerated functions like After Effects CS6's Ray-traced 3D render and Octane Render's Path Tracing.
It was beat by the 2012 iMac's GeForce GTX 680MX in the Cinema 4D and Motion 5 tests, but that could be explained away by the iMac's faster bus. If and when a Mac Pro appears with an Ivy Bridge Xeon and PCIe 3.0, the GTX 680 Mac Edition's results in those tests will likely leap forward.
The AMD GPUs beat the 680 in the Cinema 4D test, indicating their OpenGL prowess.
Surprisingly, the AMD GPUs didn't do as well as usual in the Motion test.
I'm very happy to see new, fast, affordable GPU options for the Mac Pro such as the GeForce GTX 680 and Radeon HD 7950. It's about time!
SEE MORE TEST RESULTS
Check out Part One where the GTX 680 for Mac challenges new and old Mac Pro GPUs running OpenGL Games and Part Three where it goes up against 'alternative' GPUs like the GeForce GTX 580 Classified and GeForce GTX 690.