We've been testing the new 7448 based G4 CPU upgrades for the G4 Power Macs ("Sawtooth," "Digital Audio," and "Quicksilver"), courtesy of Other World Computing. In our effort to create the ultimate G4 Power Mac, we thought it might be interesting to compare three of the high end AGP graphics cards compatible with the G4 Power Macs.
This idea for this shootout was born when we obtained an "experimental" GeForce 7800 GS from the AppleMacanix mad scientists. We wanted to see how it compared to the fastest retail 4X AGP Mac compatible card, the Radeon 9800 Pro (which, by the way, has recently ceased production), and the GeForce4 Titanium (a build-to-order option on the original QuickSilver 2002).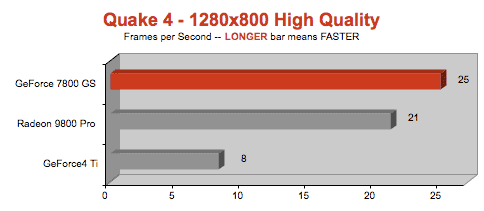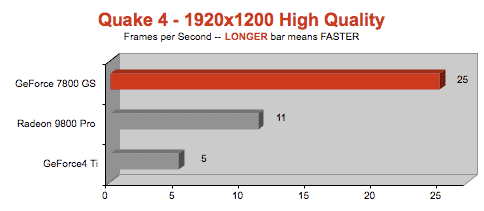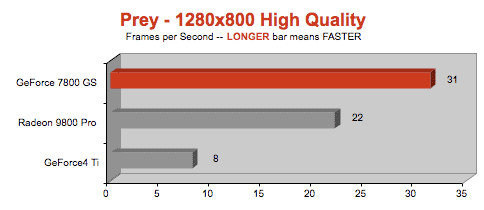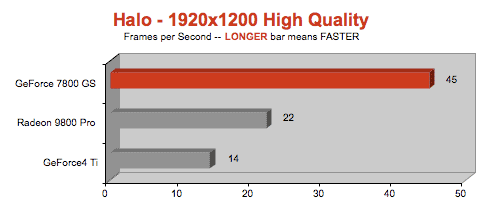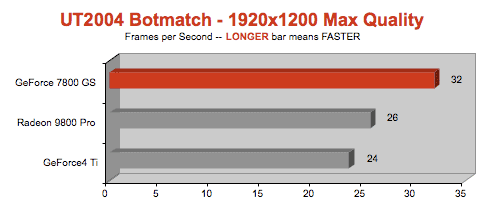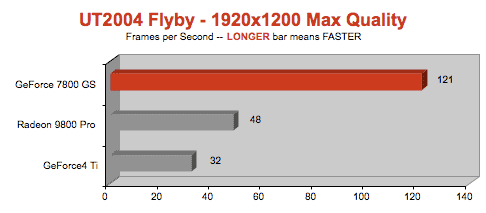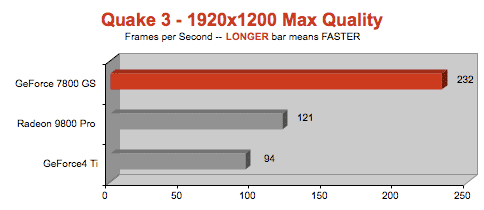 Graph Legend
GeForce 7800 GS = nVidia GeForce 7800 GS with 256MB VRAM (flashed and taped to run on a 4X AGP Power Mac) -- overclocked to 450MHz core and 1400MHz DDR memory (2 x 700MHz)
Radeon 9800 Pro = ATI Radeon 9800 Pro with 256MB VRAM
GeForce4 Ti = nVidia GeForce 4 Titanium with 128MB VRAM (the original factory BTO option on the QuickSilver 2002)

All three graphics cards were tested on a G4 Power Mac "QuickSilver 2002" with the MAXPower Dual G4/1.8GHz 7448 CPU Upgrade, 1.5GB of RAM, and a Maxtor DiamondMax 10 300G PATA boot drive (running OS X Tiger 10.4.9).
CONCLUSION
The GeForce 7800 GS "experimental" 4X AGP graphics card has clearly established itself as the fastest graphics card you can buy for G4 Power Mac. The trick is to find one since it's not an official retail option. A good starting place for your search is the AppleMacanix eBay auction. Also check out the discussions on TheMacElite forum.
The second fastest GPU for the G4 Power Macs (not shown in the graphs above) is a PC version of the FireGL X3 AGP that has been modified to run as a 4X AGP Radeon X800 XT on the G4 Power Mac. (We tested it against a Radeon 9800 Pro back in 2005. We hope to repeat those tests on our QuickSilver "hot rod.") Again, this card is hard to find since it's another "experiment." Check with AppleMacanix and TheMacElite forum.
The third fastest GPU for the G4 tower is the Radeon 9800 Pro. It's the fastest of the conventional retail options. Unfortunately, ATI/AMD has stopped production. But Other World Computing informed us that they have a supply of the 128MB version still in stock. (For 3D gaming, we found the 128M version to be every bit as fast or faster than the 256M version. That's based on tests we ran this week on both cards.)
Do you feel the G4's GPU options are slim? Can you say "orphaned," boys and girls?
OTHER WAYS TO SPEED UP YOUR G4 POWER MAC
1. Upgrade the CPU
We have test results HERE on the newest, fastest G4 upgrade (7448). This can be expensive if you get the dual processor version. Unless you are using MP aware software, the single processor version can save you money.
2. Max out the memory
I can't emphasize enough that if you are running memory hungry apps like Photoshop, you need all the memory you can get in your G4 Power Mac to get the most out of these apps. Ditto if you run a lot of simultaneous tasks.
3. Get a faster hard drive
Much of what we all do on a Mac involves disk reads and writes by the application and the OS. A faster hard drive can make your Mac seem turbocharged. While you are at it, get a bigger one.
IS IT WORTH IT?
As we've said before, the gains made from CPU and GPU upgrades to your G4 Power Mac are significant, but they won't make it go as fast as a G5 Power Mac or Xeon Mac Pro or Core 2 Duo iMac. At some point you should consider selling your G4 Power Mac and buying something newer with faster system and memory bus speeds.
Then again, don't forget to include the cost of upgrading your pro apps to universal binary versions in the cost/benefit equation. For example, if you are running Photoshop CS on an upgraded G4 Power Mac (dual 1.8GHz), it's going to run twice as fast as on an Intel Mac (Core 2 Duo 2GHz). To get big gains from Photoshop on an Intel Mac, you'll need the UB version of Photoshop (CS3) -- which means more $$$.
NOTE FOR G5 Power Mac Owners
The GeForce 7800 GS and FireGL we tested also work on G5 towers with 8X AGP slots. Though these cards are taped (leads 3 and 11) to run in a 4X slot, they also run fine in the G5's AGP slot with or without the tape. For more on this, check out our test page where we compared the GeForce 7800 GS to the other high end GPUs available for the G5 Power Mac.
If you have a dual-core or quad-core G5 Power Mac with x16 PCIe slot, you'll want to check out our test of the "killer" GeForce 7800 GTX.