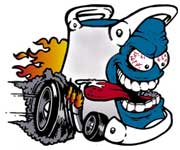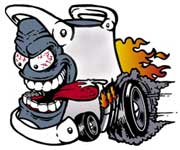 BARE FEATS compares...
... a Blue and White with G4 ZIF "upgrade" and PowerLogix AltiVec Enabler
to a G4/400 Yikes!
First posted 10/6/99
© 1999 Rob Art Morgan, editor of BARE FEATS
rob-art@barefeats.com
I installed the PowerLogix AltiVec Enabler (beta), G3/G4 Profiler 1.2 beta, and a G4 ZIF in a Blue and White G3/400. Here's how it ran:

Conclusion: If you use AltiVec "aware" applications (like Photoshop 5.5) and you've got a grand to burn, adding a G4 upgrade to your Blue and White will thrill you.

Test Configurations & Procedures

| | | |
| --- | --- | --- |
| Chart Name | Computer | Graphics Cards |
| Yikes G4/400 | Graphite "Yikes!" G4/400 | ATI RAGE 128 |
| B&W G4/400 | Blue and White G3/400 with G4 ZIF | ATI Orion RAGE 128 |
| B&W G3/400 | Blue & White G3/400 | ATI Orion RAGE 128 |

Since the Blue & White was a Rev 1, I replaced the graphics board with an Orion RAGE 128, which is essentially the same the board shipped in the Yikes (sans DVD decorder plug). The G3 ZIF used in the upgrade was actually the ZIF from the G4/Yikes, since at press time no vendors were able to provide a G4 ZIF upgrade for testing.
Mac OS 8.6 was running on all three setups.
Photoshop 5.5 was given 93MB of application size. The test file was a 17 MB Photoshop document. To get the full AltiVec boost to kick in with Photoshop 5.5, three things need to be true of Photoshop. (See the READ ME file in the Adobe folder in the Apple Extras folder.)
1. The AltiVec version of LightingEffects must be in the Filters folder in the Plug-ins folder. (This will NOT happen automatically when Photoshop 5.5 is installed.I saved the "old" LightingEffects plug-in so I could "turn off" AltiVec when I wanted.)
2. The AltiVecCore Plug-in must be in the Adobe folder in the System folder and an alias must be present in the Adobe Photoshop Only folder in the Plug-ins folder. (This WILL happen automatically when Photoshop 5.5 is installed on a G4 system. To turn it OFF, just remove the alias from the Photoshop folder.)
3. The "~" must be removed from the "~ Enable Async I/O" folder in the Extensions folder in the Plug-ins folder. (This will NOT happen automatically.)
NOTE: AltiVec Enabler from PowerLogix was REQUIRED when running Photoshop 5.5 with AltiVecCore active under Mac OS 8.6 on the Blue & White G4. Without it, the machine would FREEZE UP! Also, AltiVec Enabler is BETA. PowerLogix plans to tweak it to squeeze out more speed.

The THREE Photoshop effects were timed with a stopwatch. They included:
1. ROTATE Clock Wise at 30 degrees.
2. GAUSSIAN BLUR at 30 pixels
3. FLASHLIGHT LIGHTING EFFECT at default settings
Quake 2 was run in 800 x 600 mode. It's a great test of total system performance since it exercises CPU, FPU, GRAPHICS, and DISK.
Unreal 3D test used the Castle Flyby that comes up at startup. To get the average and minimum frames per second with version 2.x.x of Unreal, you press "~" and enter "TIMEDEMO 1." Then press "~" to open up the full screen again. It begins the fly sequence at the castle entrance. (Get the latest latest UNREAL Beta from Westlake's Site.)
For the WordPerfect 3.5.3 scrolling test, I created a 120 page document containing the sentence "The Quick Brown Fox Jumped Over The Lazy Dogs" repeated over and over in paragraphs of 8 sentences each in 14 point Times font. Using a stopwatch, I timed how long it took to scroll from the beginning to the end of the document while holding the mouse button down with cursor over the scrolling arrow. (Font smoothing was turned off. If it's on, it will take you 50% longer to scroll through a document!)
Photoshop 5.5 SCROLLING test was the same 17MB document used above but zoomed in at 400 percent. I scrolled to the top. Then holding down the arrow, I scrolled to the bottom, timing it with a stopwatch.
Although I am repelled by most benchmarking programs, MacBench 5.0 is one of the few that closely simulates "real world" usage. You need the CD-ROM to run the Graphics tests. It only costs $5 to order.

BIG MAHALO TO...

...ATI Technology for the use of the Orion RAGE 128

...PowerLogix for the exclusive use of the beta version of AltiVec Enabler and Profiler
SEE MORE SPEED TEST RESULTS BY BARE FEATS
© 1999 Rob Art Morgan, editor of BARE FEATS
Gotta Question? Comment? Want to advertise?
Email rob-art@barefeats.com