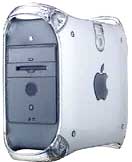 The high side of the low end meets the low end of the high side. Apple's iMac SE 400 and iBook SE 366 versus the PowerBook Pismo 400 & G4/400 Sawtooth.

First posted 3/31/2000
© 2000 Rob Art Morgan, editor of BARE FEATS
rob-art@barefeats.com
First some CPU crunch tests...

How about 2D scrolling...

Now some 3D Game results...

And hard drive speed...

Conclusion
Apple has a nicely balanced product line. From just a general performance view, the iMac is the best buy. The only downside I see is if you want to tweak it with upgrades. In that case, go for the G4 minitower.

Observations
G4 "Sawtooth" -- As fast as expected except the standard Caviar drive is wimpy. If you order online, you'll pay dearly for the bigger, faster drives. I would order a Maxtor 30 or 40 Gig 7200 rpm from a third party to replace or add to the standard 10 Gig.
PowerBook "Pismo" -- Impressive all except the drive speed. But then, that's the way it goes with low power consumption drives like the Toshiba.
iMac DV Special Edition -- I love the look of the machine. If they only made a G4 version....
iBook Special Edition -- I'm sorry. This is a wimp. Take a bigger loan and buy the "Pismo."
All four machines scream for more RAM. Apple should be shipping all of them with 128MB. But I would upgrade them to 256MB from third parties (Apple's price for RAM is criminal).
Test Configurations & Procedures
| | |
| --- | --- |
| Chart Name | Macintosh Description |
| G4/400 Graphite | Graphite "Sawtooth" G4/400 with 64MB RAM and 10Gig WD Caviar drive |
| PowerBook 400 | "Pismo" Powerbook G3/400 with 64MB RAM and 6 Gig Toshiba drive |
| iMac 400 SE | iMac G3/400 DV Special Edition with 64MB RAM and 13 Gig Maxtor drive |
| iBook SE | IBook G3/366 Special Edition with 64MB RAM and 6 Gig Toshiba Drive |

In all four cases, Virtual Memory was set to 128MB, clock display and AppleTalk was turned off.

Bryce 3D 4.0 rendering was used to test a combination of CPU and FPU speed. I use a test file I created that I call "Rock Island." Bryce is not AltiVec aware, so the G4 had no unfair advantage on the other machines.
WordPerfect 3.5.3 was used for the Find/Replace test. I created a 120 page document containing the sentence "The Quick Brown Fox Jumped Over The Lazy Dogs" repeated over and over in paragraphs of 8 sentences each in 14 point Times font. Then I used a stopwatch to time how long it took to replace all occurrences of "dogs" with "cats."
For the WordPerfect 3.5.3 scrolling test, I timed how long it took to scroll from the beginning to the end of the document while holding the mouse button down with cursor over the scrolling arrow. (Font smoothing was turned off. If it's on, it will take you as much as 50% longer to scroll through a document!)
Quake 3 Arena (DEMO) was used for the 3D Game test. Settings were "demo defaults" including 640 x 480 and 16 bit (to give the iBook a fighting chance). Once the main screen appears, I press "~" and enter "timedemo 1" (return) and "~" once more. Then I click on DEMOS and run Demo1. Once it finishes and returns to the main screen, I press "~" once more to get the frames per second readout.
The ATTO disk benchmark was run using Express-Pro Tools 2.3 benchmark test with 8MB maximum file size and system disk cache disabled. Sustained Rate is displayed in the charts. Peak rates can be impressive but do not reflect typical drive performance.
BIG MAHALO TO...
CompUSA Honolulu for the use of their floor demonstrators. I especially appreciate the cooperation of the Kimo Sutton and Mark Wilson, the Mac "Store Within A Store" sales guys.
GO TO bare feats HOME PAGE
© 2000 Rob Art Morgan, editor of BARE FEATS
Gotta Question? Comment? Want to advertise?
Email rob-art@barefeats.com