Posted Tuesday, March 9th, 2010 by rob-ART morgan, mad scientist
Updated March 13th, 2010, with Radeon 4870 results
First, I apologize for not running these tests sooner. I ordered the new version of Final Cut Studio back in July 2009 but kept kicking the "shootout" can down the road. Last week I ran my Compressor HD DVD encode test and Motion RAM Preview render test. I was hoping the latest versions of those FCP components were faster than the old ones. Surprise, surprise.
The Compressor test uses the wildlifeHD Reel 720p sample from Quicktime's HD Gallery. I choose the HD DVD H.264 60 minute preset. With QuickCluster enabled, I submit the batch job. The graph below shows how fast the fastest Mac Pro Nehalem and iMac Core i7 encode the HD DVD to the internal hard drive.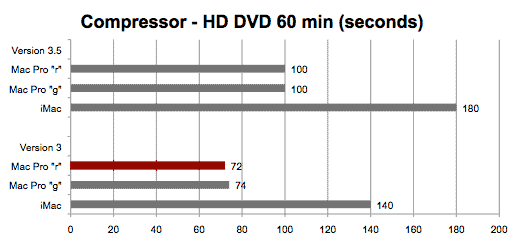 The Motion test takes the Blocks-Detail HD template and renders the RAM Preview. This test requires 8GB of RAM or more to render all 900 frames.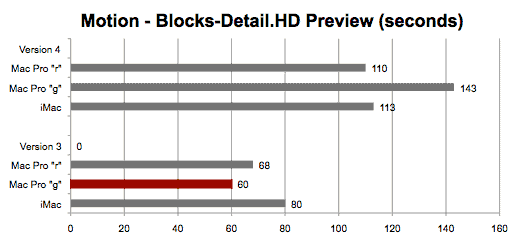 LEGEND of GRAPHS
Both graphs are display elapsed time in seconds. Shorter bar means fastest.
Mac Pro "r" = 2.93GHz Nehalem 8-core Mac Pro with 12G of RAM and Radeon HD 4870
Mac Pro "g" = 2.93GHz Nehalem 8-core Mac Pro with 12G of RAM and GeForce GTX 285
iMac = 2.8GHz iMac Core i7 4-core with 16GB of RAM and Radeon HD 4850
Both were running OS X "Snow Leopard" 10.6.2


INSIGHTS and ANALYSIS
For reasons that remain a mystery for the moment, the newest (summer 2009) version of Final Cut Studio is significanty slower than previous version -- at least where Compressor and Motion are concerned. Hopefully, this will be addressed by Apple's software engineers in a future point release.
NOTE on Pro Tools Upgrade 2010-01
After installing the update, we saw slight improvements in Motion 4's time but it's still much slower than Motion 3 in the case of both GPUs. We will post the particulars in an upcoming article comparing OS X 10.6.2 and 10.6.3.
WHERE TO BUY APPLE PRODUCTS
When you purchase Apple USA products, please CLICK THIS LINK or any APPLE BANNERS at the top of our pages. It's a great way to support Bare Feats. since we earn a commission on each click-through that results in a sale.