GRAPH LEGEND
nMP>Node>1080Ti - NVIDIA GTX GeForce 1080 Ti GPU in the AKiTiO Node eGFX Box connected to the Thunderbolt 2 port of a 2013 Mac Pro
nMP>D700s - 2013 Mac Pro using built-in dual AMD FirePro D700 GPUs
rMBP>Core>1080Ti - NVIDIA GTX GeForce 1080 Ti GPU in the Razer Core eGPU Box connected to the Thunderbolt 3 port of a 2016 MacBook Pro 15-inch
rMBP>Pro460 - 2016 MacBook Pro using built-in AMD Radeon Pro 460 GPU
Blender - This is a free, open source 3D renderer. You can select either CPU or GPU. If you select GPU, you can choose either CUDA or OpenCL. You can also designate one or more GPUs. We rendered the BMW GPU Benchmark sample posted in their Demo File section.
GeForce GTX 1080 Ti using CUDA wins big. (LOWER time in SECONDS = FASTER)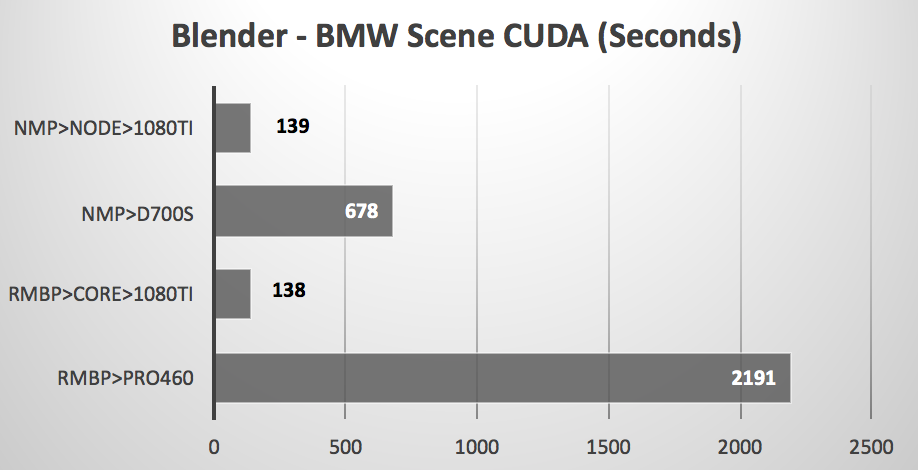 Octane Render - It only runs if there is one or more CUDA capable GPUs present. You can download the demo along with simple test scenes like the Benchmark Scene we used.
Without CUDA capability, AMD GPUs lose. (LOWER time in SECONDS = FASTER)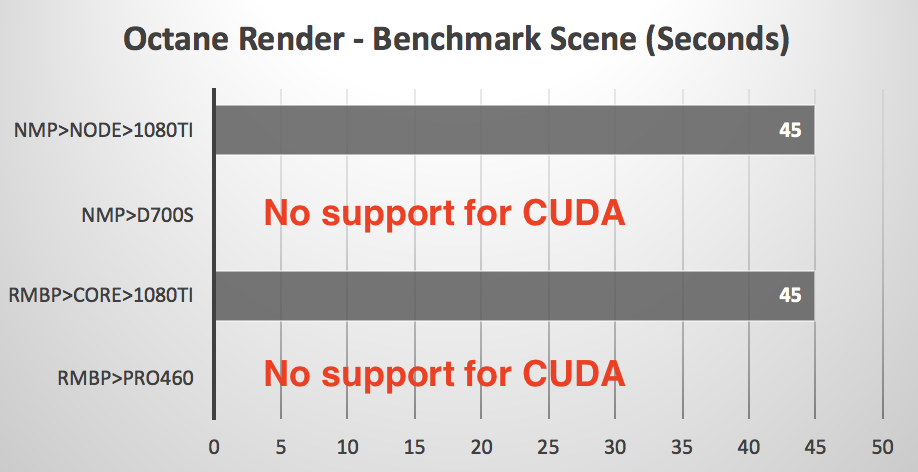 DaVinci Resolve - Playback 1080p clip while rendering a single Noise Reduction node on the fly. We imported the popular Candle project.
Advantage GTX 1080 Ti (HIGHER frames per second = FASTER)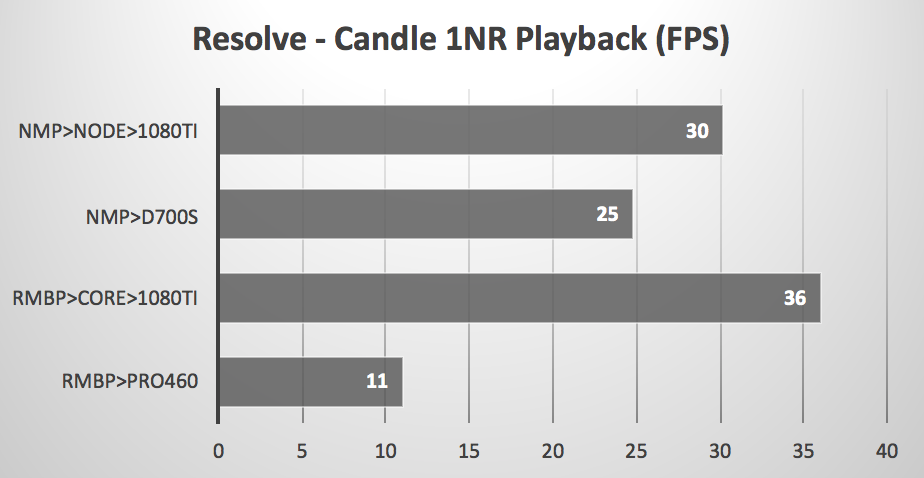 DaVinci Resolve - Playback with no effects of a 5120x2160 R3D clip.
eGPU with GTX 1080 Ti not helpful here. (HIGHER frames per second = FASTER)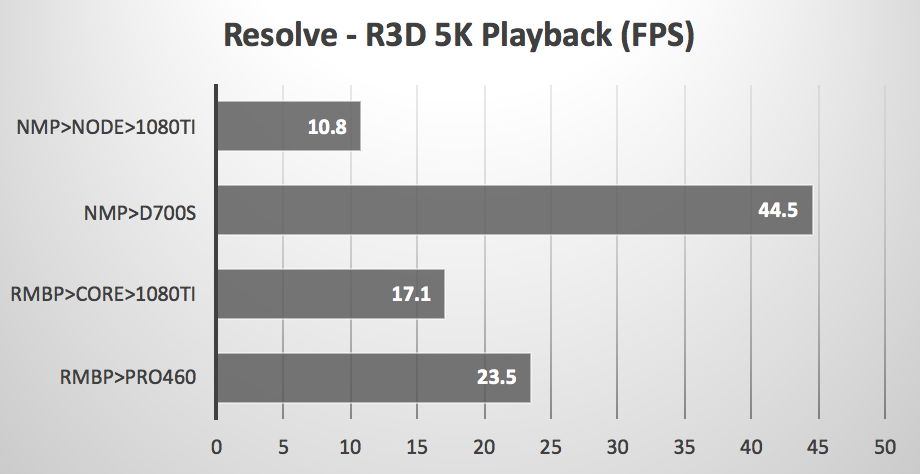 LuxMark - Though an artificial OpenCL cross-platform benchmark, it allows you choose one or more GPUs to render a sample scene. The Mac Pro with eGPU used both D700s plus the GTX 1080 Ti to render the sample while the MacBook Pro with eGPU used just the GTX 1080 Ti.
(HIGHER Samples per Second = FASTER)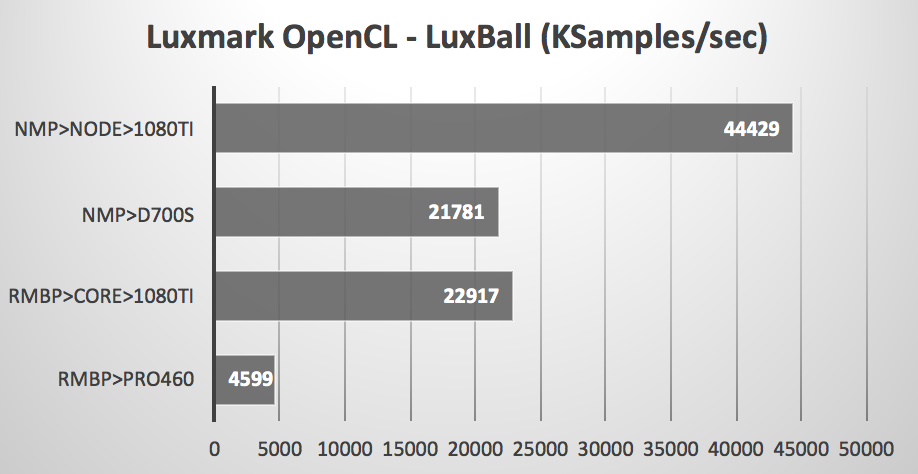 Final Cut Pro X - Export BruceX 5K project to Master File as ProRes 4444 XQ 5120x2700.
No big difference here. (LOWER time in SECONDS = FASTER)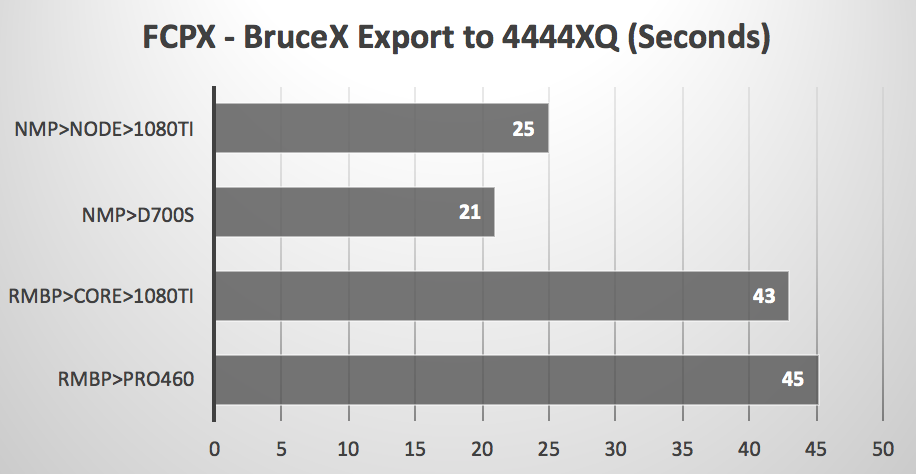 Premiere Pro CC - Export complex sample project to Blu-ray format.
GTX 1080 Ti helps the MacBook Pro but not Mac Pro. (LOWER time in SECONDS = FASTER)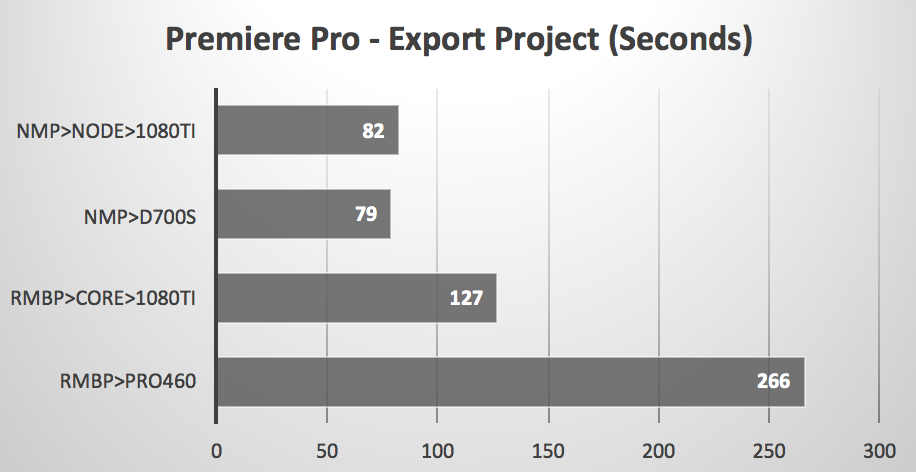 Tomb Raider - Run built-in benchmark at 2560x1440 using High preset.
The GTX 1080 Ti helps. (HIGHER frames per second = FASTER)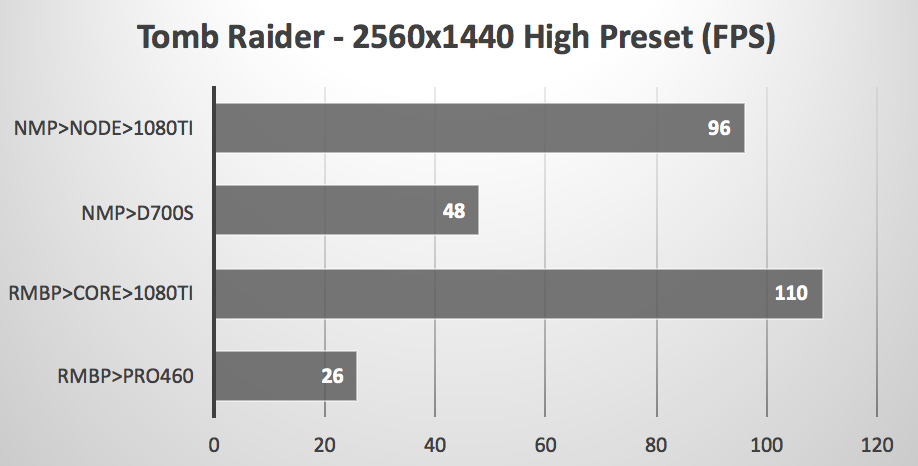 WHAT DID WE LEARN?
The eGPU with the GeForce GTX 1080 Ti (and Mac Pascal drivers) gave a big performance boost in some cases but little or none in others.
For some readers, there were high hopes for Final Cut Pro. However, even when rendering traditionally GPU sensitive blur effects like Gaussian, Directional and Focus, there was no advantage in adding the eGPU with the GTX 1080 Ti.
With Premiere Pro whose Mercury Playback Engine kicks in with the presence of an NVIDIA GPU, only the MacBook Pro saw a significant benefit from the eGPU with the GTX 1080 Ti.
So as we often say, when asked if this or that upgrade helps, "It depends on what you run."
WHERE TO BUY NVIDIA GEFORCE GTX 1080 Ti AND OTHER PASCAL 10 SERIES GPUS
B&H Photo Video has the GeForce GTX 1080 Ti Founders Edition. (Search their site for other models of Pascal 10 Series GPUs.)
WHERE TO BUY MACS and OTHER APPLE products:
USA readers can help us earn a commission by using this Apple Store USA link or by clicking on any Apple display ad.
Live outside the USA? No problem. We are affiliated with these Apple Stores: