GRAPH LEGEND
cMP>1080x2 - DUAL NVIDIA GTX GeForce 1080 GPUs in x16 Slots 1 and 2 of the Mac Pro tower
cMP>1080Ti - NVIDIA GTX GeForce 1080 Ti GPU in x16 Slot 1 of the Mac Pro tower
cMP>1080 - NVIDIA GTX GeForce 1080 GPU in x16 Slot 1 of the Mac Pro tower
cMP>980Ti - NVIDIA GeForce GTX 980 Ti GPU in x16 Slot 1 of the Mac Pro tower
cMP>680 - NVIDIA GeForce GTX 680 "Mac Edition" GPU in x16 Slot 1 of the Mac Pro tower
(The "Mac Pro tower" referred to is a 'mid 2010' model with 12-core (3.33GHz) CPU tray, 96G of RAM, and booting Sierra 10.12.4 from an SM951 512GB AHCI flash blade mounted on a Lycom DT120 PCie M.2 board installed in slot 4.)
Blender - This is a free, open source 3D renderer. You can select either CPU or GPU. If you select GPU, you can choose either CUDA or OpenCL. You can also designate one or more GPUs. We rendered the BMW GPU Benchmark sample posted in their Demo File section.
(LOWER time in SECONDS = FASTER)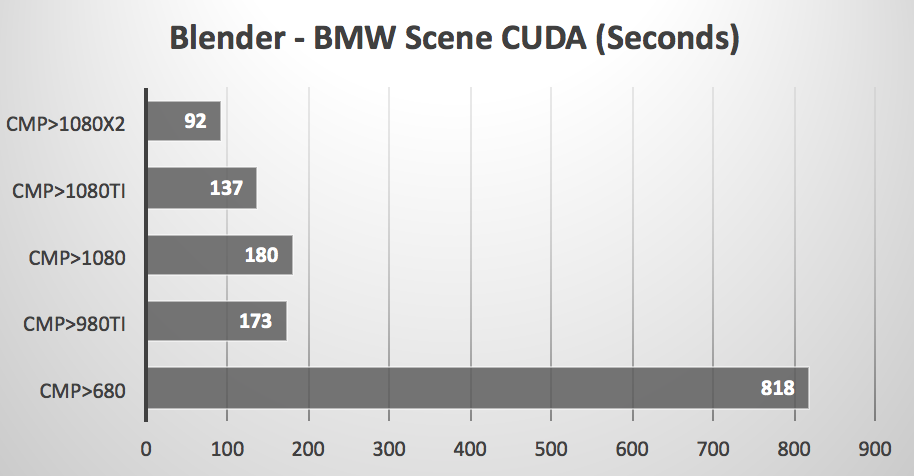 Octane Render - It only runs if there is one or more CUDA capable GPUs present. You can download the demo along with simple test scenes like the Benchmark Scene we used.
(LOWER time in SECONDS = FASTER)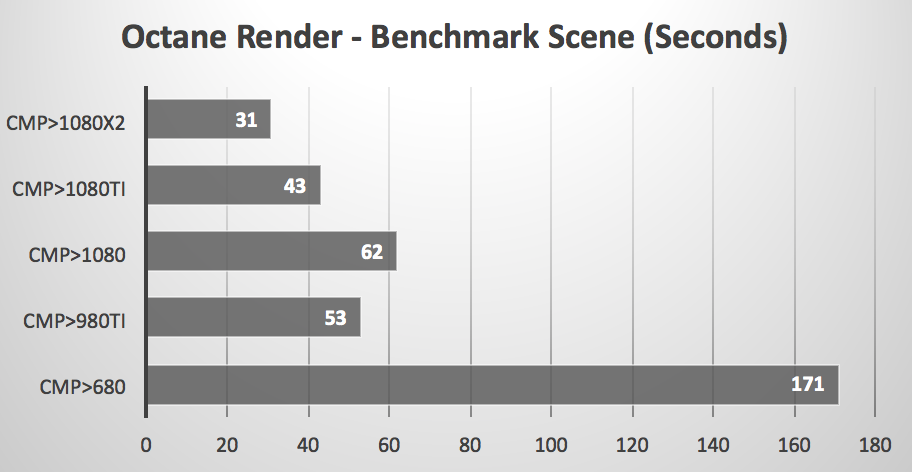 DaVinci Resolve - Playback 1080p clip while rendering a single Noise Reduction node on the fly. We imported the popular Candle project.
(HIGHER frames per second = FASTER)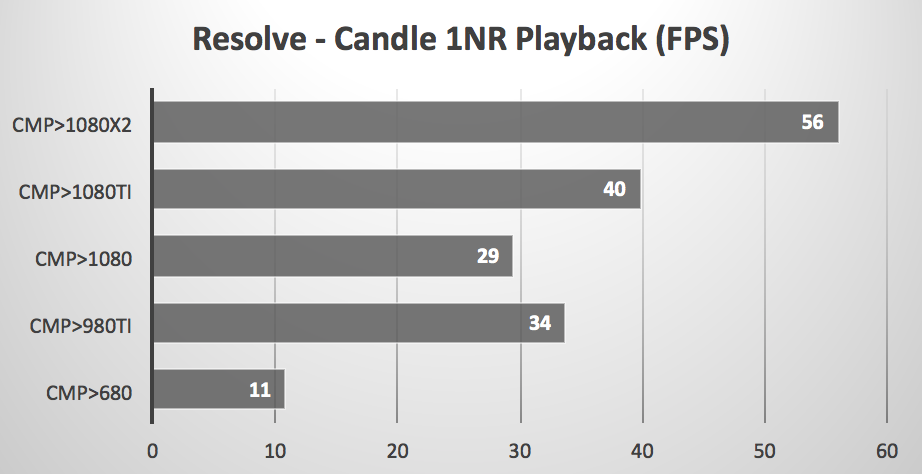 LuxMark - Though an artificial OpenCL cross-platform benchmark, it allows you choose one or more GPUs to render a sample scene.
(HIGHER Samples per Second = FASTER)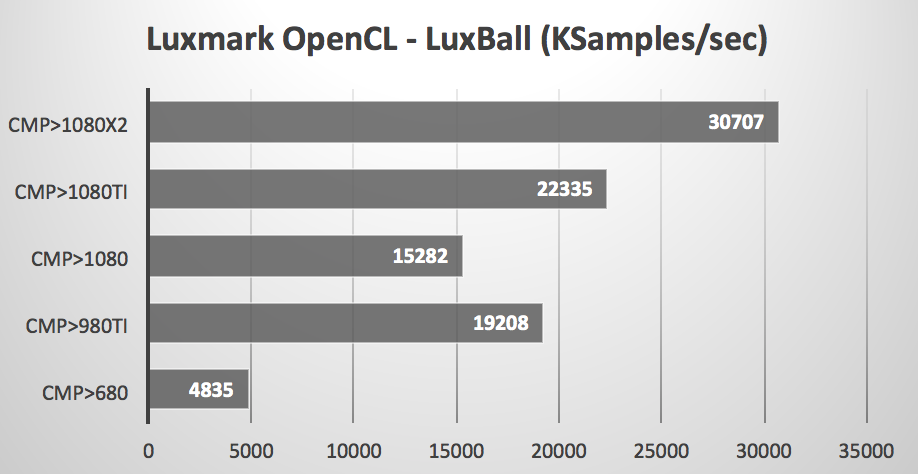 Final Cut Pro X - Export BruceX 5K project to Master File as ProRes 4444 XQ 5120x2700.
(LOWER time in SECONDS = FASTER)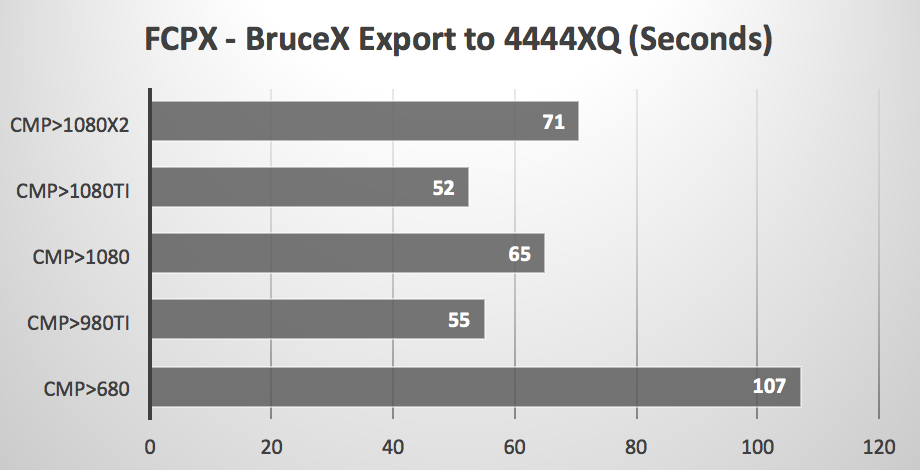 Premiere Pro CC - Export complex sample project to Blu-ray format.
(LOWER time in SECONDS = FASTER)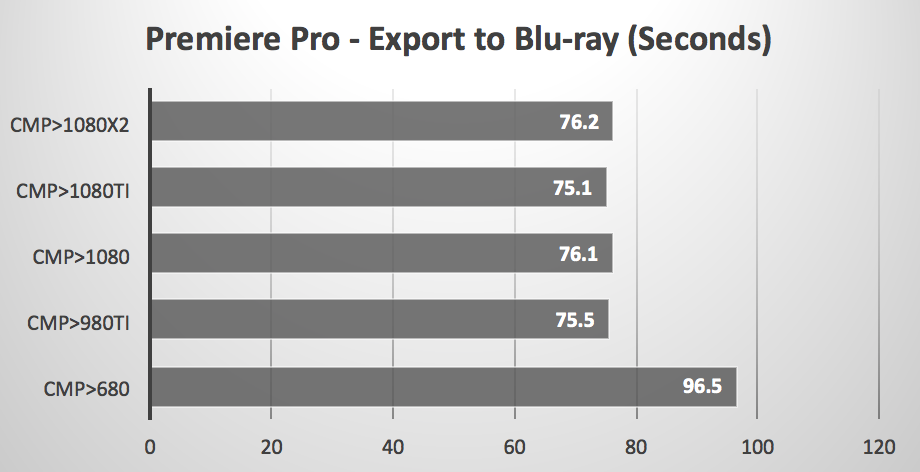 COMMENTS and CLARIFICATION
We rushed get this article posted. Though it highlights apps in which the GeForce GTX 1080 and 1080 Ti provide a clear advantage, future articles will include more examples of them running in other pro and consumer apps -- even if there is little or no advantage.
APRIL 13th ADDENDUM
We added two more graphs. In both the FCPX and Premiere Pro export tests, though there was clearly GPU activity, the main gain was over the older GTX 680. The newer GTX 1080 Ti was only a hair faster than the previous generation GTX 980 Ti. Oddly the dual GTX 1080s took longer than the single GTX 1080. Head scratcher.
In case you haven't noticed, we added the results for a pair of GeForce GTX 1080s. We could not resist seeing how much speed they added to the 'multi-gpu aware' apps. All we needed were 6pin-to-8pin adapter cables to use the Mac Pro's factory PCIe 6pin power cables.
There is no startup screen with un-modified Pascal series GPUs. One of our GTX 1080s had a modified ROM courtesy of MacVidCards and, therefore, provided a normal startup screen.
The EVGA GeForce GTX 680 "Mac Edition" was included as a reference point. It was the last NVIDIA GeForce desktop GPU to be 'blessed' by Apple and runs with or without NVIDIA's web drivers.
We also included the EVGA GeForce GTX 980 Ti, the 'darling' of GPU fanatics -- until the Mac Pascal drivers were released. Did you notice it was faster in our tests than the GTX 1080? I predict the GeForce GTX 1080 Ti will become the new favorite of 'hot rodders.'
We have not sampled a TITAN Xp yet. But looking at the specs on the NVIDIA site, I predict it will be only slightly faster than the 1080 Ti -- and for a lot more $$$.
The next article will feature the GeForce GTX 1080 Ti running in eGPU boxes connected to the 2016 MacBook Pro and 2013 Mac Pro. We will also be posting an article featuring a Hackintosh running the GTX 1080 Ti.