By Bet-TAY, Special Features Editor
Posted Thursday, June 7th, 2012
Lightweight, workhouse, practical, unobtrusive, retro-messenger, modern… how can a camera bag be all this and more? Simple, Think Tank! Yes, they've done it again with a simple, yet feature packed "messenger-cross-body bag" that addresses all the features needed for a day or afternoon photo excursion. I reviewed the Think Tank Retrospective 7 model and was blown away by the simple yet practical features that makes my job more effective when out of the studio.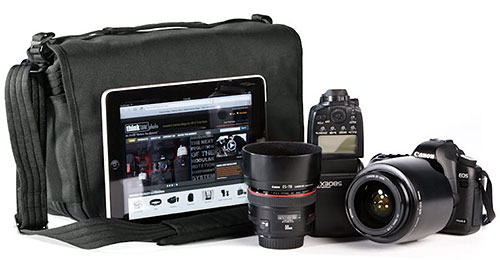 Whether on location or vacation, the Retrospective 7 is large enough to not only house my Nikon D300s, 2 lenses, a Nikon flash, extra compact flash cards, rain cover and other assorted flash filters. For women, the bag has enough room for those "girl items, a wallet and other items that I'd carry in a separate purse". A rear padded pocket provides enough storage for my iPad or my MacBook Air! So all my essentials can travel with me when out and about the city or in airports. I've even put my iPad in the front unlined zipper pocket when I need both the iPad and Macbook Air on the road.
I'm still a firm believer that LESS is MORE when carrying camera gear and computer items. But even fully loaded, the ergonomics of the Retrospective 7 provided a comfortable load. And convenient carry handle on top makes it easy to grab. The shoulder strap has a padded non-slip cushion that protects your neck and shoulder.
The feature that I L-O-V-E-D the most is the velcro-SILENCER features! I can't tell you how many times I've need to get something out of my bag during a ceremony or event and all I hear is the ripping of the Velcro when accessing a compartment in my bag. Well, Think Tank has created an ingenious Velcro "sound silencers" to make accessing the bag quick and QUIET! A quick adjustment and the Velcro is securely activated again!
Retrospective 7 Features
Choose fabric option of Black polyspun or Pinestone canvas, Think Tank is introducing a new canvas color to the Retrospective line: Slate Blue.
iPad and 11" MacBook Air pocket
Cushioned and padded nonslip shoulder strap for all day comfort.
Sound Silencers™ to turn off the front flap hook and loop for silent operation.
Organizational and zippered pockets for accessories.
Removable divider set for custom layouts.
Convenient carrying handle for grab and go.
Seam sealed rain cover.
Expandable front pocket for DSLR body or accessories.
Business card slot under the front flap for identification.
High quality YKK zippers.

Retrospective 7 Technical Specifications
Exterior Dimensions: 13" W x 9" H x 7" D (33 x 22.9 x 17.8 cm)
Interior Dimensions: 12" W x 8.5" H x 5" D (30.5 x 21.6 x 17.8 cm)
Laptop: 11.8" W x 8.2" H x 0.7" D (30 x 20.8 x 1.8 cm)
Weight: 2.3-2.75 pounds (1-1.2 kg)

The Think Tank Retrospective 7 Camera Bag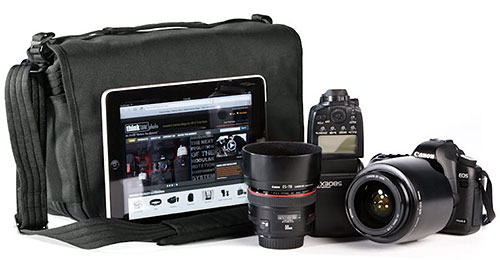 The exterior of each Retrospective shoulder bag is purposefully simple, allowing photographers to inconspicuously blend into their shooting environment.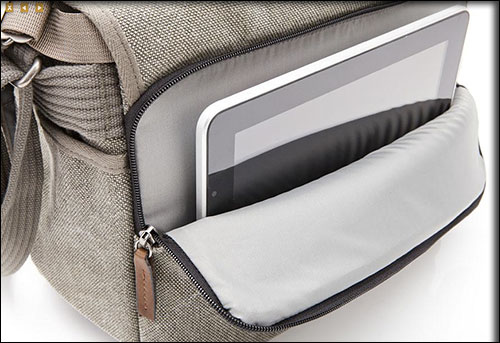 The Retrospective 7 has the interior height to accommodate a 70 - 200 f/2.8. Shown left to right is a Nikon 70 - 200 f/2.8 VRII, Nikon D7000 attached to a 24 - 70 f/2.8 and a Nikon SB-900 speedlight.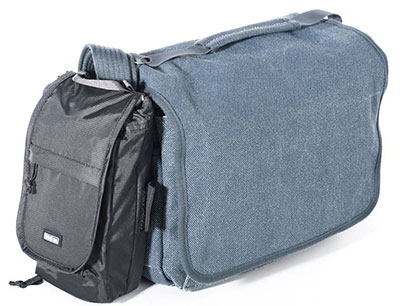 The Retrospective bags allow you to attach some of our Modular and Skin gear pouches to increase the capacity of the bag (Sold Separately). Shown is the Retrospective 7 in Slate Blue with a Skin Strobe V2.0 attached. Inside of the Skin Strobe V2.0 is a Nikon SB-900.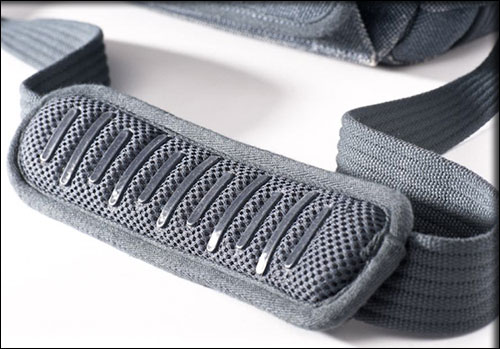 A fully adjustable, canvas strap is integrated into each Retrospective bag.  For extra comfort, a breathable cushioned pad slides along the strap for optimum positioning.  Sections of non-slip material on the pad helps keep the entire strap on your shoulder.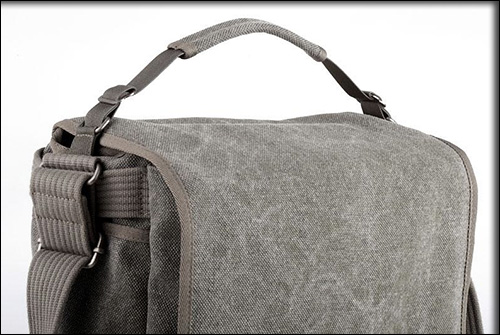 The Retrospective series each have a removable carrying handle for convenience.
The seam-sealed rain cover included with the Retrospective 10, 20, and 30 was specially designed to keep the carrying handle and integrated shoulder strap outside the rain cover without compromising protection from the elements.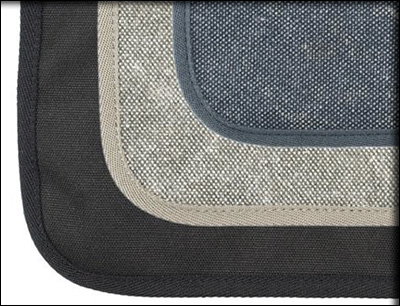 All the shoulder bags in the Retrospective series are available in three colors, Pinestone, Slate blue or black.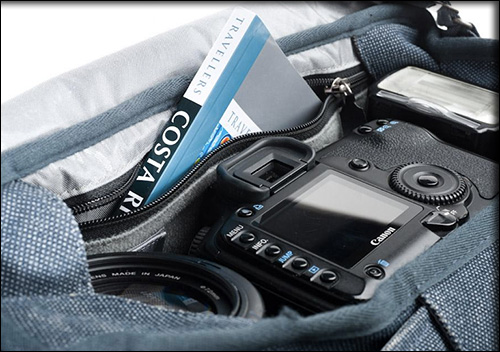 Within the Retrospective's main compartment, are two collapsible nylon pockets (one on each side). These pockets are tall enough to fit most flash units or other accessories. A hook-and-loop strap can be used to secure the contents or it can be tucked into the pocket for quicker access.
The Retrospective series all have a zippered organizer pocket inside the main compartment. It gives photographers enough space for small, but significant, accessories necessary for a successful shoot.
A second interior pocket holds pens, maps, additional business cards and has a convenient hook and loop closure.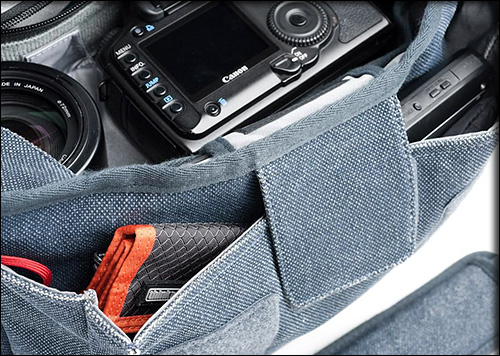 Lift up the main flap to reveal a spacious exterior pocket. This pocket is large enough to carry a DSLR body or a number of other accessories.


Hook-and-loop panels securely fastens the main flap down, keeping valuable photo equipment hidden from view.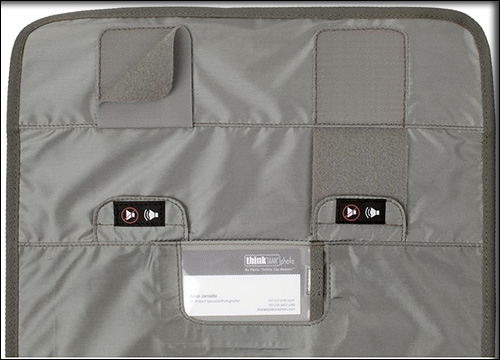 The "sound silencers" underneath the main flap are used to suppress the loud tearing sound hook-and-loop makes while opening and closing the bag.  Simply release the sound silencer panels and cover the hook-and-loop strips to prevent the hook-and-loop from contacting.  A clear business card pocket, for identification and spare cards, is also located under the main flap. 
Remember, one camera bag is never enough! And Think Tank always surpasses my expectations for YET ANOTHER CAMERA BAG! The features speak for themselves. Your only problem will be deciding which size to purchase!
Bottom Line: BUY the Retrospective Think Tank Camera Bags.

Retrospective® 7 (Black)
Product: TT749
Inconspicuous, soft-sided shoulder bag with a simple exterior that blends into the environment while carrying photo gear. Includes a rear pocket which will hold your iPad or an 11" MacBook Air. $154.75